Brussels Sprouts and Chestnuts
At Christmas dinner in our house, apart from the roast potatoes, there is always one side dish that will always be on the table – sauteed Brussel Sprouts and Chestnuts. This recipe shows you how to prepare and sautee sprouts and chestnuts together on the hob, in some special tasty oils to give them a special extra flavour.
Roasted Chestnuts are one of my favourite things – especially when they have just come out of the fire.
This recipe for sauteed brussels sprouts and chestnuts replicates the sweet taste of roasted chestnuts, which together with the natural bitterness of the seared Brussel sprouts is the perfect combination to go with your turkey.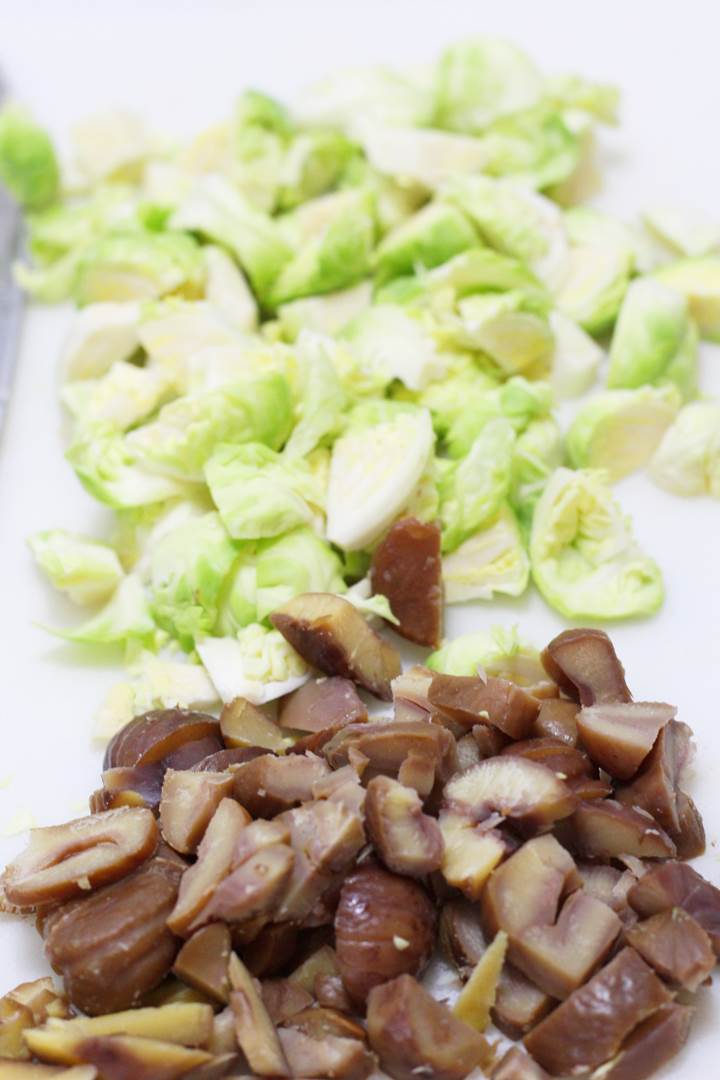 Brussel Sprouts
Lots of people are put off eating sprouts from an early age. Maybe because they are bitter, or perhaps the way they are served.
I remember having sprouts boiled at school as a kid, which has got to be the worst way to cook them, especially when they are overcooked. However, try frying them in some nutty oils instead on the hob and you will never look back.
In our house, we love Brussel sprouts (or Brussels sprouts) and this recipe is a perfect accompaniment to many dishes, especially a Sunday roast.
Sprouts are a member of the Gemmifera group of cabbages and are like mini cabbages. Sprouts, however, grow on a stalk, as opposed to larger cabbages that grow on the ground.
My missus loves Brussel sprouts, and we enjoy them regularly as an accompaniment to meat.
Sweet Chestnut
Castanea sativa, or the edible sweet chestnut, is not to be confused with the horse chestnut (Aesculus hippocastanum), or 'conker' tree.
The nuts look similar but horse chestnuts are not edible and are in fact slightly poisonous. The conker nuts come in a green coloured spikey husk that opens up when the nuts are ripe.
Sweet chestnuts, on the other hand, have an even more prickly protective seed cover and look like this when they are ready to harvest: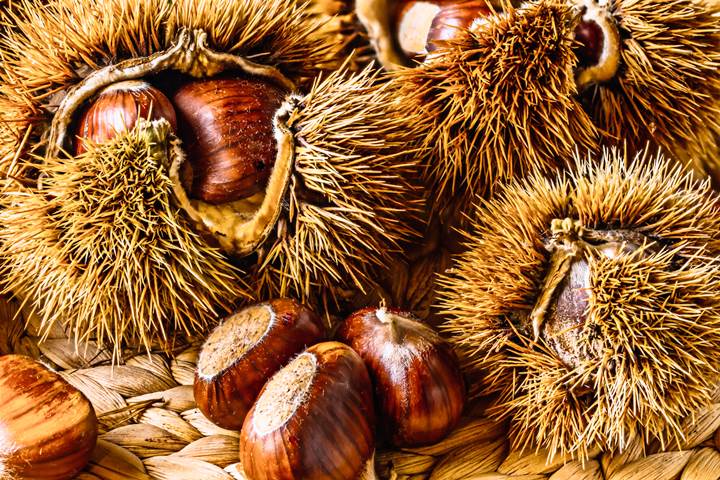 The sweet chestnut is delicious when roasted on its own and you may find them in winter being sold by street vendors when they look a bit like this: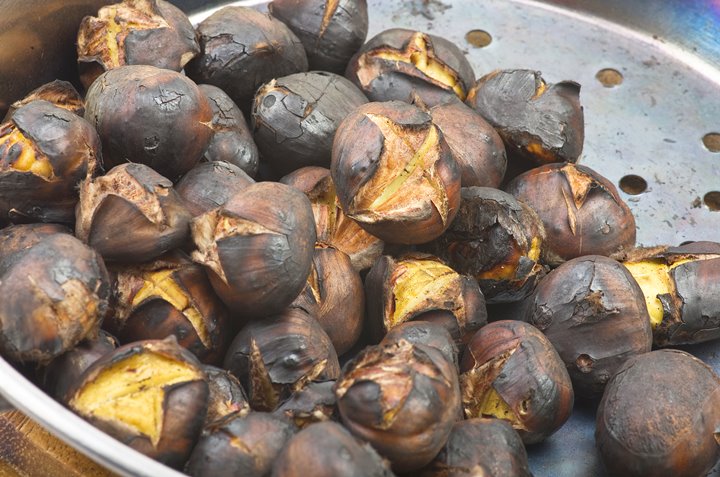 Served with a bit of salt: Delicious!
Back in the UK, we used to search for sweet chestnuts when we were kids and we would light a bonfire to roast them.
Anyhow, they are the perfect ingredient as well when combined with the bitter Brussel sprout.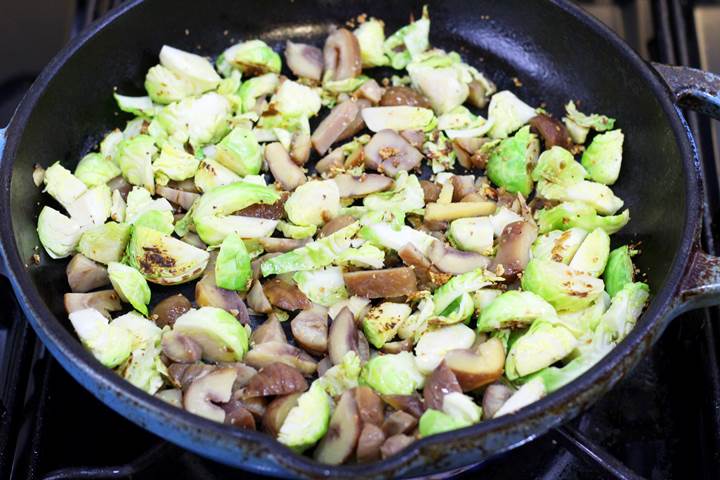 Roasted Brussel Sprouts with Chestnuts
This dish can be produced in the oven or on the hob. I prefer to cook them on the hob in a cast-iron skillet.
The skillet retains the heat well and it is easier to keep an eye on so that you do not burn everything. It gives the same effect as roasting and you can get a good charred effect from the cast-iron skillet.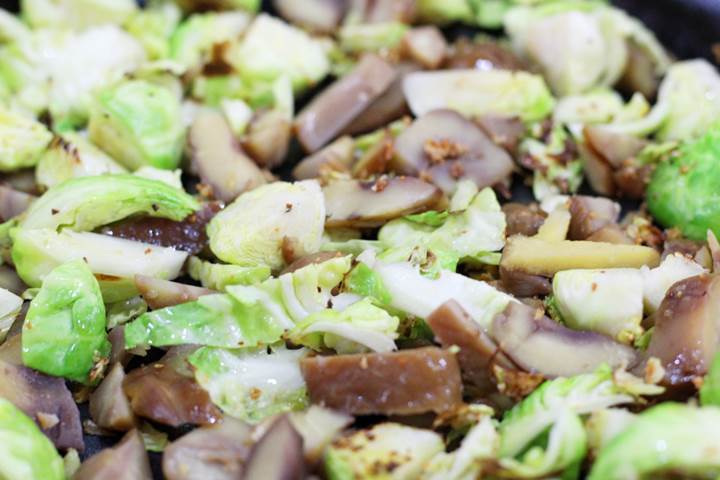 Preparation of Chestnut Brussel Sprouts
Preparing Brussel sprouts and chestnuts can take some time. For these photos, I bought some ready peeled chestnuts which come in a vacuum-packed bag. Super easy.
But if you have gathered them yourself, then you will need to put a cut in the flat side of the nut before boiling for 15 minutes or roasting in the oven for 15 minutes. The shell and inner skin (a sort of hairy layer that covers the nut) will then peel off easily, and you can cut them to suit. Just add to the pan when the sprouts are nearly cooked then.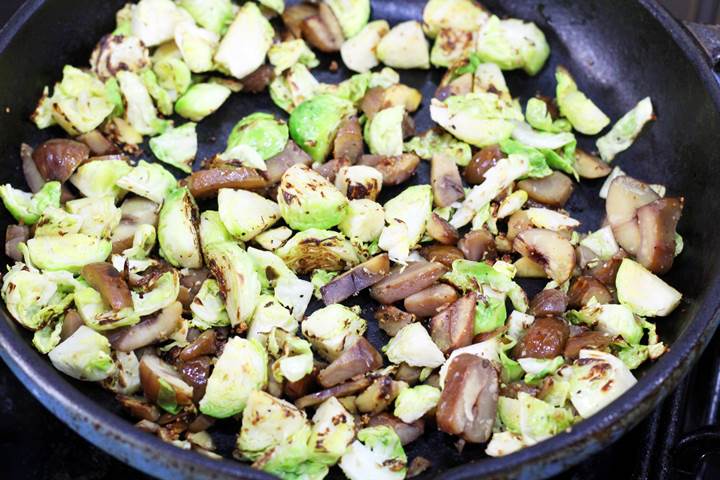 The sprouts have to be individually cut and peeled. I take off the stalk end and remove the outer two leaves until I have a clean sprout. Then I will halve or quarter them depending on their size. You may need to rinse them depending on how clean they are.
I tend to do this in front of the television (Netflix boxset or a rugby match) as it can be a bit tedious, especially if you are making a large batch.
Remember if you avoid using any butter this can be classed a vegan or vegetarian recipe and it is certainly one of our favourite vegetarian recipes.
I hope you enjoy it. Please give some feedback in the comments section below if you do!
Here I served them up with a delicious sausage sandwich, but really they belong with a roast!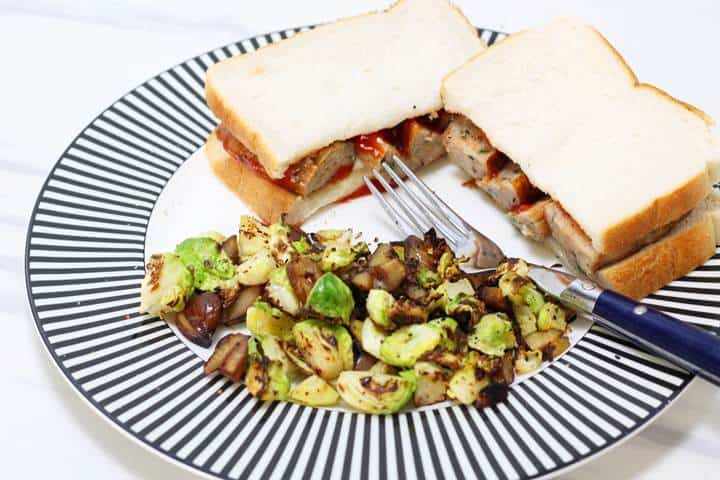 How to make roasted Brussel Sprouts and chestnuts