Indian Pilau Rice Recipe
This simple Indian pilau rice recipe shows you how to make fragrant pilau rice in your microwave rice cooker.
Pilau rice is a common accompaniment to Indian curries, and you will find it served in many different ways and forms in different restaurants across the world.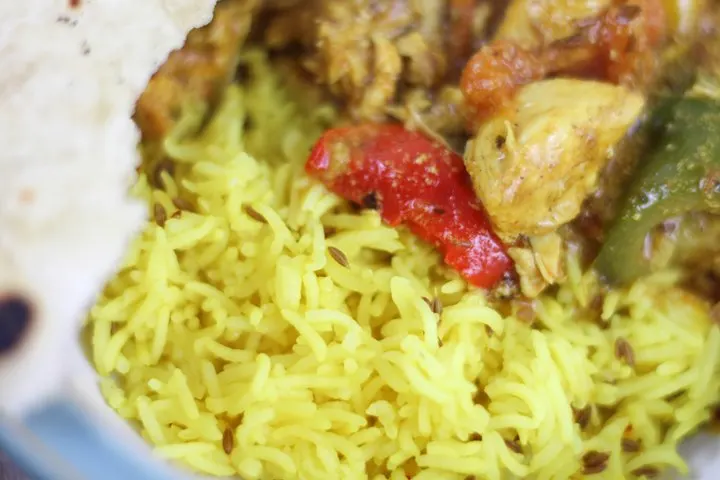 How best to cook rice?
I have been cooking my chicken curry recipe for many years now and it remains one of my favourite dishes. I often make pilau rice to accompany it, or some naan bread, or parathas or both.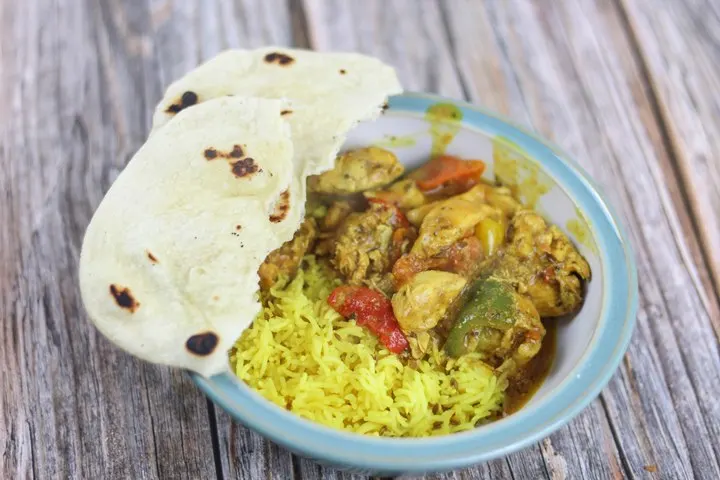 Over the years I have tried different ways of cooking rice – in the pan and in the microwave and I must say using the microwave is the best way every time.
It always gives consistent results, irrespective of the amount of rice you are cooking.
Admittedly I do not have a rice cooker, and I have not yet tried our Instant Pot to cook rice, but the results I get in the microwave are superb.
It is a bit like a bread machine – you throw everything in, set the timer and let it do its work! And you do not need to constantly watch it to check if you have boiled off all the water!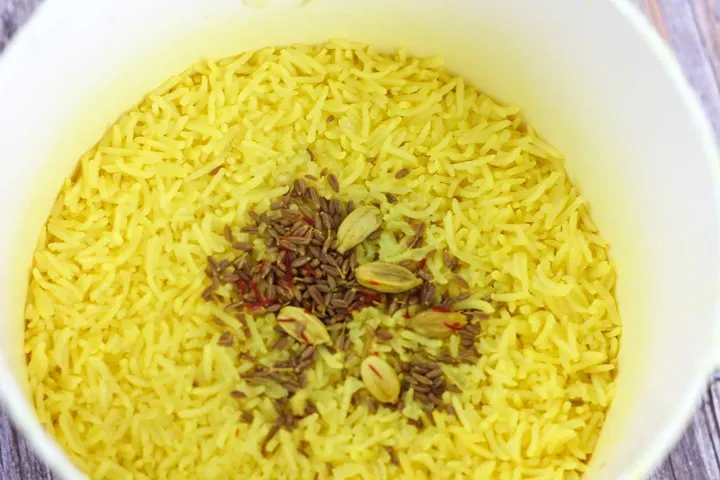 My recipe calls for only one water check halfway through the ten-minute cycle but apart from that, it is very simple. If you do not have a microwave rice cooker I suggest you get one – I have one from Pampered Chef that I have had for at least 20 years. It has definitely seen better days but is still going strong! I swear by it.
If you are going to buy a microwave rice cooker, they are likely to be made of plastic. Just remember to get one that is BPA-free (Bispenol A).
How to cook Basmati Rice
This recipe calls for Basmati rice which is a long-grained rice grown primarily in India and Pakistan. It has many different varieties and comes in white and brown forms. The white rice is the one we commonly see in the West.
In the past, I used to cook the rice without any preparation, which did not always give the right results. Sometimes I would end up with sticky rice, which is not what you want in a good pilau rice. The grains should be independent of each other and not stick together.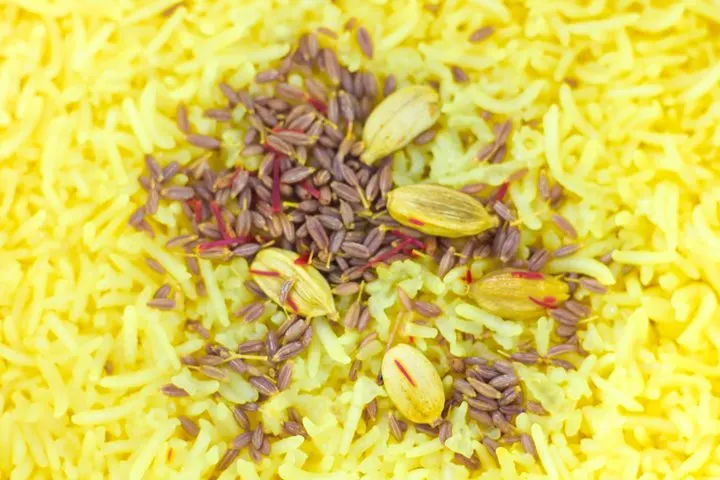 Soaking the rice
One of the most important tricks to cooking Basmati rice properly, either in a pan or in the microwave, is to give it a good rinse and a soak in water before cooking. What this does is remove the natural layer of starch from the outside of the rice grains, and allow the rice to absorb a bit of water before cooking. This reduces the cooking time and gives you long slender grains of rice.
This process is essential to stop the rice from sticking together. I wish I had known this earlier. If you don't normally do this, then try it. You will see what I mean and what a difference it makes to the cooked rice.
Ingredients for Pilau rice
As mentioned before Pilau rice varies a lot from place to place. This recipe is very simple and only includes a few spices as mentioned in the menu card below.
You can experiment by adding things like a cinnamon stick, bay leaves, cloves, peas, fried onions and all sorts of other things if you are being adventurous. It's up to you.
Some places even colour their rice grains to add some colour to the white grains.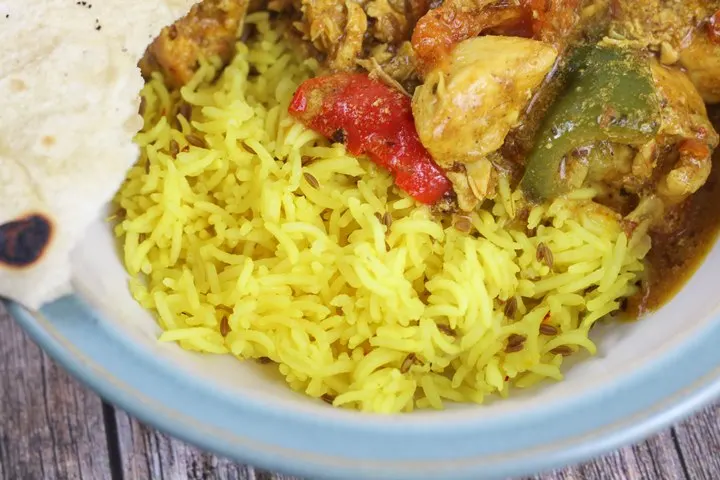 In this recipe, I have just used some turmeric and saffron to give the rice a nice yellow tint and add some colour to the dish. But you can also leave this out and serve it white if you prefer.
Just remember to soak the rice before you cook it for the perfect bowl of rice.
I hope you get on well with this easy pilau rice recipe. Let me know what you think in the comments section below!
How to prepare Pilau Rice
And maybe one of these other accompaniments will go well?
Or some other Indian inspired recipes to try:
Or some other rice recipes: