No yeast flatbread
This flatbread without yeast recipe is so simple and yet a very useful recipe to have in your repertoire. This super easy flatbread recipe with just three ingredients will help you produce some delicious flatbread. You will not believe how easy it is!
You can eat flatbread with all sorts of dishes. They can be used as an alternative to paratha or naan bread to eat with an Indian curry, or as an alternative to tortilla bread to make a delicious fajita.
You can use them to dip in chutney or even make a delicious chicken curry sandwich with them (much recommended btw!)
Olive Oil Flatbread
There are many different types of flatbread. This recipe flatbread without yeast is so easy as it contains just three ingredients: water, flour and olive oil. It is very similar to an Indian chapati recipe which would use a mix of whole wheat flour and plain flour. This recipe however just uses plain or all-purpose flour and olive oil.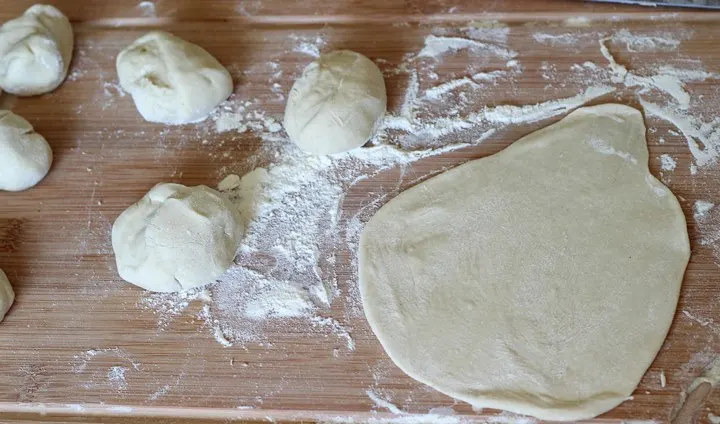 The advantage of this dough mixture is that it is very easy to handle and roll out.
The bread is fried on the hob on a hot flat frying pan for only 30 seconds each side, or until brown spots appear on the surface.
We used to buy some delicious flatbread from Aldi until they stopped selling it, so we had to come up with our own solution, which was this recipe. We will not be looking back.
Flatbread no yeast recipe
Because this bread has no yeast or other raising agents, like baking powder or baking soda, in the ingredients, it is characterized as being 'unleavened bread'. This has the advantage of being quick to make as there is no resting period for the dough to rise.
Simply mix the ingredients, divide the dough, roll it out with a rolling pin and put it in the pan. Really it could not be easier to make.
You could experiment with this basic recipe by adding minced garlic or cumin seeds. Or perhaps even some desiccated coconut to give some taste variation.
But really we think it is great as it is and therefore the perfect soft flatbread for making sandwiches with other ingredients.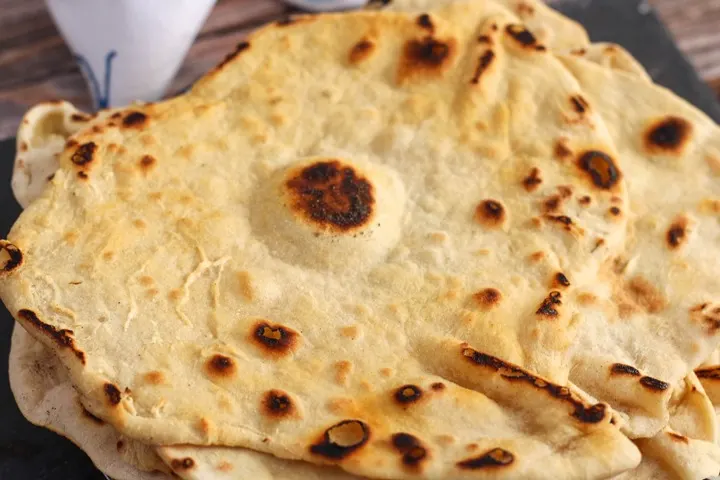 Or you could fry the flat dough in oil or ghee which would give you a nice crispy bread, which you could cut into fingers, perfect for dipping.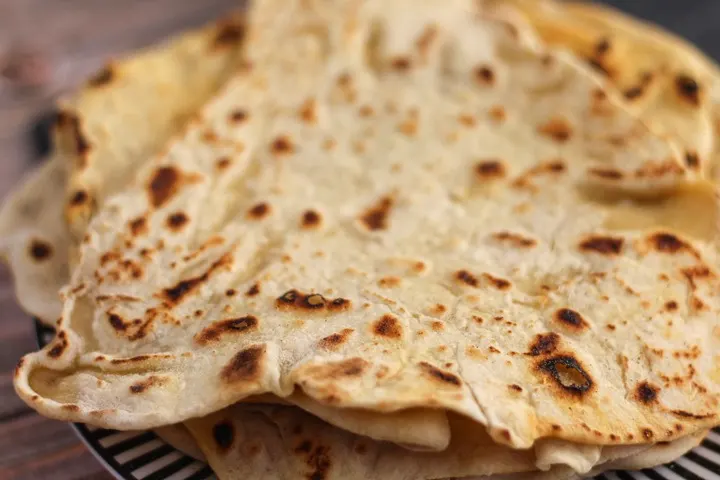 I hope you have fun making this recipe. If you do, please let me know how you get on in the comments section below!
How to make flatbread no yeast