Indian Naan bread recipe
This post gives you two recipes to make your own Indian naan bread by hand or in your bread machine.
I love Indian food. The bread that is served with an Indian meal is one of the most important elements. Flatbread is commonly used to pick up the meat and vegetables off the plate and for mopping up the sauce.
This Indian Naan bread recipe (2 options) will help you make your own homemade naan bread, either by hand or in your bread machine.
Different types of Indian Bread
There are several different types of flatbread in India; roti, chapati, kulcha, naan, paratha, to name but a few. All are produced in different ways and with different ingredients, but they all do the same job.
This recipe is dedicated to the plain naan.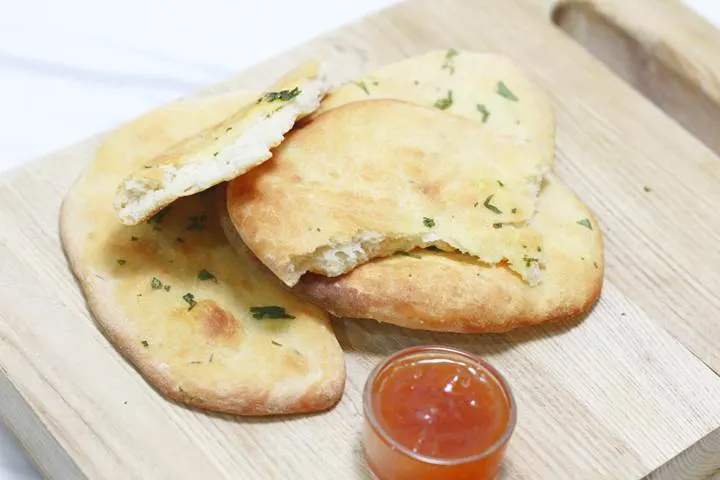 What is naan bread?
Indian Naan bread is a leavened flatbread that is traditionally baked in a clay tandoor oven. Tandoor ovens can reach temperatures of up to 480C, so this gives the bread a sort of partly scorched appearance on the outside when cooked properly.
There are many different types of naan bread. All naan types have their own naan bread flavours.
There is a plain naan, the butter naan, the lacha naan, the garlic naan, the Peshawari naan, the keema naan, the Pudina naan…..the list goes on. And each is different.
I used to love keema naans which are stuffed naans, often stuffed with some form of minced meat. But more recently I prefer sweet Peshawari naans that vary a lot between restaurant and restaurant. Generally, they have some type of dried fruit inside, mostly coconut or raisins.
Below are two different naan recipes:
This first homemade naan bread recipe is a very easy naan recipe that is probably closest to the plain naan or oven-baked naan.
You can play around more with the second easy naan recipe in the bread machine. Changing some of the ingredients can give you some results resembling a garlic naan recipe or a Peshawari naan.
This interesting link gives you a bit more information on the different types of naan. Maybe you can help me perfect my recipe by playing around with the ingredients?
My favourite Indian Restaurant
My favourite naan bread of all time is the Peshawari naan they make at the New Tandoor restaurant in Gouda, the Netherlands.
I have been going to this restaurant for more than 20 years as it was my local 'curry house' when I lived in the Netherlands.
They make THE most fantastic naan bread. I have never had anything so good. I would always order at least two Peshwari naans there with my meal.
They can do this as they have their own clay tandoor oven in the back. If you ever are nearby Gouda, please go and visit them – their lamb madras or lamb vindaloo are both fantastically delicious meals.
Anyhow, they never shared their Indian bread recipe, so this is my next best alternative. It is not as good as the real thing at the New Tandoor, but I do not yet have a clay oven to play with.
Two naan bread recipes
Below I will give you a choice of two recipes, as you may or may not have access to a bread machine. The bread machine does make life easier as you just add the ingredients and let the machine do the work.
But when I make it by hand I feel more of a sense of achievement (but it does make more mess).
The naan shown in the picture above was cooked in my normal oven. This is why they look uniformly cooked.
You can also cook these on a hot surface like a cast-iron skillet or under the grill. The result is slightly different as it gives a slightly better singed effect as you can see below.
One day I hope to have a clay oven to make the perfect naan for my perfect favourite chicken curry……..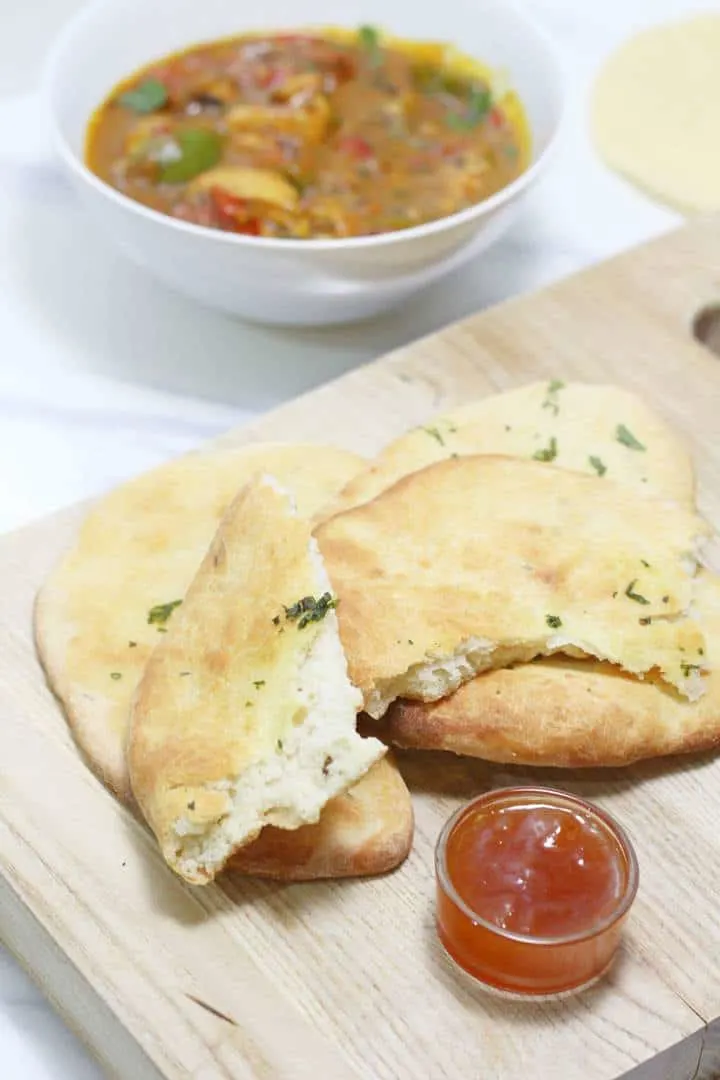 How to make naan bread by hand

But in the meantime, we make do by using our Ooni Koda 12 Gas Powered Pizza Oven which can reach 500C, like a real tandoori oven!
The results are pretty good!
How to make great Indian naan bread in the bread machine
Try this naan bread recipe with:
Or alternatively, try these recipes: