Murgh Masala – Spicy Chicken Curry
This recipe will give you a very tasty Murgh Masala, or spicy chicken curry, in a delicious creamy yoghurt and coconut sauce.
This meal has succulent pieces of chicken breast in a creamy, tasty, and spicy sauce. You can best eat this dish with some type of Indian bread, like naan or chapati, and some pilau rice.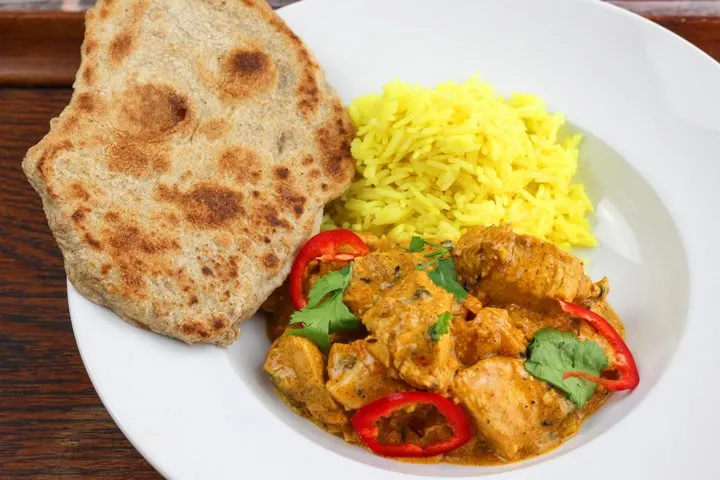 Inspiration for this recipe
In 2021 we were fortunate enough to be in the wonderful city of Tallinn in Estonia for the second time. We ate one evening at the Chakra restaurant in the old town. I was inspired to try and recreate the fantastic Murg Masala that I ate there.
It was so good! This was what it looked like:
This photo above looks a little bit redder than the chicken curry that I made. So perhaps they used a little more turmeric or tomato purée in the recipe? You are free to experiment, as I did.
So, although it is not exactly the same, the taste was very similar, and I believe I managed to get pretty close with this copycat attempt!
What is Murgh Masala?
You may notice that murgh or murg is spelt differently depending on where you are. Murgh or murg means chicken in Indian.
You may find this dish served with leftover pieces of tandoori chicken or chicken tikka. But in this recipe, I use some fresh chicken breast, to make a boneless curry dish.
Masala refers to a mix of ground spices, commonly used in Indian cooking. The mix of spices will vary from place to place and cook to cook. But obviously, the spices you use determine the spiciness of the dish.
Normally the spices are cooked together to produce a fragrant paste. You can also buy these pastes ready-made if you prefer. Companies like Patak's make very good curry pastes which I use in some other of my recipes like my chicken curry recipe, or chicken curry sandwich.
But in this recipe, I use the following spices: turmeric, cumin seeds, cardamom powder, garam masala, and a bay leaf to make the original paste.
Murgh Masala Sauce
Do not be put off by the long list of ingredients. Most of them I have in my pantry. In fact, I only needed to buy the chicken to make this dish.
The total taste of the dish comes together with the slow-cooked onions, the minced ginger and garlic, the coconut cream, the baby tomatoes, the fresh coriander and the yoghurt. You can, of course, also use ginger garlic paste instead of the separate minced ginger and garlic if you have some available.
The pureed cashew nuts add a certain nutty texture and taste to the sauce, which is quite special.
How hot and spicy you make it depends on how much chilli powder or red chillis you add at the end. As always, that's up to you.
I hope you enjoy making and consuming this delicious Murgh Masala. We did.
If you do try and make it, please let me know how you get on in the comments section below!
How to make Murg Masala