Delicious Indian Chicken Curry Recipe
This is really probably my favourite authentic Indian chicken curry recipe of all time because it is so easy to make and so delicious. Above all, you can decide yourself how spicy you want to make it. In addition to this, you can make it in a single pan which saves the washing up. I use my trusted wok to make this dish.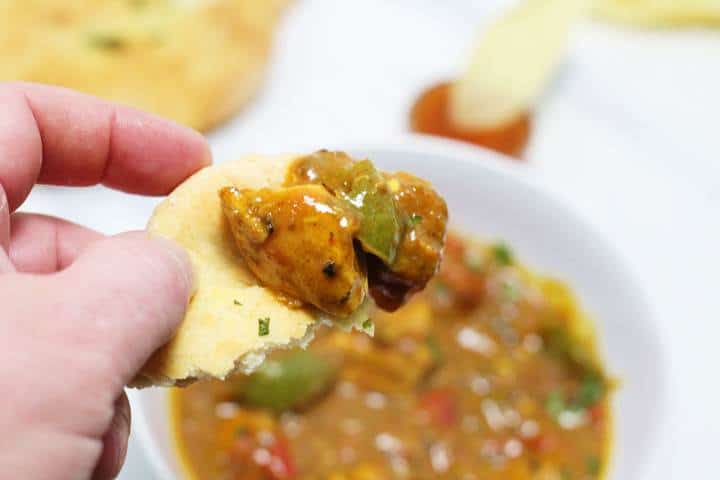 The healing qualities of Indian spices
This recipe literally saved my life a number of years ago. I had some weird condition that made my skin extremely sensitive to being touched. It meant I could not wear shirts and had to strip off. The doctors were flummoxed.
I spent a week eating a very strong spiced up version of this curry with lots of chillies, and hey presto – the problem went away, never to return!
How this happened I do not know, but they say that spices used in Indian cooking, like turmeric and ginger both have powerful healing properties, especially for pain relief. I use quite a lot in this recipe. Who knows?!
It may be coincidence, but I have much faith in the healing powers of spicy food, and the beauty of this meal is that you can make it as hot and fiery as you wish. Similarly, the basic version without chillies has a lovely mild taste.
Simple Ingredients
The ingredients for this curry are very simple. Garlic and ginger, a few spices, some chicken and vegetables and coconut milk.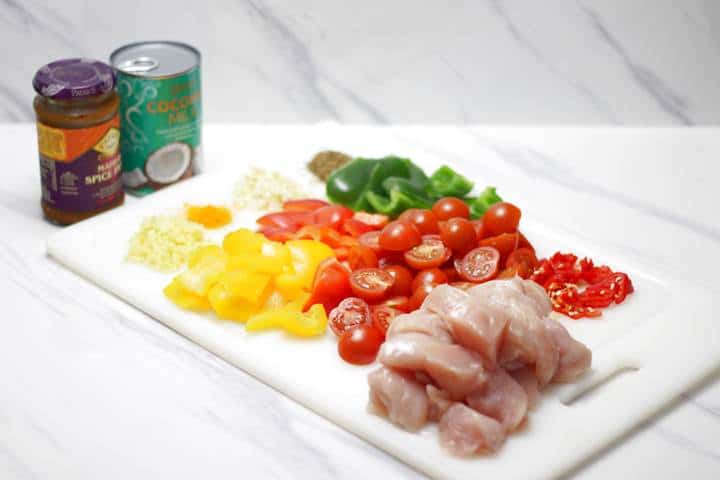 It is always a success, and the pan is nearly always emptied, however much I make. If I am lucky enough to have any leftovers it can be frozen and reheats well in the microwave.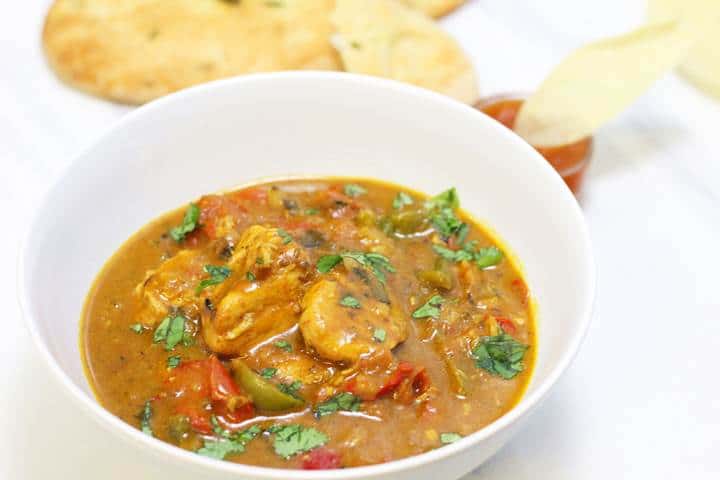 The coconut milk and the madras paste makes this dish so good. Really the taste is amazing!
It is also quite unusual to have a curry with no onions in the recipe, but it means my daughter has nothing to complain about!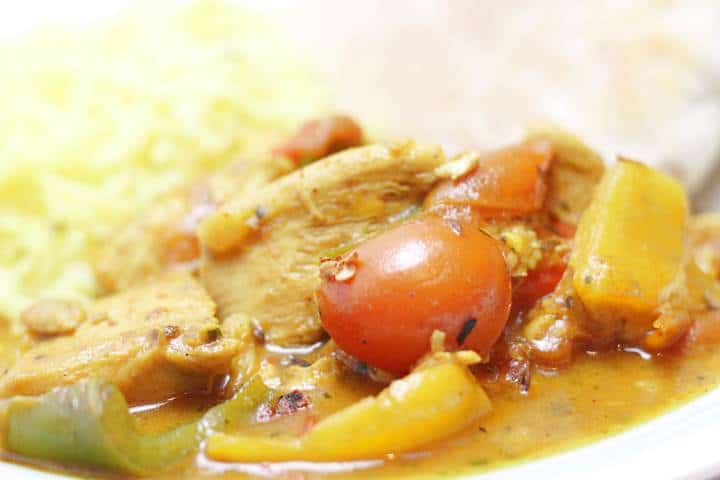 Here you can find a recipe for making your own naan bread.
How to make a delicious chicken curry in coconut sauce
Authentic Indian chicken curry recipe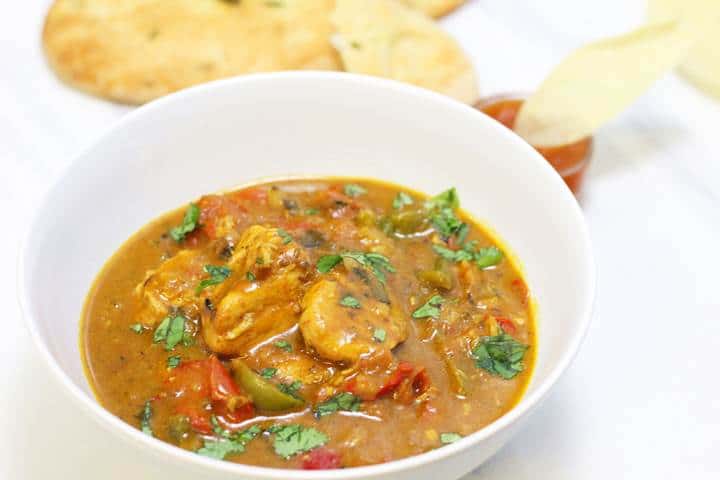 This is a delicious chicken curry recipe that you can make as hot and spicy as you want. Really delicious served with rice and naan bread.
Ingredients
1 tablespoon of Ghee or vegetable oil
3 chicken breasts, diced into inch sized pieces (fat and sinew removed)
2 or 3 different coloured sweet peppers (red, orange, yellow or green) – deseeded and cut into triangular inch sized pieces
1 box of cherry tomatoes, halved
Red or green Chilli's to suit your spice taste
1 can of coconut milk
1 inch cube of Fresh ginger, finely chopped
4 or 5 garlic cloves, finely chopped
1 tablespoon of cumin seeds
1 bunch of fresh coriander, chopped up
1 tablespoon of Madras curry paste
1 teaspoon Garam masala powder
1 teaspoon tumeric
To serve:
Mango chutney
Pilao rice
Naan bread
Poppadoms
Instructions
Start by cutting and slicing up the ginger and garlic into small pieces. I use a Pampered Chef food chopper for this (these things are great and do the work in half the time - see below).
Heat up the ghee in a wok and fry the cumin seeds for about 30 seconds before adding the garlic and ginger. Fry this for another minute or so and then add the turmeric powder and a splash of water (about half a cup) – watch out for the vapour cloud this gives off – it can be pungent!
Then add the madras paste and mix together. There should be enough water added to the pan to ensure there is enough liquid to cover all the chicken when it is added, but it should not be swimming in it too much.
Add the chicken pieces and coat them all with the delicious paste mix. Stir until the outside of all the chicken has been visibly cooked (no more pink bits). Then add the pepper and tomatoes to the pan, and bit by bit add the coconut milk.
Stir everything together and then leave the mixture to cook for about 40 minutes on the hob on a low to medium heat, stirring occasionally. After about 20 minutes add the garam masala.
The mixture will bubble away nicely and will reduce down until the sauce becomes nice and thick. When the consistency changes significantly, then you know it is almost ready to eat. The sauce should be not too runny, and if it is too thick then add more water.
When the consistency is right, you can add the chilli's to suit your taste. (I will often make a hot version and a mild version to suit the people around the table – adding the chilli's at the end means you can plate up the mild version before you add the HOT stuff!
Top off with the chopped coriander just before serving.
Notes
Serve up with pulao rice and/or naan bread, poppadoms and mango chutney. This recipe will serve 4.
If there is any left over, which is highly unlikely, it freezes well. Remember to add a bit of water to the sauce when you freeze it, as it loses some moisture when it goes through the microwave when reheating. It is very easy to reheat in the microwave.
It is a good meal for doubling the quantity and cooking in a large batch (if your wok is big enough) and then freezing in portion sizes, so you have an easy meal to just stick in the microwave after a hard day's work.
Recommended Products
As an Amazon Associate and member of other affiliate programs, I earn from qualifying purchases.