Delicious Indian Chicken Curry Recipe with Coconut Milk
This is a delicious recipe for an authentic Indian Chicken Curry. This is really probably my favourite authentic Indian chicken curry recipe of all time, because it is so easy to make and so delicious.
It is also my own favourite recipe, and the one I have probably made more than any other, just because it is so tasty. If we have guests to visit for dinner the likelihood is that I will cook this meal!
And, above all, you can decide for yourself how spicy you want to make it.
If you are looking for a tasty curry that everyone can eat, this is the one!
Another advantage of this traditional Indian curry recipe is that you can make it in a single pan which saves on washing up. I always use one of my trusted woks to make this dish.
As you can make this in a single pan or a wok it means it is also a good dish to make when you are camping. A single pan on the campfire or a gas burner.
Because it is so easy to prepare, I often make this when we have visitors. You can make it up front and just heat it up when your guests want to eat.
I have yet to find someone that does not love this authentic chicken curry recipe. Even people who are not used to Indian food like it.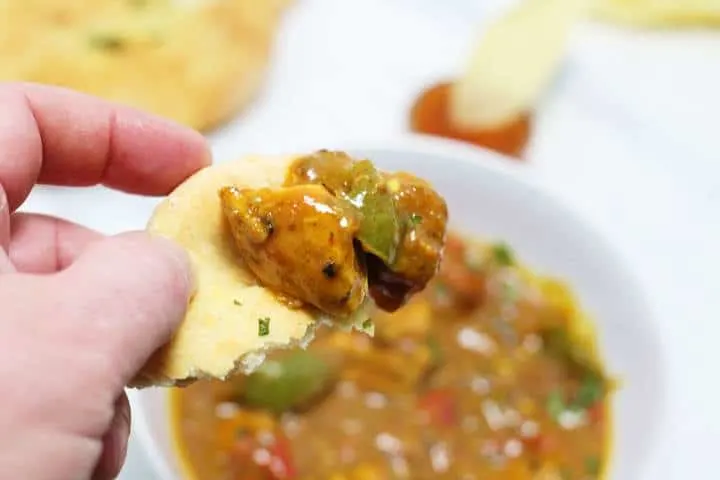 The healing qualities of Indian spices
This recipe literally saved my life a number of years ago. I had some weird condition that made my skin extremely sensitive to being touched.
It meant I could not wear shirts and had to strip off. The doctors were flummoxed.
I spent a week eating a very strong version of this spicy chicken curry recipe with lots of hot spicy chillies, and hey presto – the problem went away, never to return!
How this happened I do not know, but they say that spices used in Indian cooking, like turmeric and ginger both have powerful healing properties, especially for pain relief.
I use turmeric and ginger quite a lot in this hot chicken curry recipe. So who knows?!
It may be a coincidence, but I have much faith in the healing powers of spicy food, and the beauty of this authentic chicken curry is that you can make it as hot and fiery as you wish.
But if we have guests, I often make it in two Woks – one mild version and one spicy version, so that people can choose which one they prefer.
The basic version without using any chillies has a lovely mild taste, and is great for people that prefer a less spicy version.
Simple Ingredients for an Authentic Indian Curry Recipe
The ingredients for this curry are very simple. Garlic and ginger, a few spices, some chicken and vegetables and coconut milk.
It is always a success, and the pan is nearly always emptied, however much I make.
Just vary the spiciness by changing the amount of chillies you use in the recipe.
Make sure you know which types of chilli you are using as some of them are wickedly hot!
Meal Prep this Indian Curry
If I am lucky enough to have any leftovers, this recipe freezes well and reheats beautifully in the microwave.
However, I normally meal prep a large batch in several woks and then freeze individual portions with some pilau rice and naan bread.
This makes things very easy when you need to make an individual meal quickly.
To re-heat in the microwave you can simply invert the container on your plate (as long as your storage container is microwave safe) and heat for about 3-4 minutes on full power, stirring once halfway through.
Curry is known to stain clothes and plastic containers so it is better to use some good glass containers rather than plastic, which will not absorb the colour and the smells from the curry. The coconut milk and the madras paste make this dish so good. Really the taste is amazing!
Chicken Jalfrezi
This curry is very similar to a chicken jalfrezi curry, which also includes chicken and bell peppers. Though a Jalfrezi may in some places be a bit drier, the taste is very similar.
I have recently made this curry using a Tandoori paste, as I could not find the Madras Paste in the recipe in Porto. The result was excellent and I compensated for the lack of hotness in the paste by using some extra garam masala, madras chilli powder and chillis.
It is quite unusual to have a curry with no onions in the recipe, but it means my daughter has nothing to complain about!
What to eat with Indian Chicken Curry
Indian curry is traditionally eaten together with some form of bread, leavened or unleavened, and/or Pilau rice. It may be accompanied by papadoms, mango chutney and other dishes like raita.
For the breads, I have recipes for naan bread, paratha, chapati (roti) and flatbread on my site that you can try.
I recommend the naan bread, which we cook these days in our Ooni Koda 12 Gas Powered Pizza Oven ! Delicious.
I hope you enjoy this curry as much as we do. Let us know how you get on in the comments section below!
How to make an authentic Indian chicken curry recipe with coconut milk
naan bread
,
paratha
,
raita
and
pilau rice
:
Or perhaps some a delicious Coronation Chicken recipe:
Maybe a biryani perhaps?
Or some other Asian curry dishes: