Creamy butter chicken recipe
This healthy butter chicken recipe is easy to make and gives you a tasty mild curry, known as murgh makhani in Hindu.
This meal is great served with some pilau rice and some Indian flatbread (here I made some chapatis) or naan.
This dish was reportedly invented by accident when someone mixed some leftover tandoori chicken in a tomato gravy. It has become a big favourite, especially in the UK where you will find this in most Indian restaurants.
Of course, a genuine version would have the chicken cooked in a traditional tandoori oven.
Unfortunately, we do not have the luxury of a tandoor oven at home, of course. We find that it is just as easy to cook the chicken on the hob. However, this does not give the nice charred effect you would have from a tandoori oven.
What to eat with butter chicken?
Well, this is up to you. We like to eat it with some pilau rice and chapati, as shown in these photos. But you could use any Indian bread really, like a naan, basic flatbread or paratha even.
You may also want to use some mango chutney and some raita as an accompaniment, to complement the array of flavours.
How healthy is butter chicken?
This recipe does use all-natural ingredients and is perhaps healthier than others you may find in restaurants, as I do limit the amount of butter that I use in the sauce. However, I do use cream and natural yoghurt, which obviously increases the fat levels and calories.
If you want to make this recipe healthier you could replace the yoghurt with a 0% fat yoghurt and the cream with some low-fat crème fraîche. This will slightly change the taste of the meal but should give you a low-calorie butter chicken.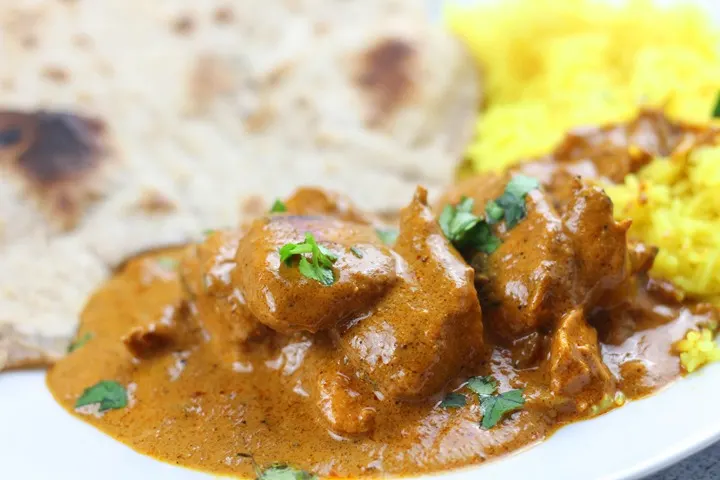 If you leave out the butter completely then you will be moving more towards a chicken tikka masala dish than a butter chicken dish.
And you can't have a butter chicken without butter now, can you? 😊
If you like this recipe then you may also like to try my more spicy murgh masala recipe or my authentic chicken curry recipe.
I hope you enjoy making this recipe. If you do try it, please let me know how you got on in the comments section below!
How to make healthy butter chicken