Simple Coronation Chicken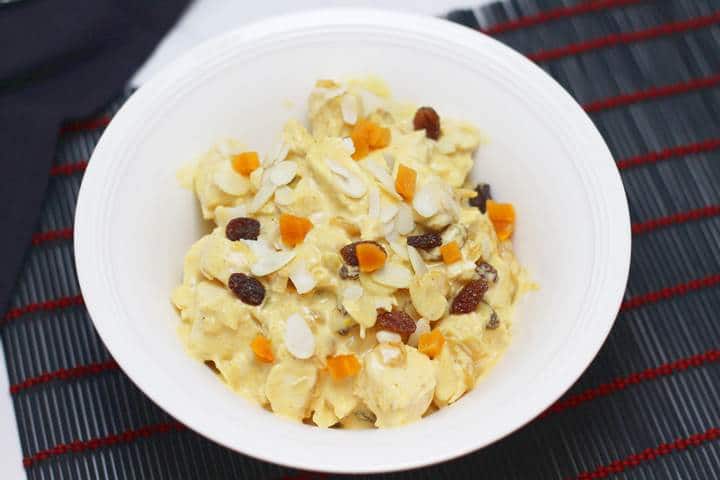 Coronation chicken is arguably the best curried chicken salad out there. This coronation chicken recipe is certainly one of my favourites.
You can make it beforehand and serve it up when you need it. I always make a big batch so we can enjoy it on successive days.
It keeps well in the fridge for a few days.
This recipe for coronation chicken is a very simple one as I use some ready-made mayonnaise. You can probably tell that we absolutely love Hellmann's, from some of our other recipes 🙂 – (no affiliation, alas!)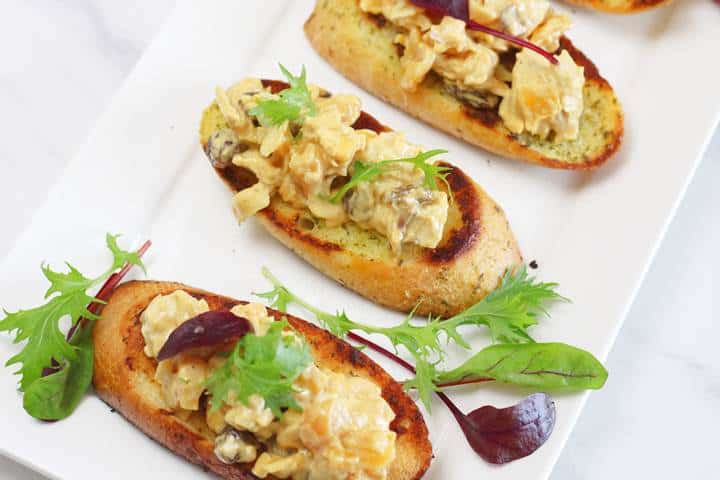 This recipe does take some time to make as I prefer to eat it cold. I have taken the cooling time into account in the recipe times.
But you can also eat hot coronation chicken – it is just as you prefer.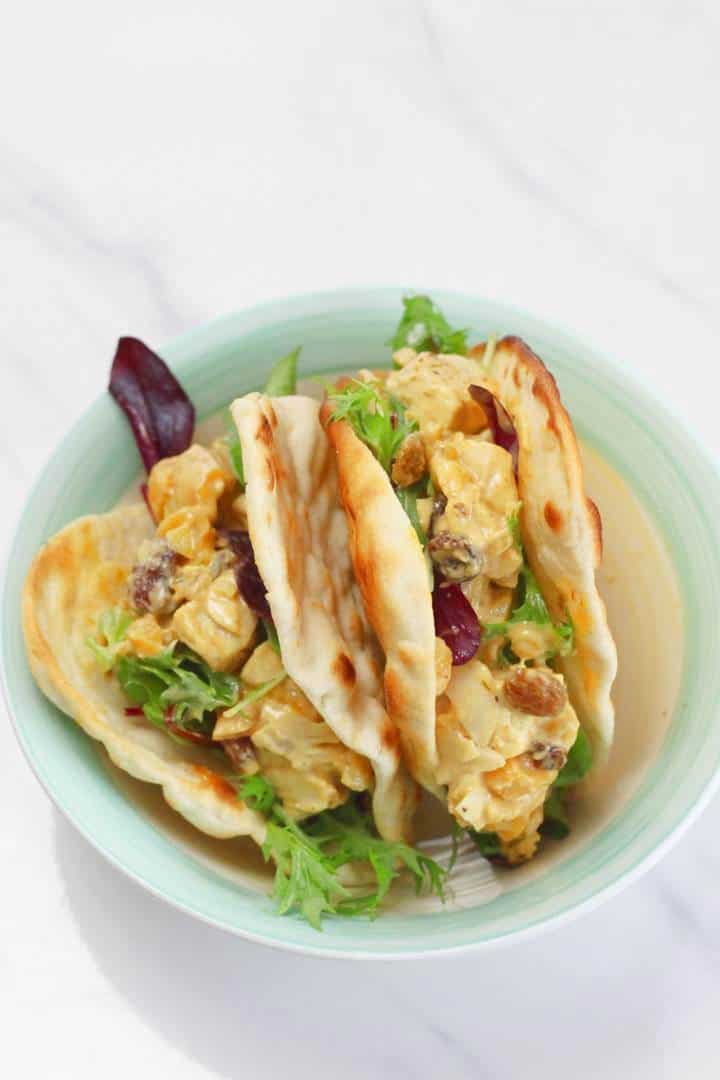 Summers on the lawn
This is a great recipe for serving at buffets when you have guests, who can help themselves. It is also a great sandwich filler – try this once and you will never buy another pre-filled sandwich again.
Coronation chicken can also be a fantastic starter, hot or cold, if you are preparing a lavish dinner for guests.
We like eating it in a flatbread. If you are like my wife and prefer it hot, then you can make it quicker as you do not have the cooling time.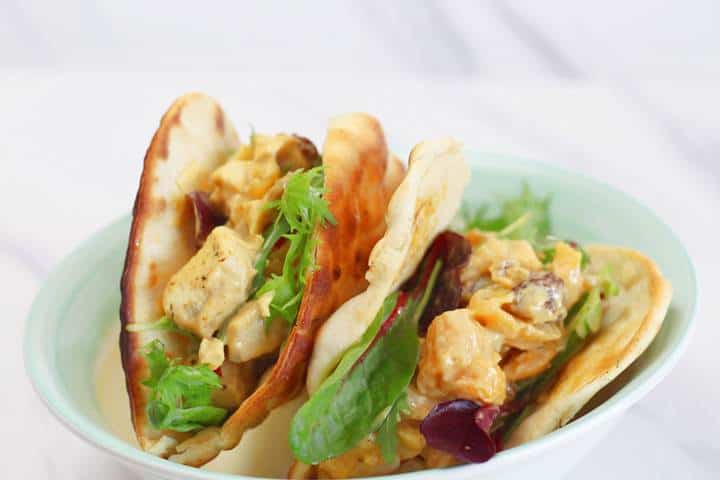 Coronation Chicken Origin
The original coronation chicken recipe was created in 1953 for the banquet of the Coronation of Queen Elizabeth II, hence the name.
It was invented by Constance Spry and Rosemary Hume from the Le Cordon Bleu School in London.
The recipe may have been inspired by the Jubilee chicken recipe, which was a similar curried chicken dish prepared for George V's jubilee in 1935.
Here is a link showing some more information on the origins of Coronation Chicken.
In any case, the meal has its base origins in India, where the prime ingredient, the Indian curry powder, comes from. India was of course until 1947, part of the British Empire.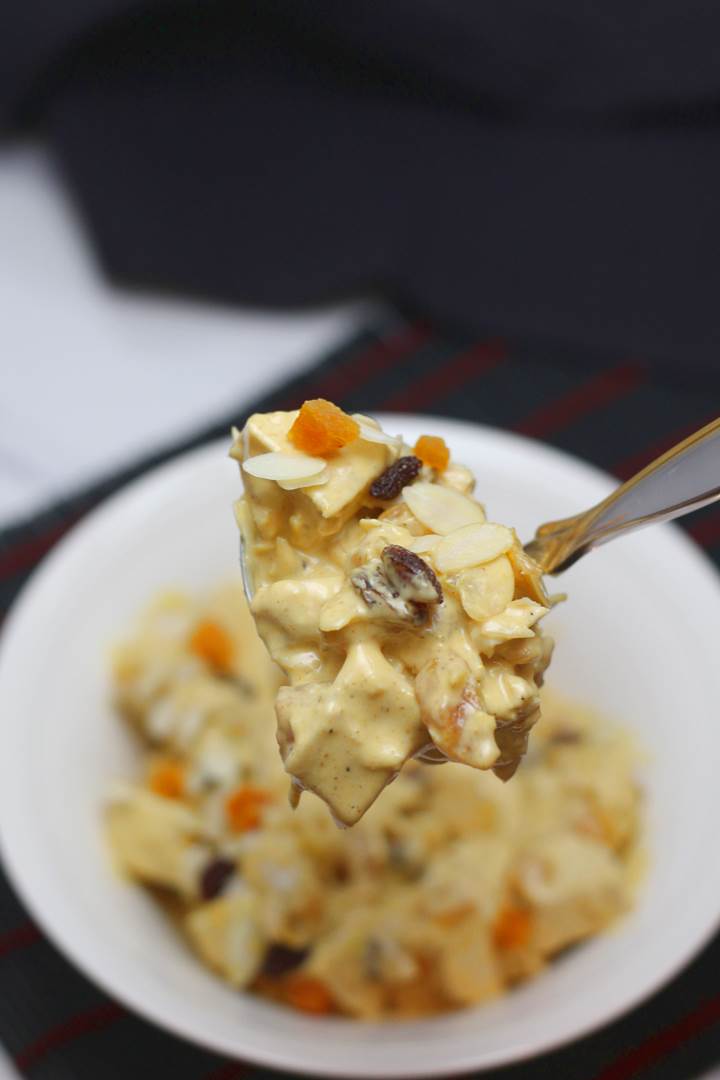 I also make another version, which is even easier to make, using curry paste. You can find it here – I have called it a chicken curry sandwich recipe- it is ready in 15 minutes and does not have all the sweet ingredients that this recipe has.
My wife prefers this alternate recipe as she is less keen on mixing sweet with savoury.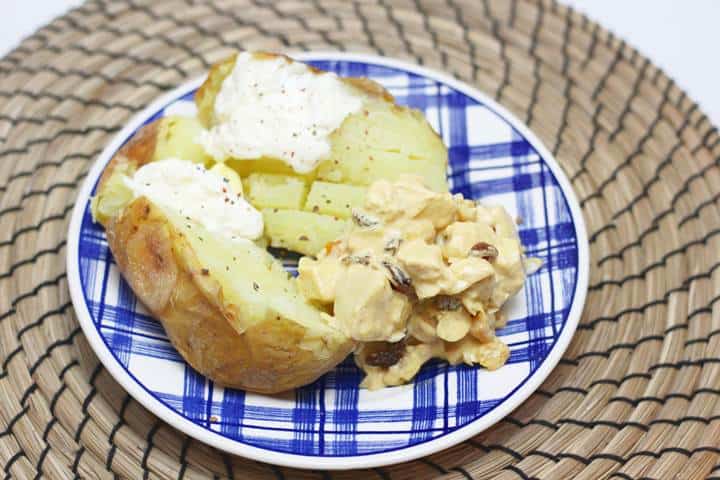 Versatility
I think this is a super mix of savoury, spice and sweetness and is a great coronation chicken recipe. Try using it in a coronation chicken sandwich in a piece of pitta bread or a flatbread.
A coronation chicken starter is also always a great success. Or perhaps together with some seared ciabatta or garlic bread.
Or even as an accompaniment together with a nice baked potato! The great thing about this meal is the countless number of different ways it can be served and eaten!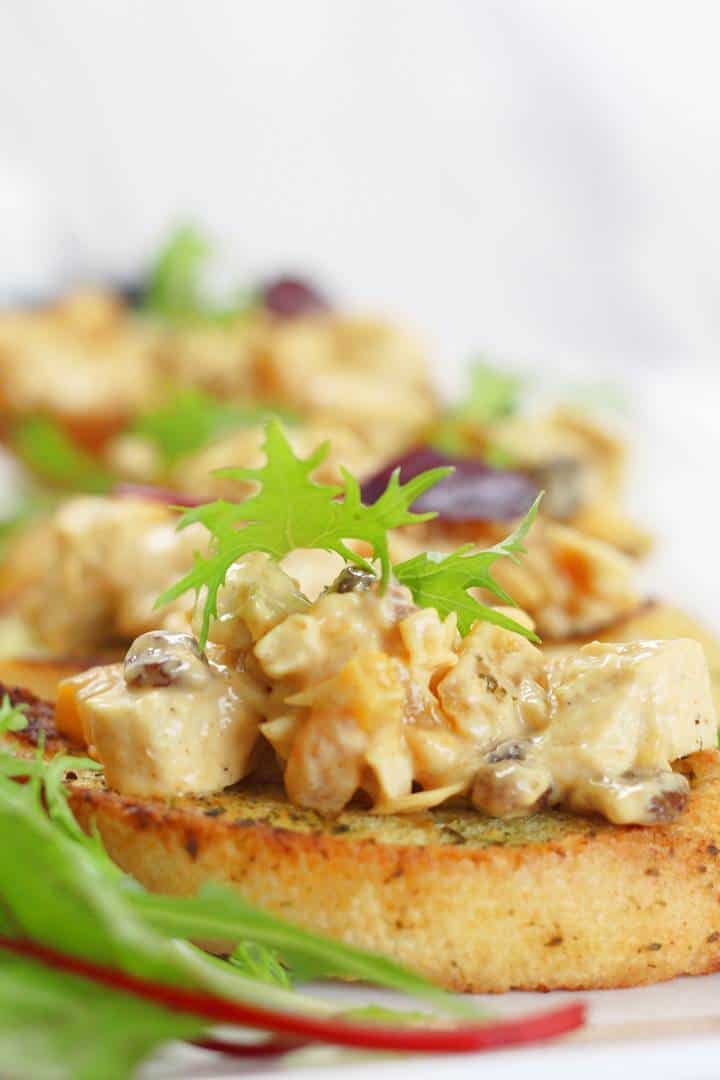 This is also a perfect al fresco coronation chicken salad recipe for a hot summers day….with a nice glass of Chardonnay…
Alternatively, this meal can be served as a main buffet dish or on a bed of cold white rice. It's up to you!
How to make the best Coronation Chicken Recipe.
If you enjoyed this recipe, you may want to try these dishes:
Yummy !