Chapati Recipe (Roti)
This easy chapati recipe shows you how to make your own Indian chapatis (roti bread).
Chapati is an unleavened flatbread that originates in India, and has many other names, like roti, safati, chappati or phulka. This recipe is without salt, although you can add a pinch if you like. It is very basic and easy to make.
Flatbread is a staple food in India and is often used to scoop the food into the mouth and wipe up the gravy off the plate.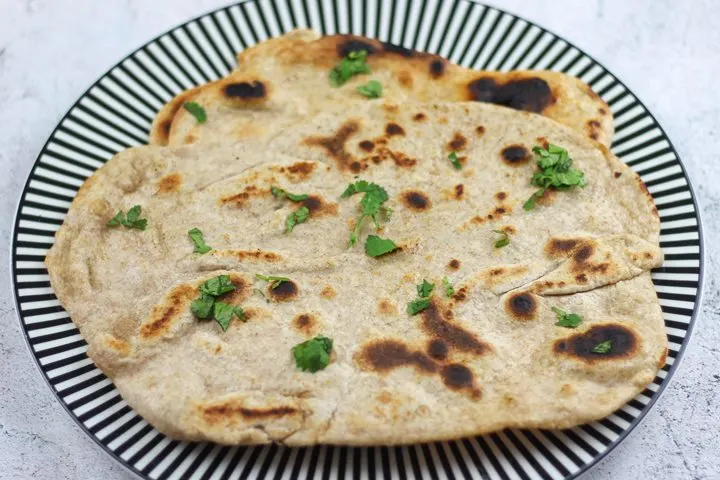 Chapati vs Naan
There are different types of bread in India and as well as chapatis. You also have naan bread and paratha, which are all different.
The difference between chapati and naan is that naan bread is actually a leavened bread.Naan is typically made with white flour, yeast, and yogurt or milk. Hence does take a bit longer to make as you need time to allow the dough to expand. Naan bread is also cooked in a tandoor, a cylindrical clay oven that is heated with charcoal or wood. This gives the bread a slightly charred and crispy exterior, while the inside remains soft and fluffy. Naan is often brushed with ghee or butter and may be flavoured with herbs or spices such as garlic or cumin.
Chapati, on the other hand, is an unleavened bread that is made with whole wheat flour, water, and salt. It is rolled out into thin circles and cooked on a griddle or skillet. This gives it a slightly toasted and chewy texture. Chapati is typically not flavoured or brushed with butter.
In this recipe, I have used some real Indian chapati flour (medium) which looks a bit like a wholemeal flour, with some small brown fibres in it.
The flour seemed to be very finely ground and tasted great. It made a good soft dough and was easy to roll out.
You can also use an all-purpose flour, but the result will not be quite as authentic.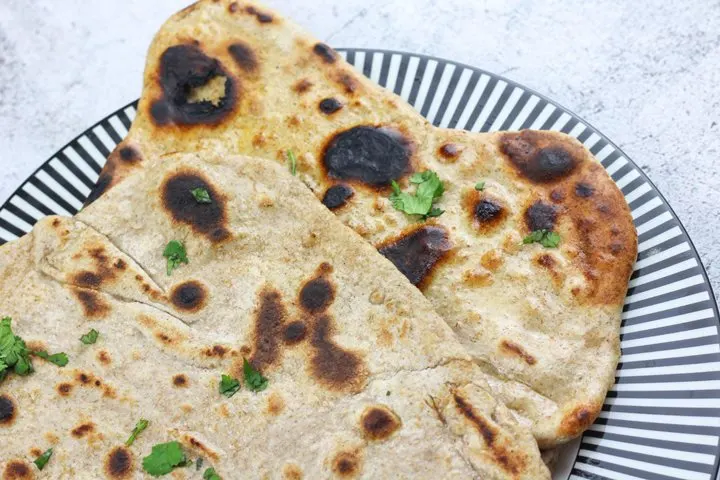 Origin of the word 'Chapati'
Chapati is named after the word 'chapat' which in Hindi means slap. This is the noise that is made when chapatis are 'slapped' out by hand. The traditional way is to slap the dough between wet hands, turning 90 degrees every time until you have a nice circular shape to cook.
I remember watching our Indian neighbours doing this once, preparing for a large family party, with all the ladies sitting cross-legged like Shiva on the grass and slapping away with their dough. It was quite impressive to watch as they all produced a small pile of uncooked circular dough pancakes in no time.
I believe they kept them in damp towelling to stop them sticking together.
I am not as proficient as these Indian ladies were at this, however, and I still roll out my roti on a lightly flowered surface with a rolling pin. Maybe not as cool, but it does the job (OK, they are maybe not that round 😊 !).
Eat your chapatis with a delicious Indian curry or use them in other flatbread recipes.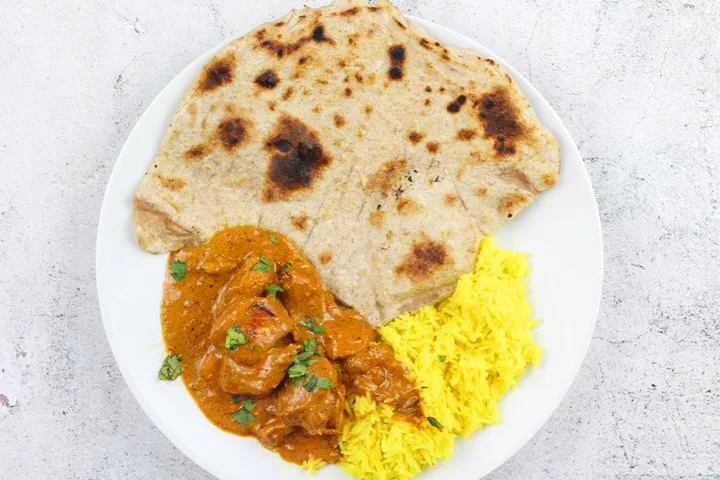 I hope you enjoy making these easy chapatis. If you do, please let me know how you get on in the comments section below!
Indian Chapati Recipe