Spicy Shrimp Pad Thai Recipe
This spicy pad Thai recipe will give you a delicious Thai noodle dish that is quick and easy to rustle up.
We are great fans of Thai food in our house. Green or red curries are often on our weekly meal list.
This Pad Thai recipe has recently been added to our list of great Thai meals.
I must admit this spicy pad thai recipe is a bit of a cheat as I do use a pre-purchased Blue Dragon Pad Thai noodle kit. But this is what makes it so quick and easy.
Pad Thai Ingredients
We can easily find this Pad Thai kit in our local supermarket, but we often have one sitting in our pantry, just for the days when we have nothing special planned.
This kit also includes rice noodles and crushed peanuts, so you have fewer things to think about when you are shopping.
All you have to do is add the vegetables and meat or seafood that you want and you have some delicious pad thai noodles that any restaurant would be proud to serve up.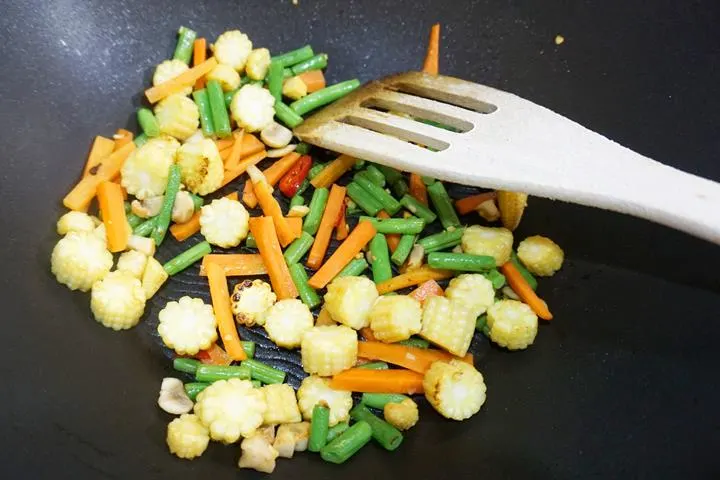 In this variation, I have added some prawns, baby corns, green beans, carrot and some button mushrooms, but really you can come up with anything you like.
I was tempted to try to make this dish after eating a Pad Thai in Wagamamas that had chicken, prawn, leek, red onion, spring or green onions and bean sprouts in it and was garnished with coriander, peanuts and served with lime slices. There is a picture of this delicious meal below.
This is what inspired me to produce this recipe and try the Blue Dragon kit, which I thoroughly recommend.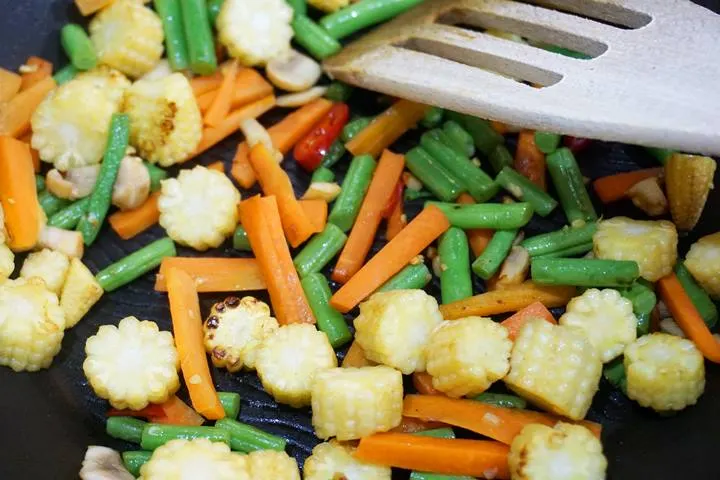 You could even add an egg or bell pepper if you so wished. Or replace the prawns or shrimp with chicken for a chicken Pad Thai. Beansprouts are always good, if you can source them locally.
This is one of those super flexible easy recipes where you can use whichever vegetables that you need to get rid of.
Blue Dragon Pad Thai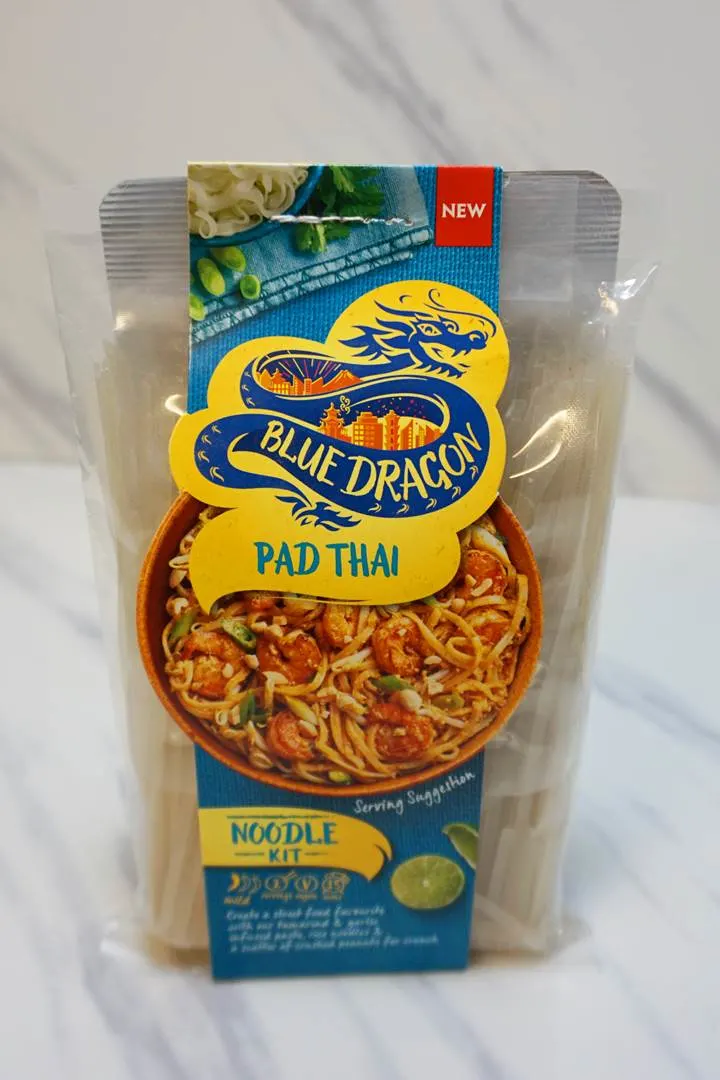 Blue Dragon Pad Thai Curry Kit
At the end of the day, the trick to the taste of these noodles is getting the sauce right and I think that the Blue Dragon pad thai kits gives the best store-bought pad thai sauce. We love it – it is a mixture of sweet and spicy and makes a great accompaniment to the rest of the food.
If you want to make it even spicier then feel free to add some fresh sliced chilli or chilli flakes to the pan.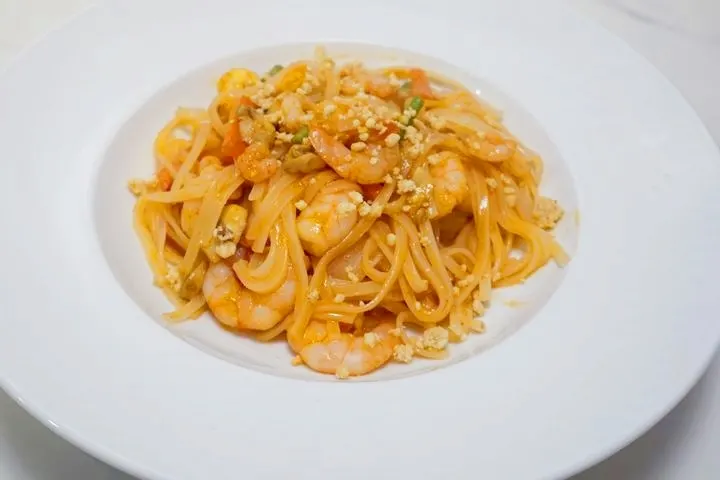 If you want to try making your own homemade Amai sauce, you can find the Wagamama pad Thai sauce recipe online – I have not tried it, but it may be worth giving it a go.
It consists of a mixture of malt vinegar, sugar, tamarind paste, ketchup and soy sauce. Tamarind paste is not presently a content of my pantry, however, so it was easier for me to buy the Blue Dragon Pad Thai kit.
For me, this Blue Dragon sauce is perfect and makes it possible to cook up this recipe in no time. I can serve this up in less than 15 minutes.
There are surely other great pad thai sauce brands out there, I just have not tried them yet.
You may wish to try this other even more spicy Blue Dragon inspired recipe for chilli garlic noodles, if you like this recipe.
[Note: I have no affiliation with Blue Dragon btw.]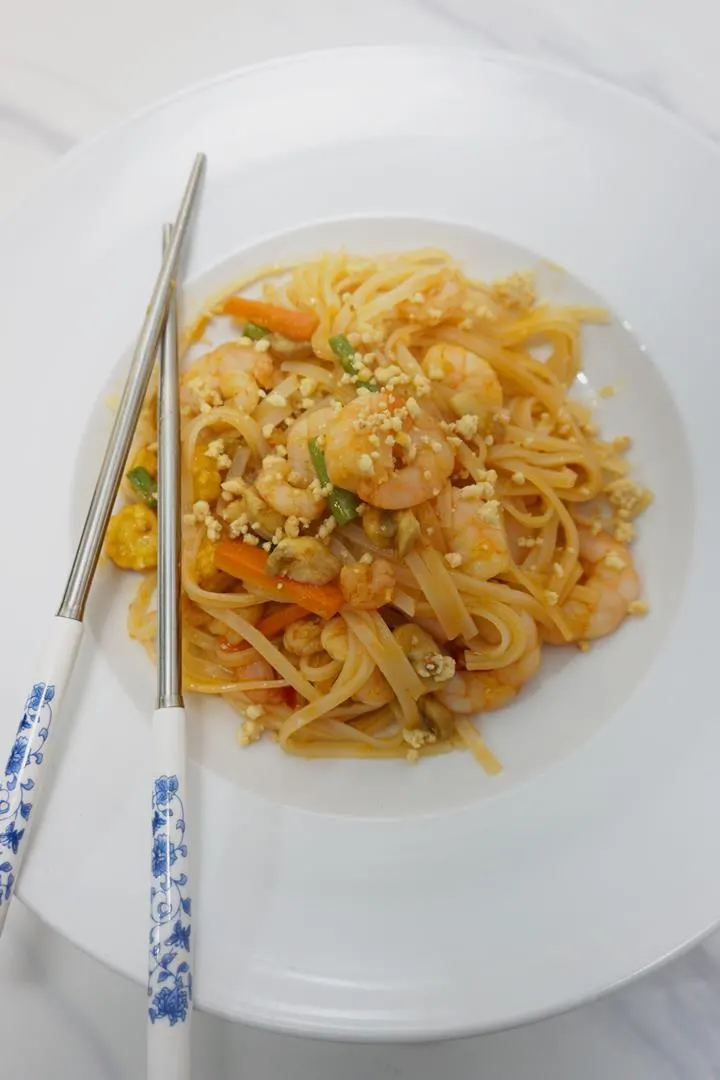 I hope you can find the Blue Dragon kit or something similar wherever you live. If you cannot find the same brand, then experiment with whatever you can get locally, using your favourite ingredients to suit your own palate.
Please let me know how you get on in the comments section below!
How to make this Spicy Pad Thai Recipe