Sweet and sour chicken balls
This easy recipe shows you how to make some delicious Chinese chicken balls in batter, with a sweet and sour sauce.
This was always one of my favourite Chinese take-out meals in the days when we used to get takeaways. Now we just make our own favourite takeout meals at home. Quick and easy and at a fraction of the cost.
Batter for sweet and sour chicken balls
A good batter and hot oil is the trick to getting some crunchy chicken balls.
This sweet and sour chicken batter recipe could not be easier. It only has a few ingredients and is ready in a couple of minutes, just using a whisk. The batter sticks well to the chicken and tastes great.
But because we deep fry these balls, it is not a really healthy sweet and sour chicken, so you should not be cooking this meal every day, however good it may be!
But it is certainly a much tastier alternative to a McNugget. The kids will love them!
A special Friday evening treat, maybe?
How to cook the chicken balls
You can cook the chicken balls in a wok or a deep fryer.
But you do have to be a bit careful not to burn the batter before the chicken is properly cooked.
If you think the batter is cooking too quickly, and you need to cool the oil down, just reduce the heat, if you are cooking in a wok. If you use a deep fryer you can also just turn the temperature down until you have the oil at the right temperature.
I cooked these in a wok, as you can see in the photo above, and really it is an easy way to do it. But be careful – a pot of boiling oil is obviously a serious safety hazard, so take all necessary precautions, and keep kids away from the stove.
Carefully place the balls in the oil with some tongs and turn with a wooden spoon. When ready to remove, use a slotted spoon or ladle to remove them. Put them on some kitchen paper to absorb any excess oil before serving.
If you are cooking in batches, then keep them warm in the oven on a plate.
Sweet and Sour sauce
The sweet and sour sauce is even easier to make. You may decide to serve the chicken balls covered in the sauce, but we have some in our family that prefer the crunchy chicken balls on their own, so I serve it separately.
I used some pineapple juice from a tin of pineapple slices. We ate the slices, but you could also use them to make a mango pineapple smoothie, for example.
I find the sauce goes well with some nice plain boiled white rice or Chinese fried rice.
How to eat sweet and sour chicken balls
There are plenty of ways you can eat this dish. As mentioned, it is great with white rice or fried rice. But it also goes well with some sesame noodles for example.
In these pictures, I served them with a simple chow mein made with a mix of udon and soba noodles. Pretty tasty.
But they are also good as a simple snack, using the sauce as a sweet and sour dipping sauce. Perfect as a game-day snack.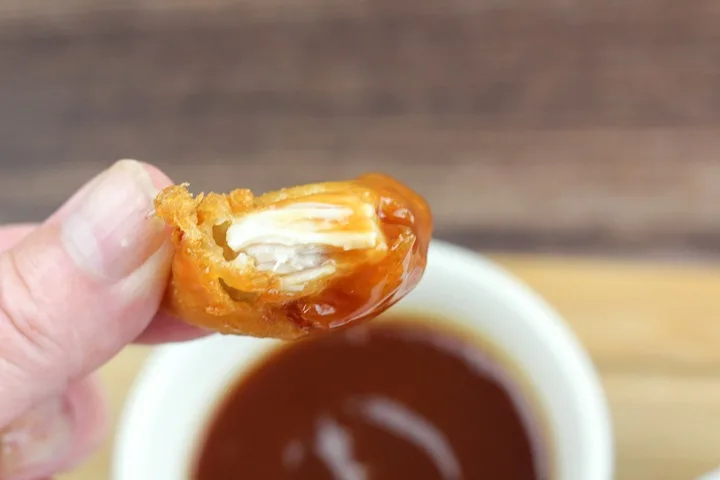 I hope you enjoy making these sweet and sour chicken balls. If you do make them, please let me know how you get on in the comments section below.
Enjoy!
Make your own sweet and sour chicken balls