Stir-Fried Pak Choi
Pak choi (British English) or Bok Choy (American English) is a type of cabbage that originated in China. This stir-fried pak choi recipe shows you how to cook it very quickly in a wok, using very simple Asian ingredients.
This dish is a great accompaniment to any Asian-style dish and is full of healthy green nutrients. I will use the terms Pak choi and Bok Choy to refer to the same thing in this post.
Pak Choi Preparation
Pak choi is very easy to prepare. Just remove any excess root from the stem, so that the cabbage is still held together.
Then slice it lengthways in half, or even in quarters. I find the latter worked well as I used about 3/4 of a pak choi per person when I served up.
You should wash the cabbage thoroughly after slicing it in case there are any insects hidden away in between the leaves.
But really you should was all vegetables really before using if you do not know where they have come from, just to be on the safe side.
Types of Bok Choy
There are several different types of pak choi. I have used 'Shanghai bok choy' in these photos which was grown in Ireland. Due to the prevalence of Chinese restaurants worldwide these days this vegetable is now more readily available, and grown in more locations.
The stems of this Shanghai pak choi are greener than the traditional white boy choy, which has whiter stems and darker green leaves.
The Shanghai bok choy, that I used in these photos, can get a bit greasy if overcooked, as it is not as crisp as the white bok choy, which is why I do not cook it for too long, and why I use the wok.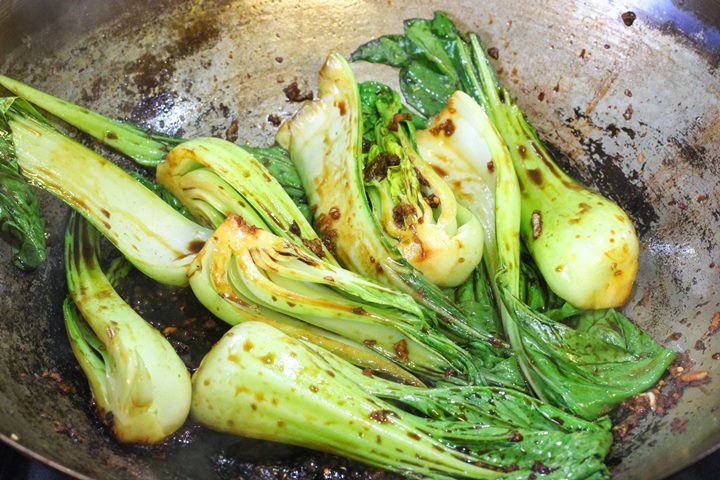 How to cook Pak Choi
I think cooking pak choi in the wok, sauteed pak choi, is the best way to cook it as it gives better control over the crunchiness. It also allows you to add taste to the dish by adding various ingredients to make it more interesting.
You can of course also have steamed pak choi, boiled pak choi or even roasted pak choi, but this is not as interesting as a recipe infused with garlic, ginger and Asian soy sauces.
I hope you enjoy trying this recipe. If you do try it please let me know how you get on in the comments section below.
How to make stir-fried Pak Choi in the wok