Healthy Coconut Rice
This simple coconut rice recipe shows you how to make some non-sticky healthy coconut rice in your microwave in a rice cooker.
Coconut rice is found in many different cultures across the world, especially where you have coconuts. I have come across it in several forms, sticky and non-sticky, like this one, mainly in Asian cooking.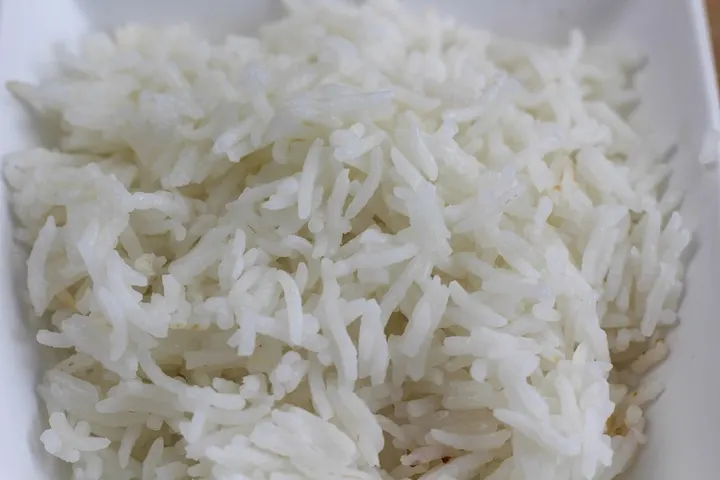 Coconut rice recipe
How best to cook fluffy rice
There are many different ways to cook rice: in the pan, in a dedicated rice cooker, in the Instant pot etc etc. But in this recipe, I use a microwave rice cooker to cook my rice.
The reason for this is that I find it is the easiest way to get good results. I must admit, I do have an Instant pot, but have not yet tried it to cook rice as I believe it takes longer. It is also less convenient for me as I do not have room for my Instant Pot in the kitchen. So I only tend to use it for time-saving on slow-cooked dishes.
In my experience, using a good microwave rice cooker, always gives the best results for non-sticky rice. Whether you want pilau rice or coconut rice.
I have a trusty old Pampered Chef microwave rice cooker (no affiliation), which is one of my most important kitchen utensils.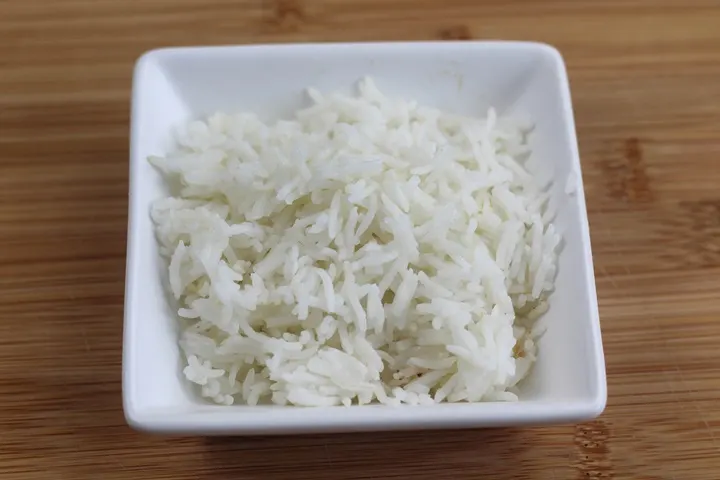 I have had it for about 30 years and it is still going strong, even though some lifting lugs have broken off, it does not have cracks and still works fine.
It is basically a plastic, slotted lid contraption with an internal bowl, which acts like a sieve, with holes in the bottom. You simply use the internal bowl to rinse your rice, and then to soak it for the required time.
I love the Pampered Chef brand as they are so durable, but the type I have is no longer available. If you are looking for one, make sure it is BPA free, and try and get one with an internal bowl with holes in the bottom. It is more washing up but you can also use it to steam vegetables for example.
And make sure it fits into your microwave!
How to cook coconut rice in rice cooker
When you are ready to cook your rice you just cover the rice with a level of water (and in this case coconut milk) and let it cook in two sessions of 5 minutes in the microwave on full power.
Nothing could be easier. You do not have to watch it and you can do other stuff in the kitchen. If you forget to reset the 5 minutes, it is not really any big deal. You do it when you have time.
I definitely recommend this way to make rice as it produces nice fluffy rice that is sweet with the taste of coconut. You can also just leave out the coconut milk, which will give you some nice clean plain white rice, perfect as well for many other dishes.
I use this rice with many of the Asian dishes I cook at home, see some of the links below the recipe.
Good luck trying out this recipe, and please let me know how you get on in the comments section below!
How to make rice in microwave rice cooker