Exotic Mushroom Risotto
This easy recipe gives you a delicious exotic mushroom risotto. This tastes as good as anything you can get in a top-class restaurant. The special flavour of the mix of different types of mushrooms makes this recipe one of my favourites.
This recipe is so easy to make and can be on the table in less than 30 minutes.
Types of Exotic Mushroom
I decided to make this meal after I came across some interesting exotic mushrooms for sale in Dunnes stores in Ennis, co. Clare. One packet was a mix of 'exotic mushrooms' that included some grey oyster mushrooms, Paris Brown mushrooms, golden oyster mushrooms, and pink oyster mushrooms.
The other packet included some Shiitake mushrooms, that just looked as if they were made for an exotic mushroom risotto. I was not wrong.
These mushrooms, mixed together, provide a delicious taste to a risotto that you will find amazing if you can find something similar. Just look for some interesting-looking mushrooms, which are bound to taste good.
But make sure you know what they are before cooking and eating them!! There are some dangerous mushrooms out there if you are picking in the wild (which is why I buy mine from the store!)
Mushrooms and Vitamin D
I think I must have been having a bit of a 'mushroom week' this week, as I also made some more of my delicious creamy mushroom soup, mainly using portobello mushrooms.
It could have been a subconscious thing, as I have since discovered from blood tests that my Vitamin D levels are too low, and mushrooms, especially portobellos (or portabellas), are a great source of Vitamin D.
Who knows? Did I even know this? Certainly, Vitamin D deficiency seems to be fairly common if you happen to live in Ireland, due to the lack of sun (we often get 4 seasons in one day over here!).
Anyhow this risotto and the delicious mushroom soup will have definitely upped my Vitamin D levels. Just need some sun now……..he says hopefully after storm Barra has just passed…😃
Wild Mushroom Risotto
This easy risotto recipe will also work with wild mushrooms, if you know what you are doing, as picking wild mushrooms and knowing what is safe is an art.
I will not be teaching about wild mushrooms here as I am not an expert on mushrooms. I do not want you to be trying this recipe with magic mushrooms or something worse!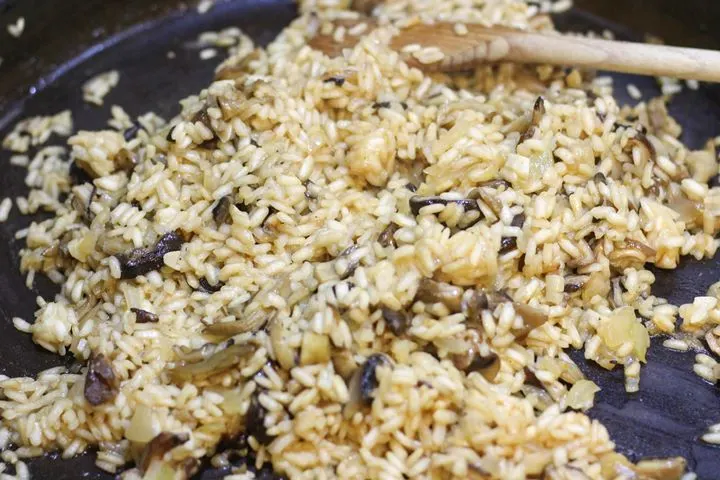 So to be safe, do what I do, and buy your exotic wild mushrooms in the local store. Make sure you clean them properly before use.
Which pan to use for making risotto?
Well, I made this risotto in a paella pan (a bit like the one shown below in the recipe card) that I have for camping. I just find it easy to use, and you can easily see when the stock needs replacing, meaning it does not get too stodgy.
The pan is also great for cooking other things when you are camping, like a full English breakfast – everything fits on one pan.
But you could also use a Cast Iron Casserole Dish from Uno Casa. They also make some good affordable gear, suitable for cooking this dish.
All these different types of pan have their own pros and cons. Choose one that best fits your needs.
If you wish to make this a purely vegan exotic mushroom risotto, then just fry the mushrooms in vegetable oil, leaving out the butter, and use just vegetable stock. Obviously, forget the parmesan as well.
This results in a vegan mushroom risotto recipe that will be very similar. And any non-sweet white wine should do the trick.
I hope you enjoy trying this recipe. Please let me know how you get on in the comments section below!
How to make an exotic mushroom risotto