Recipe for Satay Chicken
This is a simple recipe for Thai Satay. In this recipe, I add a spoonful of Thai red curry paste to spice up the peanut sauce a little more. Thai food is known for being spicy, and we love a bit of a kick!
Having lived in Holland for many years one gets used to eating what they call 'Pindasaus' or 'Saté sauce'. This delicious peanut sauce is something that originates in the Far East and is ubiquitous at almost every Dutch BBQ I have ever been to.
A simple chicken saté with peanut sauce will also be found very often at catered events.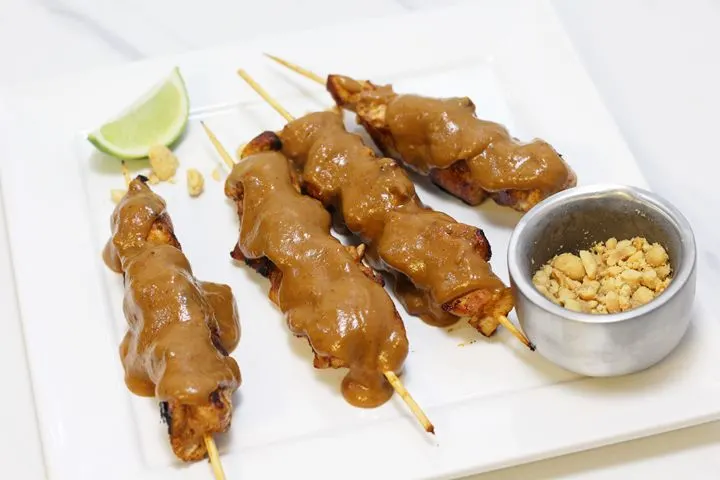 In the Netherlands the Saté sauce originates from Indonesia, which used to be a Dutch colony. Saté (also spelt 'satay') is the skewered and grilled meat.
The peanut sauce is sold in all fast food joints in Holland and is also commonly served up with chips (French fries).
In this recipe I have used chicken as the skewered meat (which is most common in the Netherlands) but really you can use any type of meat you like. Beef Saté is also a commonly served meal.
Just make sure you cook the meat properly. Normally the cooking would be done over an open grill such as a BBQ, but in this case I have cooked the skewers in the pan.
I just cut the long skewers a bit shorter so I could get everything in one pan.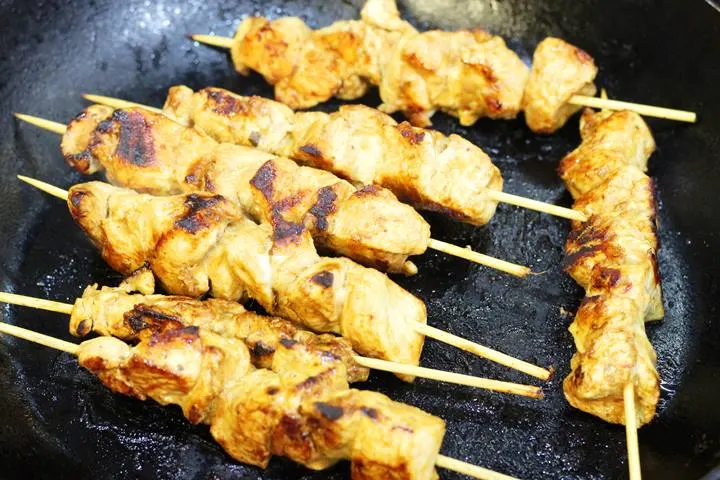 On the BBQ the long skewers are designed so that you keep the long end away from the heat so you can easily pick them up and turn them.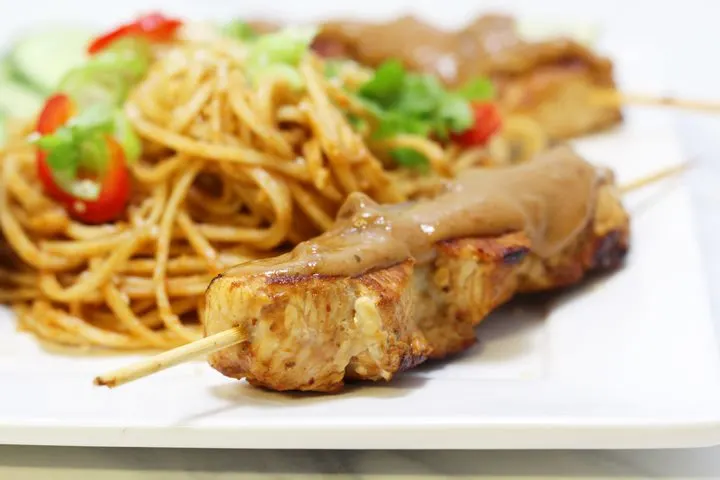 Make your own satay sauce?
You can make the sauce yourself from scratch, using peanut butter and coconut milk and soy sauce.
But to be honest, why go to the trouble when perfectly good ready-made satay sauce is easily available online.
See an example of one on the recipe card below. Just mix with water and away you go.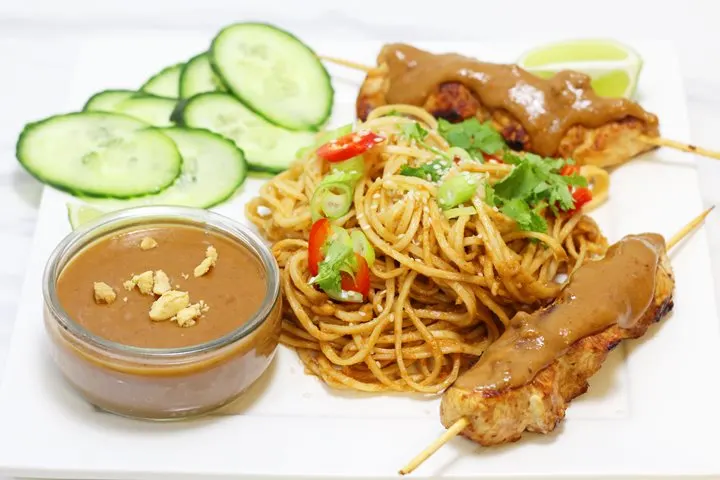 If you search google you will find plenty of recipes on how to make your own Thai satay sauce if you want to, some better than others, but you will struggle to beat the taste of the ready-to-go Thai peanut sauce.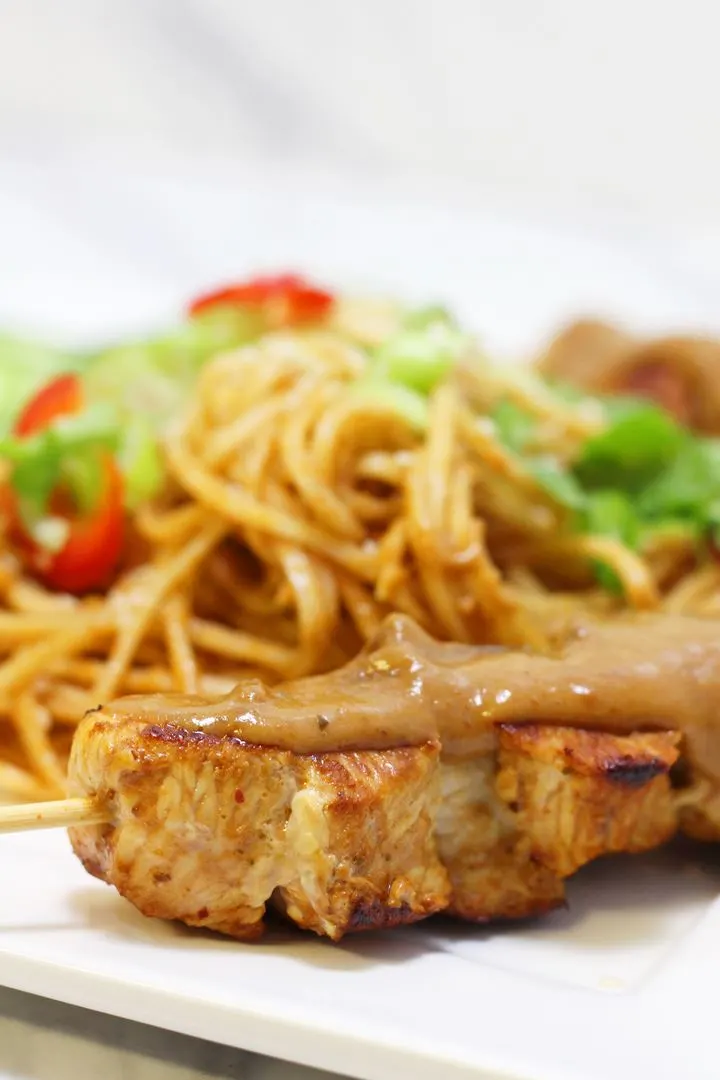 Thai chicken satay recipe is a really easy meal to make when you are having a BBQ. This is why the Dutchies do it, and really if you like peanuts, you will love this.
The peanut dipping sauce can also be used to dip your bread or vegetables in.
This recipe is a great accompaniment to some sesame noodles or a pad thai noodle dish. Give them a try!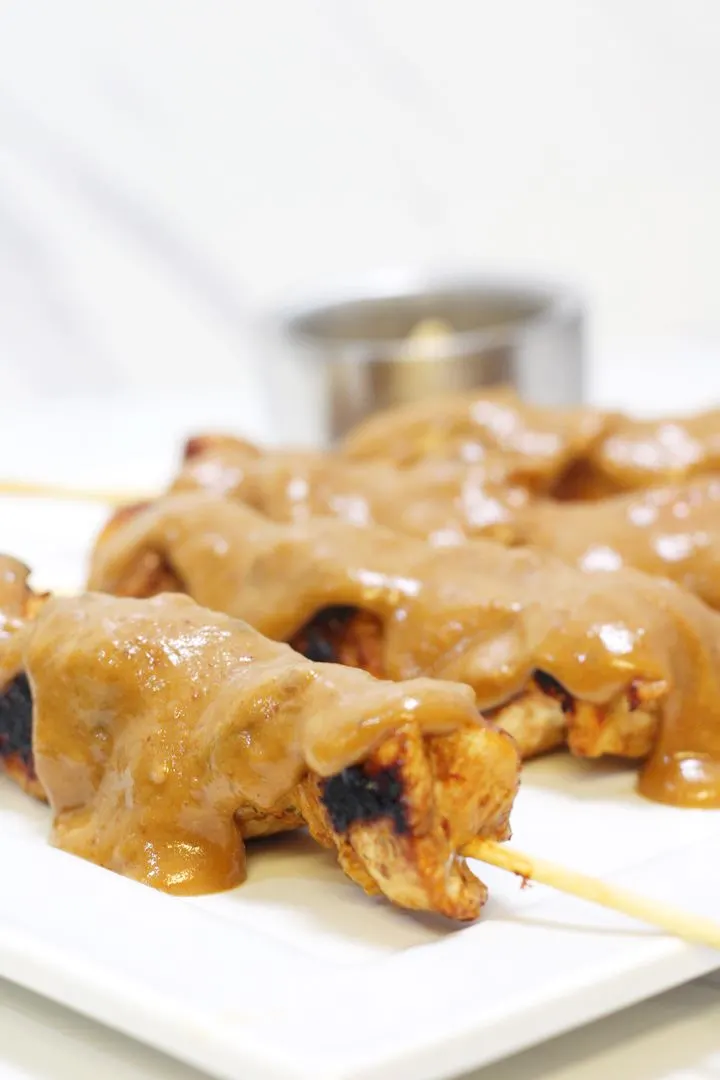 How to make Thai satay chicken