Rendang Daging Recipe
This easy recipe will show you how to make a delicious slow-cooked Indonesian Beef curry in coconut milk.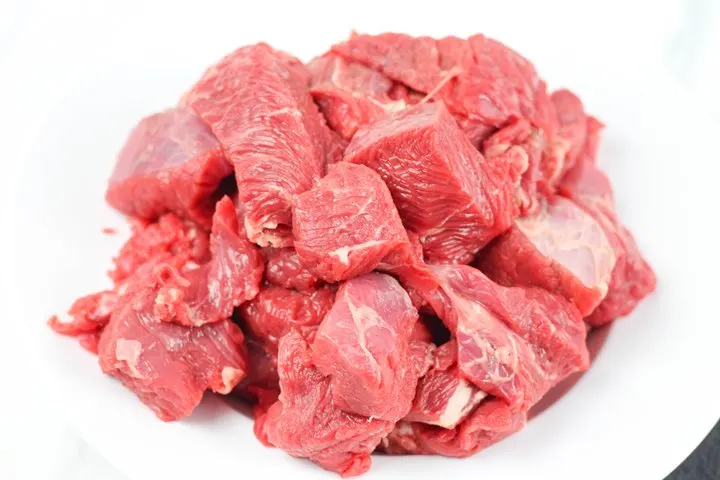 This recipe is my attempt to recreate the Rendang Daging that I used to get with my take-aways at the Dapur Ibu many years ago. Again it is not a perfect copy but it is close.
Indonesian Food
I lived in Holland (sorry, the Netherlands!) for 30 years. One of their old colonies dating back to the days of the Dutch East Indies Company, was Indonesia.
Without going into any detail about this part of history, a huge spinoff from this period is that it did help introduce some interesting food to the Dutch tables.
In Holland, you will often see restaurants that serve Chinese and Indonesian food on the same menu. This is very common.
Typical Dutch efficiency you could call it perhaps, even though the food from these countries is quite different.
But the jewel on the crown in these Dutch restaurants is the Indonesian 'Rijstafel'. This is a Dutch word that means literally 'Rice Table' and describes a mix of different side dishes like Gado Gado, sateh, babi panggang, babi ketjap, lumpia, kroepek (shrimp crackers), bami (a thick noodle invented in the Netherlands and exported!), nasi and of course, rendang curry.
If you ever go to visit the Netherlands you should definitely try a 'rijstafel'. They are actually VERY good.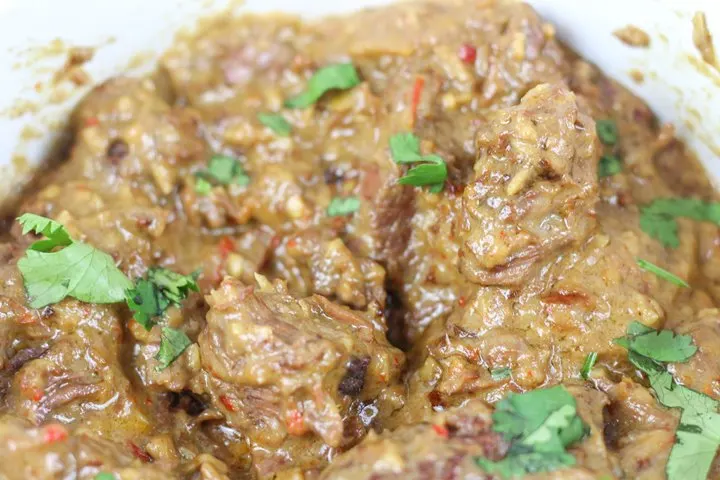 Indonesian Beef Curry
This Indonesian beef curry recipe will show you how to make a Rendang curry (as it is known in Indonesia). This beef Rendang recipe is not only very easy to make, but it does produce an absolutely delicious beef curry, as the beef is slow-cooked in coconut milk.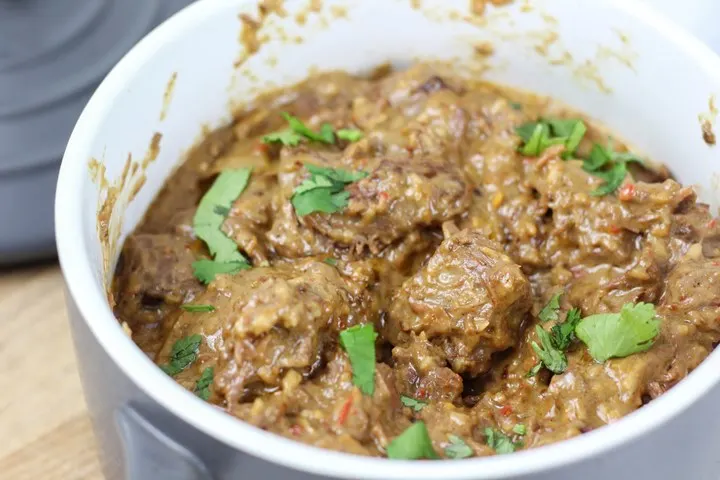 OK, so it is not quick to make, but it is worth the wait.
I have used some rendang curry paste in this recipe, because I actually had it available, but do not worry too much if you cannot get hold of it. The homemade paste and coconut will give it the flavour it needs.
I have used my trusty Le Creuset Dutch oven to make this dish in the oven, but of course, you could also use your favourite slow cooker to produce the same results.
Le Creuset Enameled Cast Iron Oval Dutch

Indonesia
I was lucky enough to go to Indonesia to the islands of Java and Bali about 30 years ago on an engineering project I was working on. We were building trains locally in Indonesia for use in Jakarta.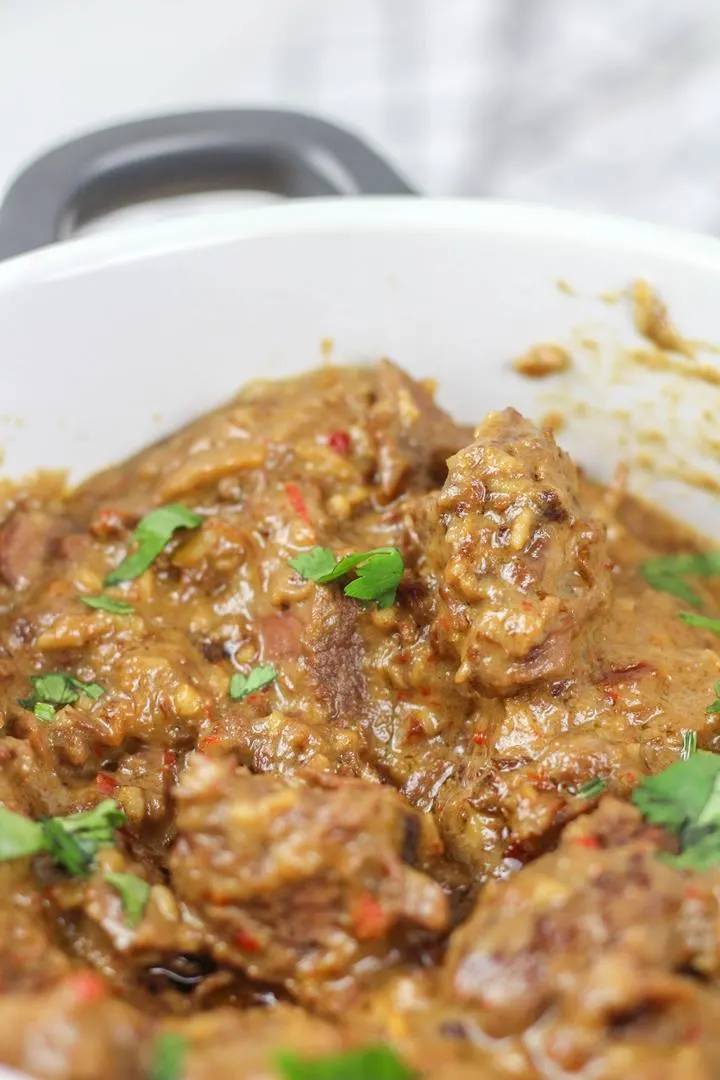 I actually spent 2 weeks in Bandung commissioning a vacuum pressure impregnation plant for insulating the stators of traction motors. It was quite an experience. I also managed to sneak in a weekend diving on Bali, which was a real treat.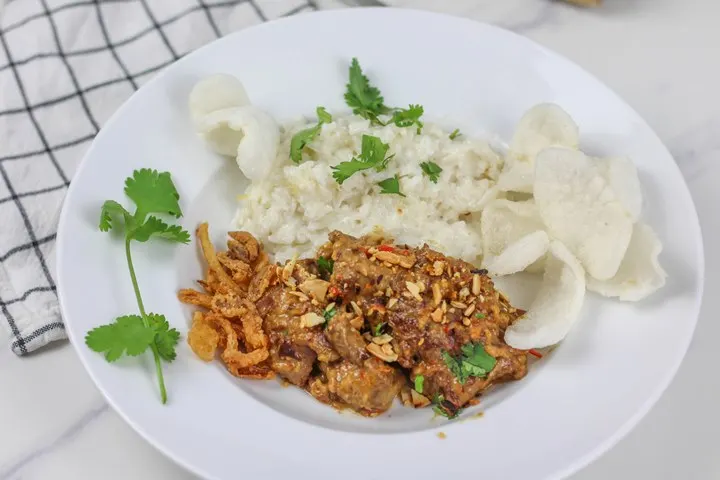 From what I saw Indonesia back then seemed to me to be a beautiful country and the people were all very friendly. During that time I was also introduced to several different Asian dishes, one of which was this rendang curry.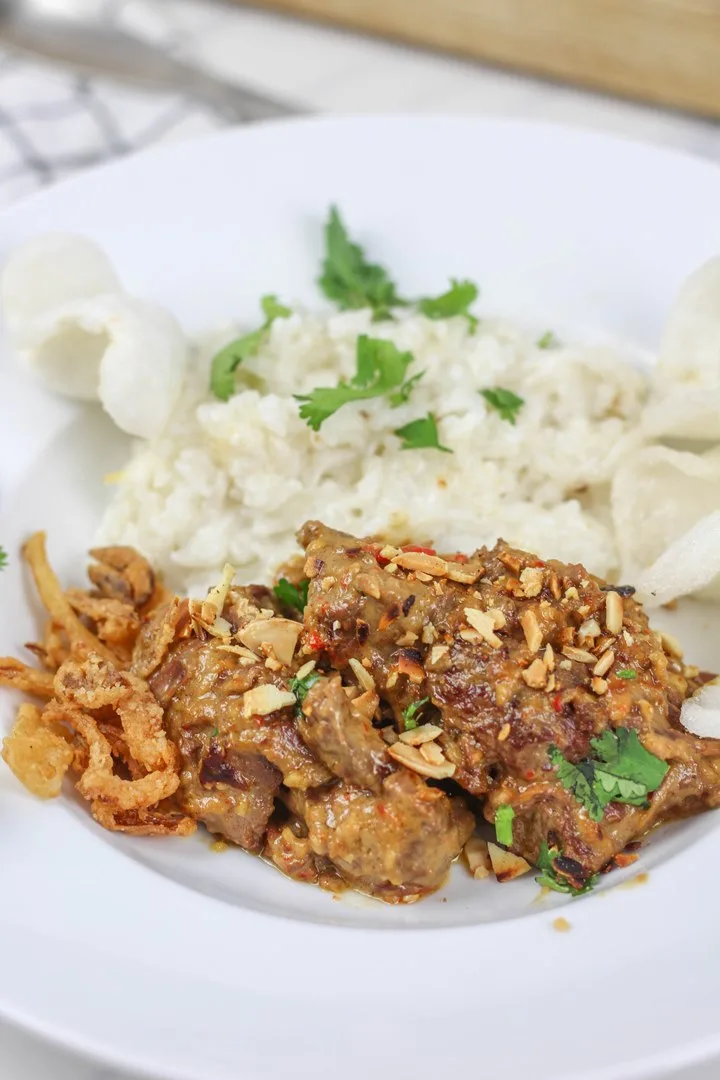 I hope you enjoy this recipe as much as I do. It is nice served up with some coconut rice or Jasmine coconut rice, whatever takes your fancy.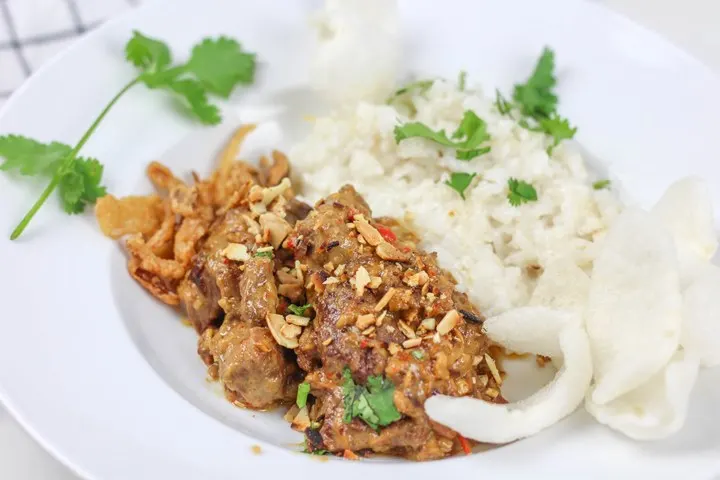 If you try and make this dish, please let me know how you get on in the comments section below.
How to make an Indonesian Beef Curry
If you like this recipe, you may also find these tasty: