Easy Chicken Curry Sandwich
On some occasions when we are just too tired to cook, this chicken curry sandwich recipe does the trick. It is quick and easy to make and tastes delicious.
We normally eat this sandwiched in a flatbread or some toasted pita bread.
But you can use this filling in pretty much any bread that can be used to make a sandwich – baguette, ciabatta, sourdough or multigrain. Use whatever you fancy.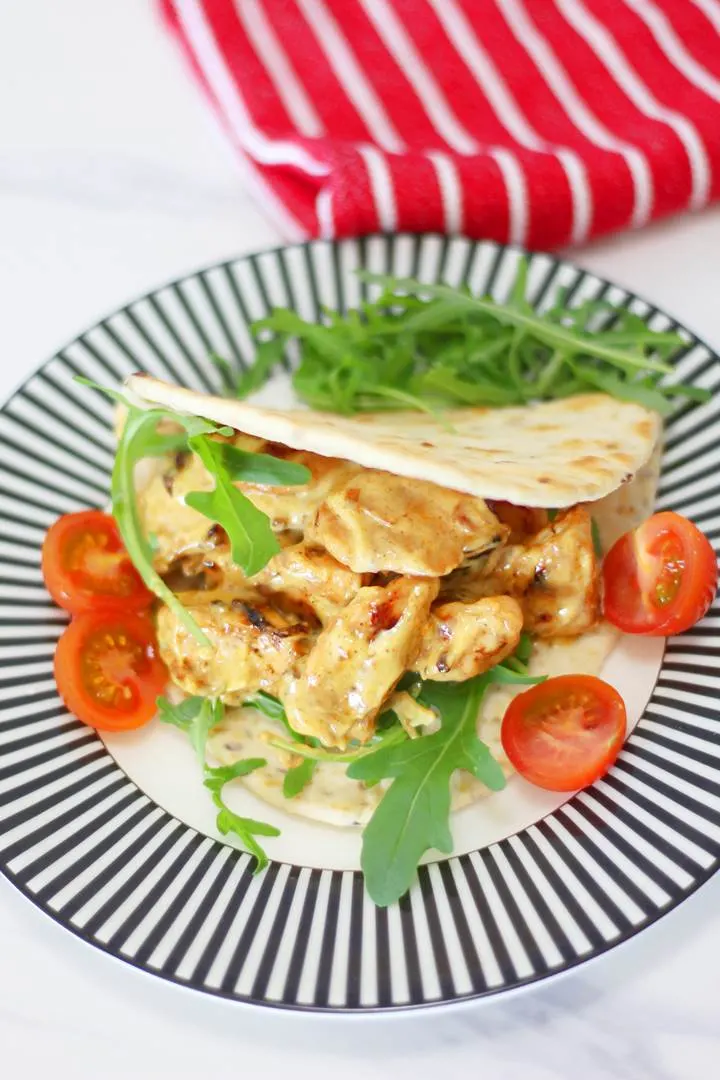 This recipe is a little bit like a poor man's alternative to my easy coronation chicken recipe. But only really because it is super quick to make (ready in 15 minutes) and has fewer ingredients.
My wife in fact prefers this to my coronation chicken recipe (but I think this is only because she can eat it sooner!). This is because she does not like the sweet things in the other recipe like the dried apricots and mango chutney. She believes that savoury dishes should remain savoury.
She also likes to eat this hot, whereas I like my coronation chicken cold. So I normally split the chicken and make both. But this recipe is a lot easier.
In fact, if you leave away the accessories like the flatbread, you could call this a keto coronation chicken recipe.
Easy Curry Sandwich Recipe
This meal originated for me in the days when I was working long hours on engineering projects.
I needed some quick and healthy sustenance when I got home and everyone else had eaten.
This super easy chicken recipe always did the trick and could be eaten warm.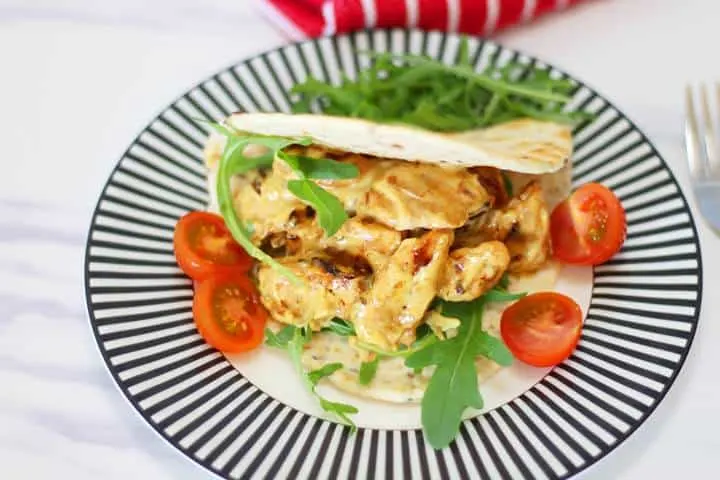 It is really just as easy as my quick and easy tuna pasta and uses just some basic ingredients.
As mentioned, I always have Hellmann's Real Mayo and Patak's Madras Spice Paste in the fridge at any point in time. So that is the sauce taken care of.
The chicken and bread may need to be bought. But maybe you have some leftovers from the Sunday roast chicken which could be used? Or some BBQ chicken leftovers?
We always have an onion or a shallot in the pantry somewhere!
Patak's Spice Paste
Patak's Madras Curry Paste is a popular curry paste used in Indian cuisine. The product originated when the Patak family migrated from India to the UK. They started making spice pastes in their home kitchen. Initially, they began selling their products to local Indian restaurants and soon gained a reputation for their authentic flavours and high-quality ingredients.
Now the Patak family exports their products worldwide. Today, Patak's is a well-known brand in the UK and around the world, offering a range of spice pastes, sauces, and chutneys.
The Madras Curry Paste is made with a blend of aromatic spices and is known for its medium heat and bold, rich flavour. It has become a staple in many kitchens and is a popular ingredient in a variety of dishes, from curries to soups and stews.
I also use this paste as an essential ingredient in my authentic Indian chicken curry recipe.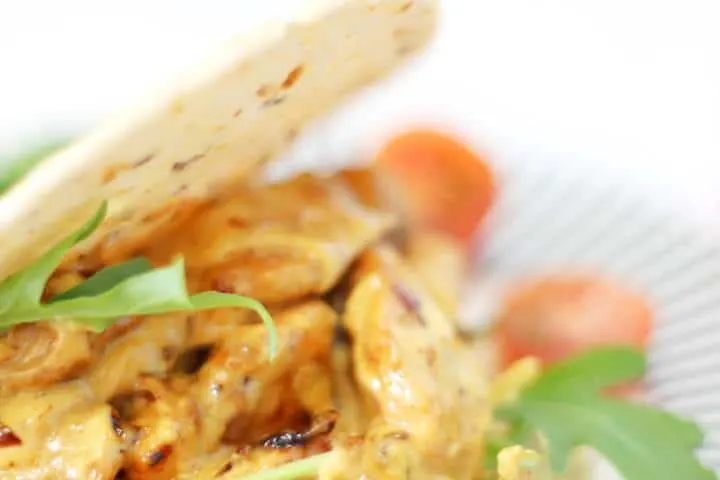 I think you will find the taste of this sandwich not quite as refined as the taste of my coronation chicken, which has a few sweet ingredients included. But I still think the combination of the mayo and the curry paste is genius, even if I say so myself 😃.
Make your own flatbread for the sandwich
If you are feeling really adventurous, why not make your own flatbread to go with it? My 3-ingredient flatbread recipe is super easy and also ready in 15 minutes if you can multitask!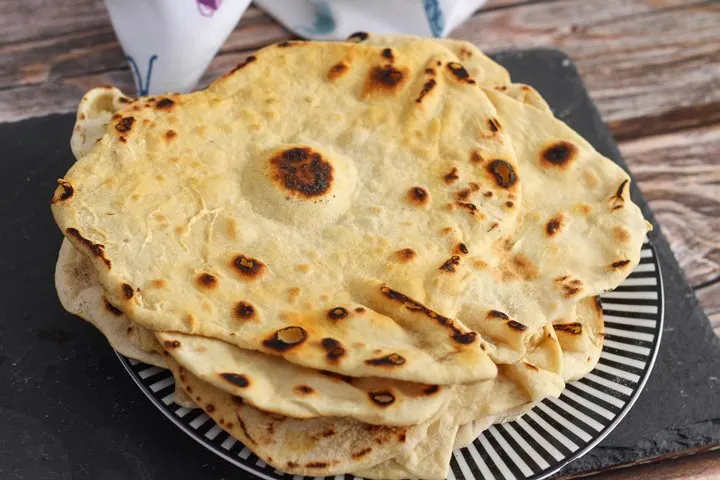 Good luck and let me know how you get on in the comments section below!
How to make a Curried Chicken Sandwich
If you enjoyed this you may also like: