Braised steak and onions in slow cooker
This blogpost and easy recipe describe how to make braised steak and onions in a slow cooker, Dutch oven or Instant Pot.
You can make this meal with any of these methods, or even on the hob if you wish, and it will give you delicious succulent beef meat that falls apart like pulled meat.
This is a delicious family meal that is perfect with some mashed potato, vegetables and tasty beef and onion gravy.
Using the Instant Pot you can have this meal on the table in half the time it would take to slow cook.
What is Braising?
Braising is a technique that involves slowly cooking meat in a covered pot or pan with some liquid. The liquid can be wine, broth, stock, or even water. The liquid is added to help break down tough connective tissues in the meat and create a flavourful and tender dish.
The process of braising usually involves searing the meat first in hot oil. This creates a browned crust. The meat is then simmered in the liquid until cooked through and tender. The covered pot traps the steam and heat. This allows the meat to cook evenly and absorb the flavours of the liquid.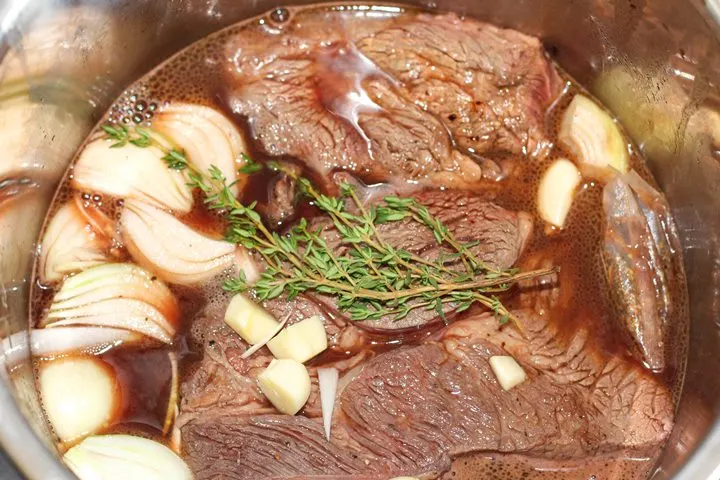 Braising is a versatile technique that can be used for a wide range of ingredients. Tough cuts of meat like beef brisket or pork shoulder are perfect for braising. The slow cooking process helps to tenderize the meat and intensify the flavours of the dish.
Braised dishes are often served with the tasty cooking liquid. This can be thickened and used as a sauce or gravy. We do that in this recipe.
Braising is a great way to create a hearty and satisfying meal. It is perfect for colder months or when you're looking for a comforting and nourishing dinner.
Braised beef recipes
I lived in the Netherlands for 30 years where they have a few different types of traditional slow cook braised beef recipes.
Sucadelapjes
One of these recipes is called 'sucadelapjes' or 'sukadelapjes'. The recipe I describe here is actually based on the recipe I used in Holland to make sucadelapjes, just using a slightly different cut of meat.
For braised beef the best cuts of meat are ones that are tough and muscular and require slow cooking. So think of cuts from the chuck, shank, brisket, round and flank of the animal.
To make sucadelapjes one uses a cut known in Dutch, funnily enough, as a 'sucadelapje'. This cut of meat is taken from the shoulder and is known in English as a top blade steak or a featherblade or feather steak. This meat needs to be slow-cooked as it has a tough sinew running through it which takes a while to break down.
The cut looks a bit like this, although the ones you buy in Holland are not normally so marbled. I think this picture must be of a Wagyu beef cut.
Chuck Steak
The sucadelapje cuts are not easily available where we are, so instead, I used some chuck steak. This is also cut near the shoulder, but with a bit more fat in between the lean meat.
This fat breaks down during cooking into the braising liquid. You should remove the fat from the liquid before using it to make gravy though, if you want to keep your arteries healthy.
This was the cut I used to cook in the Dutch oven:
Both these cuts of meat are perfect for braising and will give you a pulled beef result. This is known in Holland as 'draadjesvlees'. This literally means 'thread meat' – when the meat forms a wire-like shape, like pulled beef. It is also known as 'stoofvlees', from the Dutch 'stoven' which means to stew.
Effectively this is the same as braised steak – meat that has been cooked in a covered pot with some liquid to create melt-in-your-mouth tender deliciousness.
How to cook braised steak
Now there is more than one way to skin a cat as they say. Also, there are different ways to cook this dish, all of which will give you a similar result. Tasty succulent pulled beef to die for.
Braised steak in Dutch Oven or on the hob
I cooked this steak first in my versatile cast iron Le Creuset Dutch oven in my oven, which took about 3 1/4 hours at 170C. Sucadelapjes would take about the same amount of time to cook. The important thing is that your pan has a good tight-fitting lid to retain the liquid. The Le Creuset can of course be used in the oven or on the hob.
In Holland it is more normal to cook this sort of dish on the hob in what is known as a 'sudderpan' or simmer pan, which is often a black enamelled steel pan with a lid. A bit like this one:
To make sure the pan is kept on a low heat, the Dutch use a 'sudderplaat' or heat diffuser, like one of these:

If you use this type of pan you may wish to check the liquid level a bit more frequently to check it does not dry out, as the lids are not as heavy as a cast iron pan and you may lose more fluid in the form of steam.
If you need a good Dutch oven to cook this in, why not try Uno Casa? They have some great, affordable cast iron casserole pots like this one below:
Braised beef in crockpot or slow cooker
You can cook this dish in a crockpot or slow-cooker. If you are going to cook at a lower heat you will need to cook for longer though obviously, and the time may depend a little bit on the cut of meat you are using.
But the advantage of the crockpot is that you can keep an eye on things and adjust if necessary.
Braised beef in Instant Pot
You can also cook this dish using an Instant Pot if you need to speed things up a bit. I also tried this and it gave a perfect result on a high-pressure setting for 90 minutes, using the same recipe. I did the browning of the meat using the sauté setting of the Instant Pot and made the gravy in the Instant Pot as well.
I think this is the quickest way to cook a braising steak as it cooked in less than half the time as in the Dutch oven, so it has my preference now. The result was just as tasty.
But as you can see, there are several roads that lead to Rome.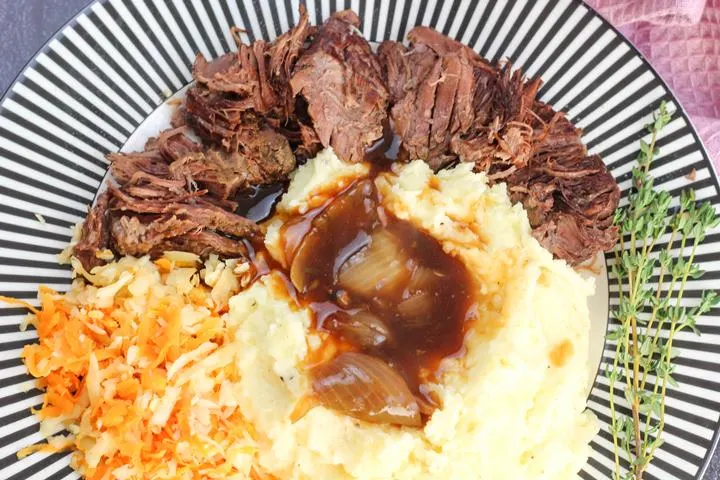 Braised steak and onions
Adding onions to this dish adds flavour to the gravy and the meat. As my daughter does not like onions I strained them out of the gravy in this photo below. But normally you should of course leave them in and serve them in the gravy, as they are an important part of this dish.
I think this dish is great with some mashed potatoes and boiled vegetables, and the rich gravy makes it perfect. It is a great family recipe. Who does not like tasty succulent braised beef with mash, gravy and a favourite vegetable?
Here I served the meat with some steamed cabbage and carrots with the mash, which was absolutely delish.
I hope you can get the same results when you try it. We shall certainly be cooking this more often now I have mastered it in the Instant Pot. It is so, so easy to make, and so delicious!
I hope you enjoy trying out this recipe with a suitable cut of beef. If you do, please let me know how you get on in the comments section below!
Enjoy!
How to make braised steak and onions in slow cooker
Served up with this dish:
Some other tasty slow cooked recipes: