Spicy Thai Curry Recipe
This is a spicy Thai prawn curry recipe that I made for some pescatarian friends who visited recently. It is loosely based on my favourite chicken curry that I make regularly, so I knew it would work well with prawns instead of chicken. And it did! The extra addition of some Thai red curry paste added an extra Thai dimension to the dish.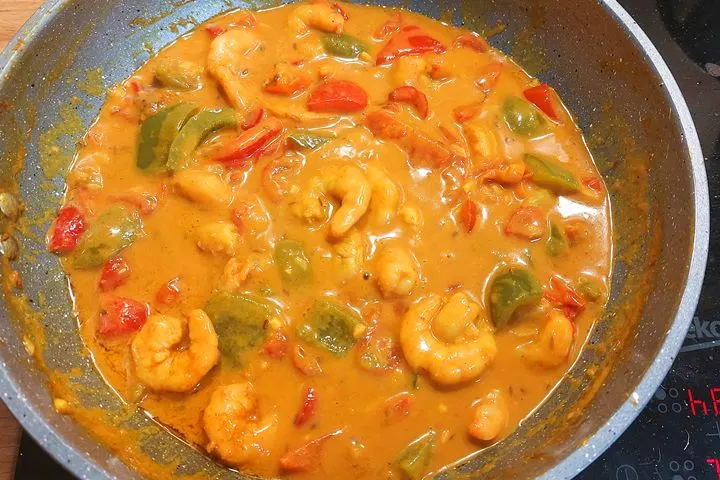 Thai cuisine is a treasure trove of flavours, blending exotic herbs and spices to create dishes that tantalize the taste buds.
Discovering Thai Cuisine
Thai cuisine is a harmonious fusion of flavours, balancing the four fundamental tastes: sweet, salty, sour, and spicy. This perfect equilibrium is what makes Thai food incredibly appealing to food enthusiasts worldwide. Thai food is renowned for being extremely spicy and can take some getting used to. But once you have the bug, you will not look back!
The Allure of Thai Prawn Curry
Thai Prawn Curry is a testament to Thai culinary expertise. This dish embodies the essence of Thai cuisine, showcasing the vibrant flavours that Thailand is renowned for. The succulent prawns and vegetables bath in a luscious coconut milk-based curry, that infuses them with the aromatic charm of red and green chillies, ginger and garlic.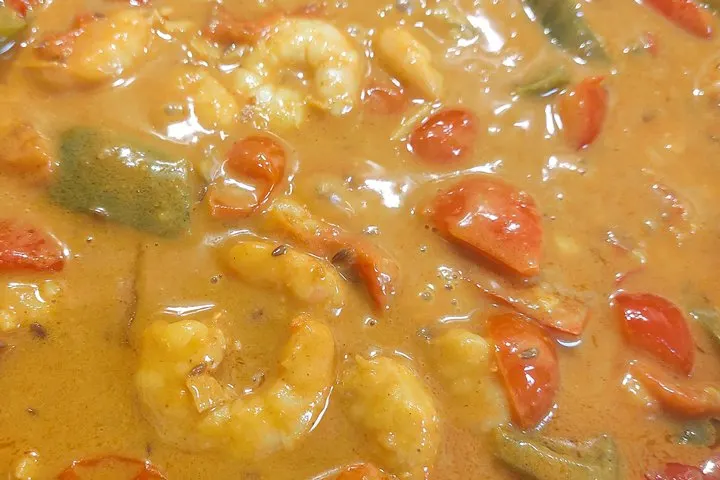 A Culinary Adventure
Beyond this delicious recipe, Thai cuisine offers a plethora of dishes that cater to diverse palates. From the delicious Thai Satay to the delicate balance of Pad Thai noodles, Thai food is an adventure waiting to be savoured. Thailand has vibrant street food stalls, where skilled cooks whip up mouthwatering delicacies right before your eyes.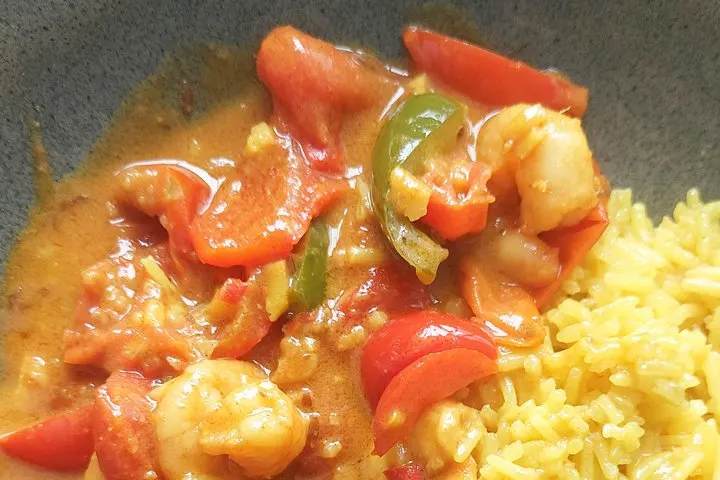 The Cultural Significance
Thai food is not just about taste; it's a celebration of culture, history, and community. The art of preparing and sharing meals is deeply ingrained in Thai society. Every dish carries a story, reflecting the country's agricultural heritage, trade routes, and royal influences.
Cuisine in Thailand is a living tradition, constantly evolving while holding onto its roots, making it a fascinating location to visit for exploration for food enthusiasts and historians alike.
Thai Food
In the heart of Thai cuisine lies an intricate tapestry of flavours, textures, and aromas, beautifully woven into every dish. Therefore exploring the world of Thai food is a journey that awakens the senses, inviting you to savour the essence of a culture that cherishes the art of cooking and sharing.
So, the next time you indulge in a bowl of Thai Prawn Curry, remember, it is not just a meal. It is a passage to Thailand's rich culinary heritage, a delightful experience that will linger in your memory long after the last bite. And the taste of the last bite may last for a while depending on how many chillies you use!!
I hope you enjoy trying this recipe. And if you do, please let me know how you get on in the comments section below!
How to make Thai Prawn Curry
Some other curry recipes:
And some other Thai recipes: