Vegan Red Lentil Curry
This easy and delicious recipe for a vegan red lentil curry will give you a healthy vegan dish that can be eaten as a main dish or as a side to any Indian meal.
The recipe is very simple to make and you can make it as spicy as you wish, depending on the choice of spices that you make.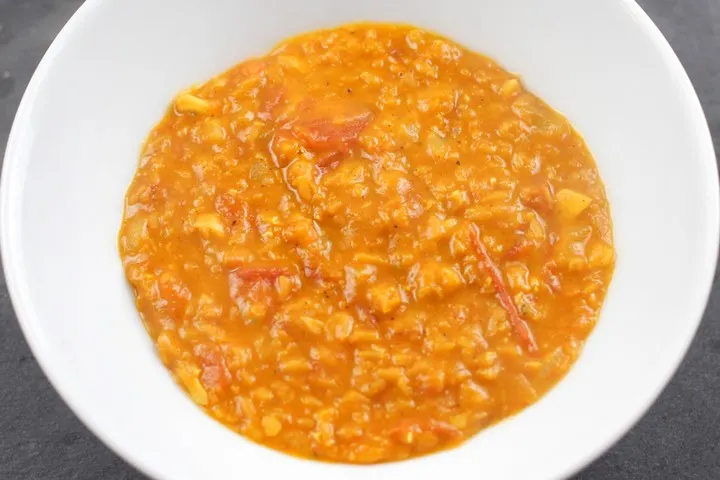 Red Lentil Dahl with coconut milk
This recipe is known as a Dahl (dhal, dal or daal) in India, which describes a dish with split lentils or chickpeas, which you could also use in this recipe. I used split red lentils here.
You could of course use any type of edible pulse or legume in this recipe, if you have something else you wish to use up.
The cooking time here is based on split red lentils, so be aware if you do use something else, the cooking time may differ. Split lentils tend to cook quicker than whole lentils for example.
I used some light coconut milk in this recipe, as that is what I had in the cupboard, but you could use full fat if you prefer. It would make it even more creamy.
Dahl is often served as a side dish in Indian restaurants and can be as spicy as you like.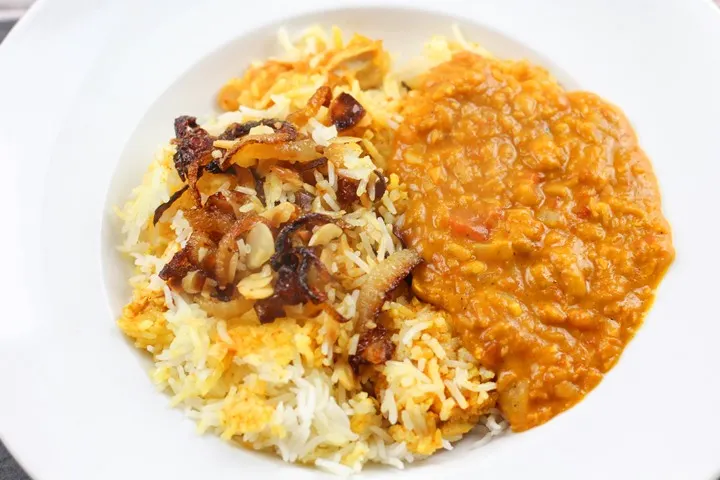 The version I made in these photos was actually a fairly hot and spicy version. This was because I used some Goan curry powder , from Spice pots, that is just wonderful stuff. I picked this pot up once in the Specials line at Aldi, and have used this in a variety of Indian dishes I make. Really tasty and spicy stuff.
But you can make this as hot and spicy or as mild as you like. If you do not want it to be too spicy then use a less hot curry powder or leave out the chilli powder.
What to eat with red lentil curry?
Well, you can eat this split red lentil dahl with a variety of meals. It is good on its own or with some naan bread or chapati to pick it up with.
But I think it is best as an accompaniment to any Indian dish. At the end of this post, you will find some examples of Indian dishes that this dish would accompany well.
In this picture below, I served up with some chicken biryani and some thick natural yoghurt. Because of the spiciness of the Goan curry powder in the daal, the yoghurt was a welcome accompaniment. But some raita or mango chutney would also have been good.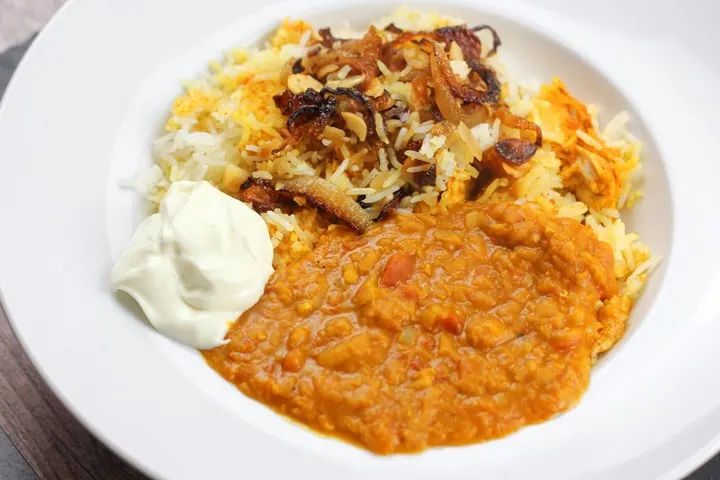 Normally I would garnish it with some freshly chopped coriander (cilantro) leaves, but I did not have any available when I took these pictures. I am sure you can imagine how it would look 😄. (Remember, this is Gav's Kitchen. I am cooking to eat, not to show!!)
I hope you enjoy trying this recipe. If you do, please let me know how you get on in the comments section below!
How to make a vegan red lentil curry