Irish Lamb Stew With Dumplings
You will not find a comfort food more satisfying than a good old-fashioned Irish lamb stew with dumplings. This lamb casserole recipe is really easy to make and the taste is absolutely divine.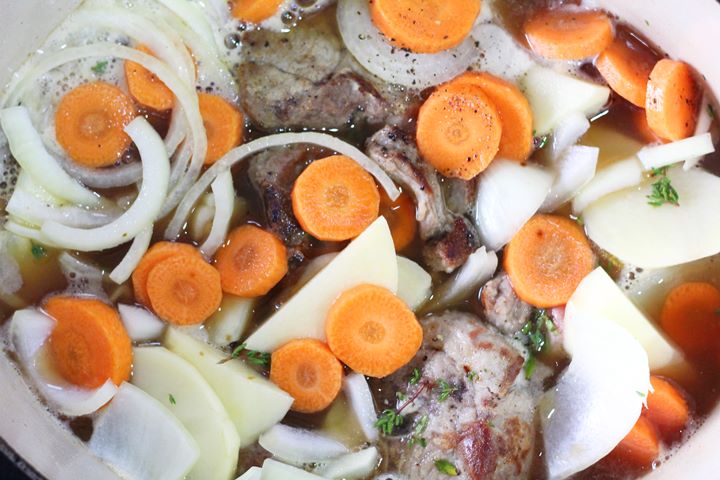 This slow-cook recipe is not so quick to make but it is certainly well worth the wait.
The meat will fall off the bone and the sauce becomes naturally thicker and is delicious when mopped up with the dumplings.
Cooking the lamb on the bone definitely improves the taste of this meal.
This lamb stew and dumplings combination is a real success and I will be making this more often.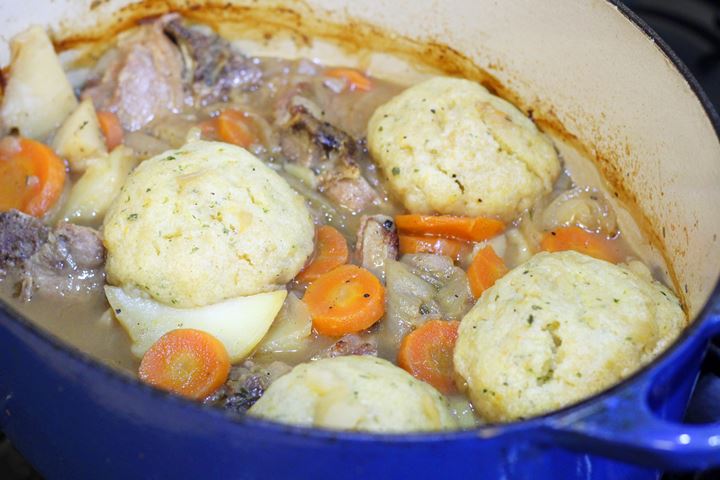 A traditional Irish stew has always used lamb or mutton, contrary to popular belief that an Irish stew is made with beef and Guinness.
How one cuts the vegetables is really up to you, but I do find that slicing them makes for a pleasing finish that is easy to eat, and helps with the dumplings…..more on this later.
How do you make Dumplings?
Normally suet (cow fat) is used to make Irish dumplings. However, I did not have any handy and have used butter instead in this recipe, which I must say has given a surprisingly successful result!
These herb dumplings without suet were really delicious and so simple to make. It always still astounds me what a variety of different foods you can make with butter and flour!
How long does it take for dumplings to cook in a stew?
I find that the trick to getting good dumplings is to let them cook in the steam of the stew rather than in the stew itself.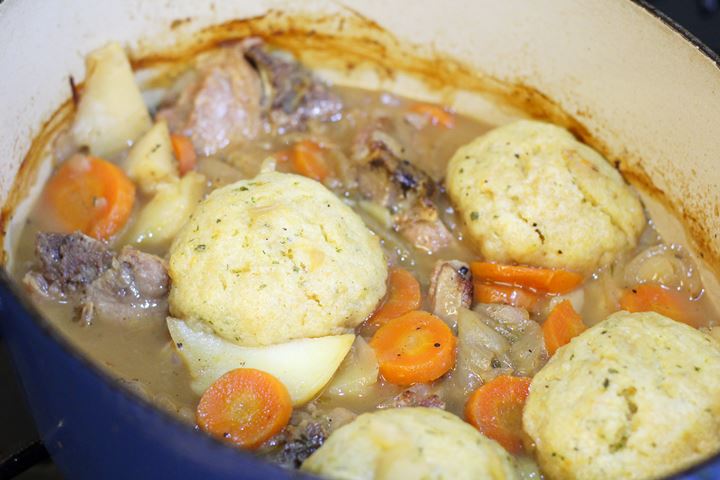 Therefore I try to give the stew some body, with the slicing of the vegetables and layering, so you can balance the dumplings on top.
It took these dumplings 30 minutes to cook in the oven inside the Dutch oven. You can of course always use a casserole dish instead, but make sure you have a good tight lid and no escaping steam so that the dumplings absorb the taste of the stew!
I suppose I could also have considered using some Guinness to make a Guinness lamb stew. I am sure that would be wonderful, but really it would change this meal.
This recipe is uncluttered and uncomplicated as it is, and certainly, for the taste it does not need anything else. You may wish to add a handful of pearl barley which helps to thicken up the soup. I like it, but my wife does not, so I left it out of this recipe.
I hope you enjoy this lamb stew and dumplings recipe as much as we did. If you do make it, please let me know how you get on in the comments section below!
How to make lamb stew with dumplings