Coconut Prawn or Shrimp Curry Recipe
This coconut prawn curry recipe, or coconut shrimp curry, is a great combination of flavours and easy to make.
I discovered this delicious prawn curry recipe many years ago, but then lost it. So the origin is unclear to me, whether it is an Indian, Thai, or Malaysian curry (or from somewhere else?).
But I suppose it is a pretty good guess that it must be from somewhere in Asia 😃. The use of coconut, garlic and ginger rather gives it away.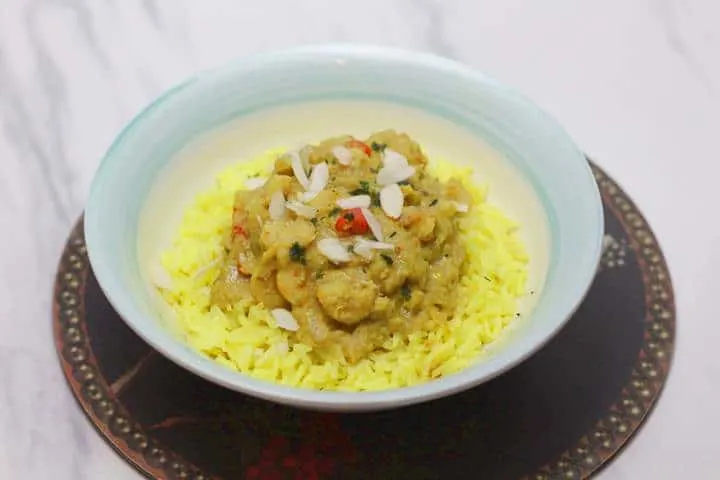 Lost Cook Books
Unfortunately, a flood in our old house destroyed half my collection of cooking books a few years ago. This recipe was in one of these books I think.
This was a huge disaster as you can imagine. I lost quite a few of my favourite classic food writers to the flood!
I have been trying to recreate the original recipe of this for a while, and with this recipe, I think I have just about mastered it.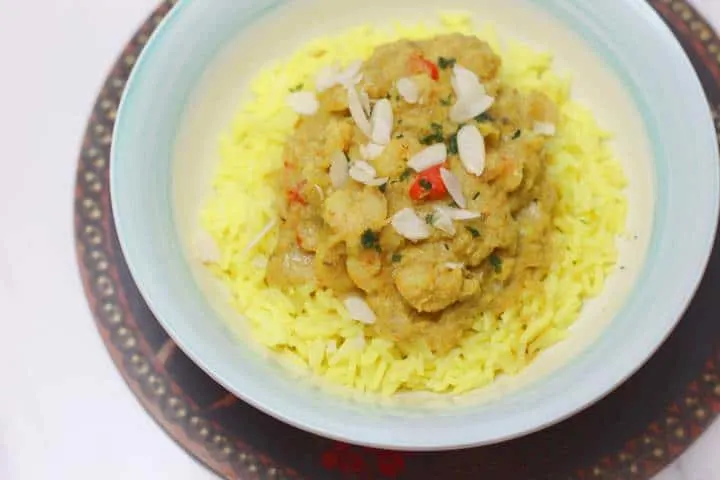 Prawn or shrimp?
I call this a 'prawn' curry recipe as here we readily can buy frozen prawns in the supermarket. Although shrimp are indeed a different species of crustacean, for the purpose of this recipe you can use either.
Click on this link for more information on shrimp and prawn as food.
Apparently, the difference is that prawns have claws on three of their leg pairs while shrimp have them on only two. Not something you would notice when they have been pre-peeled!
Obviously, you have different sizes, but for this recipe just use what you can get your hands on, just make sure they are peeled.
The nice thing about this recipe is that it is easy to prepare and ready in no time.
You can make it as spicy as you want by either adding a chilli and/or chilli powder to suit your taste. It's up to you.
Creamed coconut
You will need creamed coconut for this recipe, which in my experience usually comes in hard blocks. I have not found the blocks where we are now, but I did find some in Tescos, and it was sold in 50g sachets.
Using coconut milk will not give you the same result as the creamed coconut also contains some coconut meat.
I love using coconut in cooking and this is one of my favourite coconut recipes.
The first time I tried to make this again recently, I used a jar of creamed coconut. This did not work well as it also contained lots of coconut oil which had floated to the top in the jar.
This needs to be melted and mixed before using which is a lot of hassle. So make sure you have the real hard stuff that is not full of oil, otherwise it will not work.
The one showed in these pictures did work, and the pics were taken quickly so we could eat before it got cold!
How to make a prawn curry
If you enjoyed this recipe, you may like to try:
or
Let me know how you get on!