Asparagus Pan Fried
This simple recipe will show you how to make pan fried asparagus. Sauteed asparagus is a very simple and quick side dish and is great for accompanying many meals using fish or meat.
Green Asparagus
This recipe uses green asparagus, which I much prefer to white asparagus, as I believe it has more taste. Green asparagus is a perennial flowering plant species which is cultivated as a vegetable.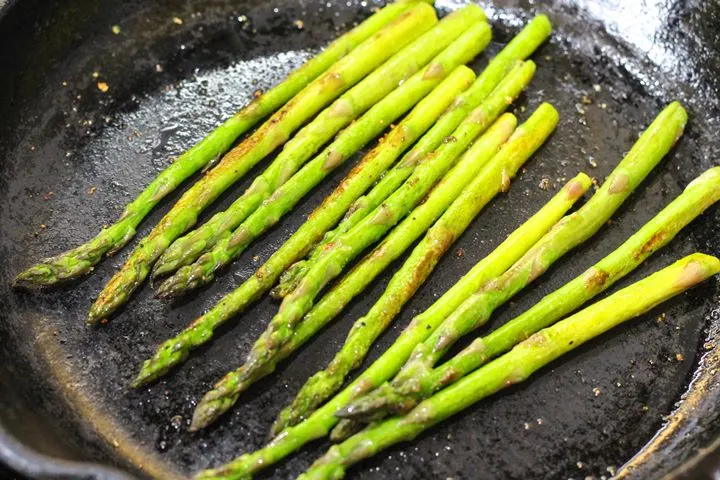 Asparagus is often sold in bunches and the size may vary quite a bit, which may affect the cooking time, so you need to keep an eye on it in the pan.
This recipe gently pan-fries the asparagus in some olive oil with some garlic powder (or I actually use freshly milled dried crushed garlic) and is finished off by melting some butter on the resulting lightly charred asparagus. If you are feeling generous then you can add a sprinkle of parmesan as you serve up.
It is a really simple recipe and a little bit quicker to make than oven roasted asparagus.
What to eat with asparagus?
I think that asparagus is a great accompaniment to fish. So it goes very well with a nice piece of pan-seared sea bass or trout. Similarly, it is a great side dish to serve with meat dishes. So a delicious rack of lamb served with asparagus is also a nice tasty dish, where the asparagus complements the meat.
Really whether you cook it in the oven or you cook in the pan depends on what you are going to serve with it.
So if I was serving with fish I would probably pan-fry it, whereas if I was serving with something I was cooking in the oven, like lamb, I would oven roast it with the meat.
Anyhow, I wish you luck preparing this easy tasty recipe.
I hope you enjoy trying this. If you do, please let me know how you got on in the comments section below!
How to cook Asparagus in a Pan