Boiled Egg in Airfyer
This blog post shows you how to cook a soft or hard-boiled egg in the airfyer. An advantage of using an air fryer is that it is a bit quicker than boiling in water. You do not first have to boil a pan of water. It is also therefore probably more energy efficient.
This method is super simple. You may just have to experiment with the times, to suit your air fryer.
You can make hard-boiled eggs which you can use to make a tasty egg salad. Or you can make soft-boiled eggs, perfect for dippy eggs as we call them. Maybe if you have some Irish heritage, you may want to try eating eggs the Irish way, in a cup.
Guggy Egg – Irish Egg in a cup
A 'guggy egg' is an old-fashioned Irish way of describing an egg served mushed up in a cup. Normally it will be served with a bit of butter and salt and pepper, and it actually a great way to eat a boiled egg.
Where I originally come from we eat soft-boiled eggs with 'soldiers'. Soldiers are buttered toast cut into strips that you can dip into the soft yolk of a soft-boiled egg. The trouble with this can be that the soldiers are too soft and cannot penetrate the egg enough. Or they are too hard and break off.
And sometimes if your egg is too well done, you will not be able to cover your solder with egg yolk. And in the end, you will always have to remove the top section of whites (with a bit of yolk) to eat them with a teaspoon anyway.
Recently I have discovered the Irish method of peeling the egg and putting it into a cup. You then mash it with a bit of butter and salt and pepper which is a much better way of eating a soft-boiled egg.
You can easily season the egg as you like it – try doing that on a soft-boiled egg where the top has been lopped off! Then you can take the egg and place it on your toast and eat it on the toast if you prefer.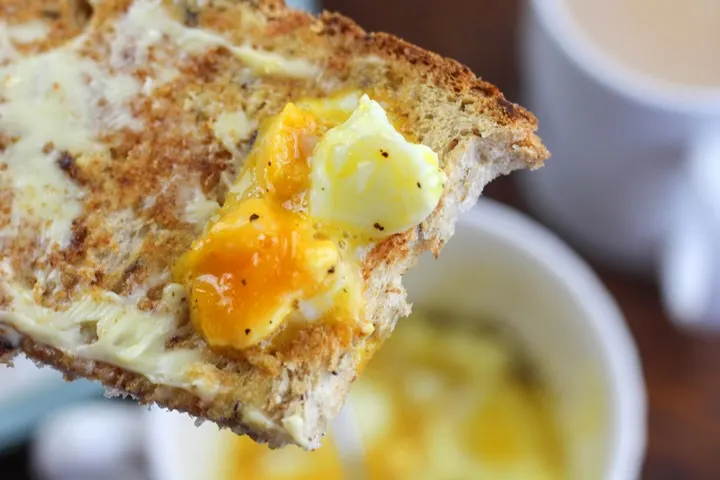 Also, any whites that may not have cooked properly will continue to cook in the cup.
The advantages are several. I recommend you try it. You will not look back!
Airfryer Egg
In the old days in Ireland the eggs would all have been boiled over the open fire, but these days we do have some new conveniences which make life easier.
The air fryer is one of these. Please do not confuse this with a microwave oven, as you really do NOT want to be trying to microwave an egg unless you want an explosion in your microwave!!
The air fryer egg is a perfectly acceptable way of cooking an egg.
You may find that the membranes containing the egg white and yolk are a little bit drier than usual. But otherwise, the eggs are perfectly cooked and eating them either with soldiers or chopped up in a cup is the perfect solution.
Air fryer eggs are a great low-fat option for breakfast or as a protein-packed snack.
I hope you try this method to cook an egg. If you do please let me know how you get on in the comments section below!
How to make a boiled egg in the airfryer