Ground beef and gravy
This ground beef and gravy recipe is another of my mother's simple and easy recipes that is just so tasty.
We had this twice in a row the week I posted this post because, as it went down so well the first time, the girls asked for it again.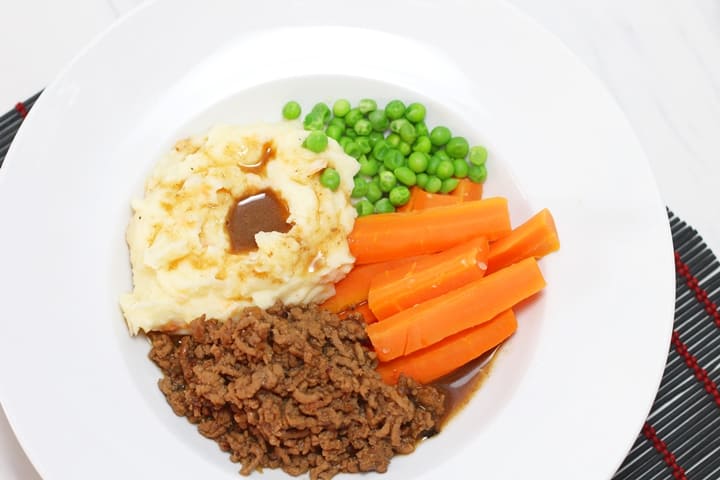 Mince beef recipe ideas / things to make with mince
There are so many ground beef recipes out there that you can make, and we certainly have a few on this blog: cottage pie, lasagne, spaghetti Bolognese, pasta bake, taco wraps, to name but a few.
Scroll down to after the recipe to see a few other mince meat recipes listed.
But the best ground beef recipe? Who knows? Each meal with ground beef has its own characteristics and different herbs and spices always give a certain variation to the meat.
This mince with gravy recipe is a very quick ground beef recipe that can be cooked in 15 minutes. So for me, it rates as one of the easy dinners with ground beef or mince.

Beef Mince vs Ground Beef
What is minced beef? In the UK we call ground beef 'mince' or 'minced meat'. It is minced steak or in other words beef that has been through a mincer.
It can be confusing as the British also know a product 'mincemeat'. Mincemeat is something completely different: a mix of chopped fruits, spirits and spices which is used as a filling for mince pies which we eat at Christmas time.
These days this mix would not normally contain meat, but in the past it used to, hence the name.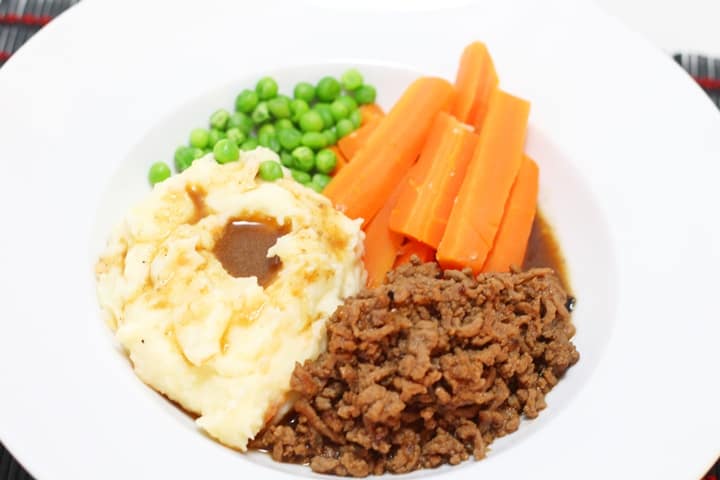 Easy Mince Beef Recipes
My motto is 'sometimes the easy way is the best way', and that is certainly what this dish is. It must be the easiest of ground beef dishes around.
There are no real herby additions to the gravy so you just get the taste of the beef, and the gravy, which goes naturally with the vegetables.
Nothing flash, nothing clever. But very tasty and you will clean your plate.
I distinctly remember eating this meal in the kitchen of my parents' house as a kid, and I always looked forward to it.
It is funny how certain foods help you maintain certain memories and this was surely one of my favourite dishes as a kid, and now my kids love it.
Serve it up with some mashed potatoes and baked carrots or boiled carrots and cooked peas. Enjoy!

How to make mince and gravy
Some more ground beef recipes here: