Beef Taco Wrap Recipe
This recipe for beef taco wraps is a variation on a basic beef taco recipe. This recipe uses soft tortillas instead of crispy corn taco shells.
This wrap bursts with a harmonious blend of savoury, spiced ground beef, topped with tangy salsa, guacamole, tomatoes, cheddar and a refreshing crunch of shredded lettuce. All embraced by a warm, soft corn tortilla wrap.
We love Mexican food in our house and quite often we will eat tacos together.
How do you decide between crunchy and soft tacos?
Well, that is a difficult question because we actually love both.
We just find these soft tacos with tortillas a little bit easier to eat with your hands. The hard corn shells always seem to break, leaving half the taco filling on the floor! This is of course the last thing anyone wants! No one likes to waste good food!
Traditional Mexican Tacos
This recipe is closer to traditional Mexican tacos, which are also made with soft corn tortillas.
In the United States and the UK the normal taco tends to have a hard corn shell, like these ones:
How to wrap a soft taco
We think the soft tortillas are in some ways easier to fill and hold, if you know how to fold and roll them properly.
So here is a quick instruction on how to fold a soft taco – start by laying the taco flat and put your chosen filling in a line on the tortilla.
Then fold one end of the tortilla over the filling and wrap the two wings over the filling so that the filling is fully enclosed and cannot escape through the closed end (which is obviously the bottom). A little bit like in the photo below.
The tighter you can wrap the taco, the easier it will be to eat.
The great fun thing about tacos is that you can let people fill them with their own choice of filling. We do this at home as my daughter has decided she does not like onions, so she prefers her tacos without onions and guacamole.
So we lay out the ingredients and everyone fills and folds their own taco(s).
You may want to experiment by adding onions, cilantro, lettuce or other ingredients to your tacos.
If you want to make your own guacamole, which you should of course, then try this guacamole recipe.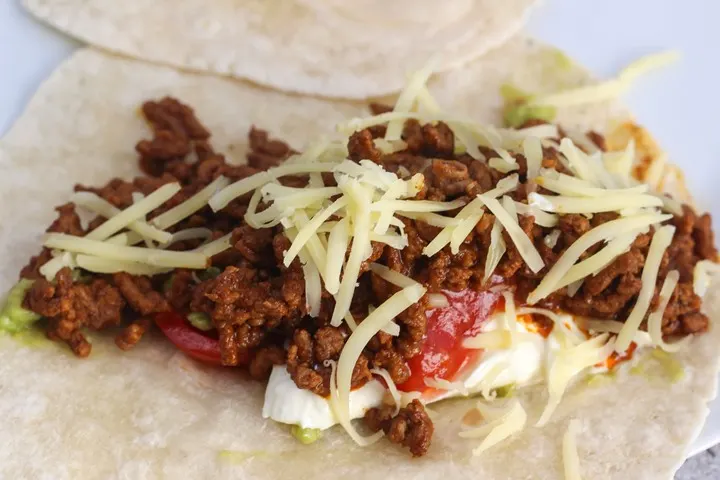 Lettuce taco wraps
This recipe is fairly basic, and from some of the photos, you can see I left the lettuce out of my tacos (I sometimes prefer them without).
My wife was trying a gluten-free diet at the time of writing this, so she used some lettuce leaves instead of tortillas to hold her ingredients. Another way of making some lettuce wrap tacos.
We used to love eating at our favourite Mexican restaurant in Gouda, the Netherlands called Xochimilco. Their tacos and fajitas are just wonderful. We always drop in there when we go back to Gouda to visit.
You can eat this dish as an appetizer or as a main dish. Just make sure you choose the right size of tortilla, depending on whether it is an appetizer or main dish.
I used some smaller tortillas for this photo below, but you definitely get less food in them!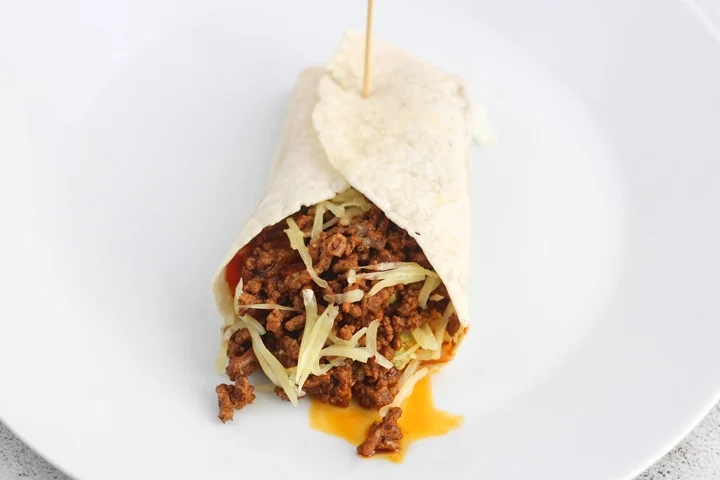 Which looks better 😃 ?
I suggest you use the larger-sized tortillas and serve as a main meal, as we normally do!
I hope you enjoy making this simple taco recipe and consuming them! Please let me know how you get on in the comments section below!
How to make homemade taco wraps