Cocktail Meatballs
This blog post gives you a recipe which shows you how to make some classic cocktail meatballs. These are perfect as an appetizer pre-meal or as a snack during a cocktail party or drinks. They are also a great snack to eat during a big game.
These classic cocktail meatballs can be prepared beforehand and served up with a dipping sauce, or just eaten on their own, hot or cold.
They are easy to prepare with simple ingredients obtainable from your local supermarket, in my case Aldi.
Just heat them up in an air fryer or oven when you want to eat them. Or reheat them in the microwave if you really want to be quick!
Cocktail meatballs with a tasty sweet and sour dipping sauce:

Best Frozen Meatballs
The great thing about this recipe is that you can easily freeze these meatballs and keep them in the freezer until you want to cook and eat them.
If the meat you are using has been frozen before, you should cook them first before freezing them. This also makes the re-heat time shorter when you are ready to eat them (only 10 minutes).
But if the meat is fresh, you can freeze the uncooked meatballs and just cook them when you want to eat them. When cooking from frozen you will need to allow some extra cooking time.
When freezing them, make sure they are not touching each other in the freezer initially. Once they have frozen then you can put them together into an airtight container or plastic bag to store them for a longer-term in the freezer until you are ready to enjoy them.
How best to cook meatballs
Really you can cook meatballs in a variety of ways: on the stovetop, in the oven, in the air fryer. But we think that using an air fryer gives the best results, with a nice crisp outside and a soft and moist inside.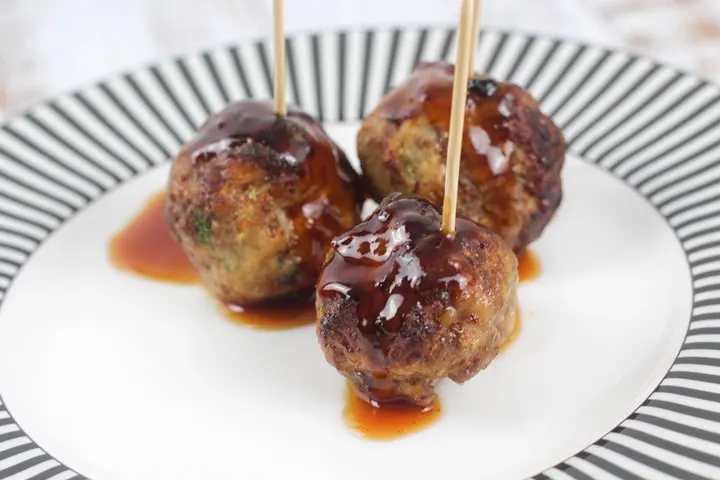 It is also more economical. The only disadvantage is that you may need to cook in batches, depending on the size of your air fryer.
I have a 3-quart Nuwave air fryer and it took me 3 batches to cook these quantities. But you can do other stuff around the kitchen while they are cooking. (There is always a lot going on in my kitchen.)
Gluten-free Meatballs
This recipe does use some Panko breadcrumbs, which are not normally gluten-free. But if you wanted to make some gluten-free meatballs you could either use some gluten-free breadcrumbs (yes, they do exist). Or you could just omit the Panko from the recipe.
They will still taste good! I hope you enjoy the taste of these meatballs as much as we do!
Please let me know how you get on in the comments section below.
How to make cocktail meatballs
Here are some other meatball recipes that you may enjoy:
And a suitable dipping sauce for this one: