Fish Finger Sandwich
This recipe for a fish stick sandwich is really a great way to eat fish sticks (or fish fingers as we call them in the UK).
You can eat this as a snack or a main meal, and the sandwich will leave you very satisfied. This sandwich can be made in less than 15 minutes. You can vary the fillings and sauces to suit your own preferences.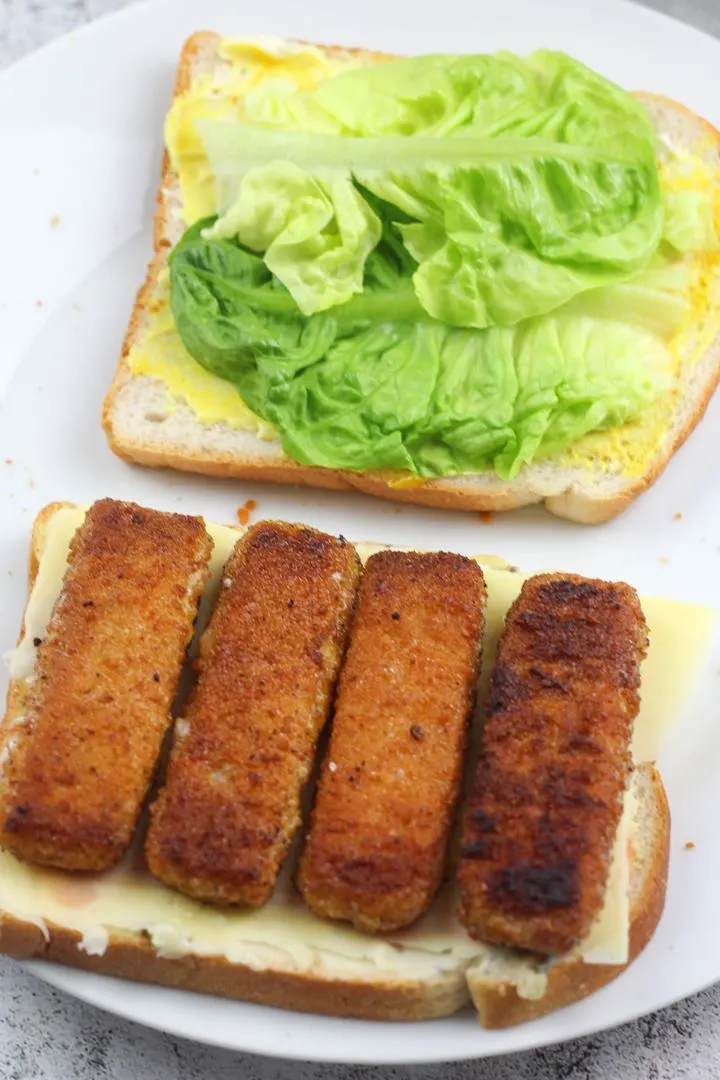 What are fish sticks made of?
Fish sticks, or fish fingers, are a typical English staple food that most kids love. Fish sticks are fingers of white fish like cod, haddock, pollock or hake, which are breaded and frozen. You can cook them in the oven, by grilling or (air-) frying them.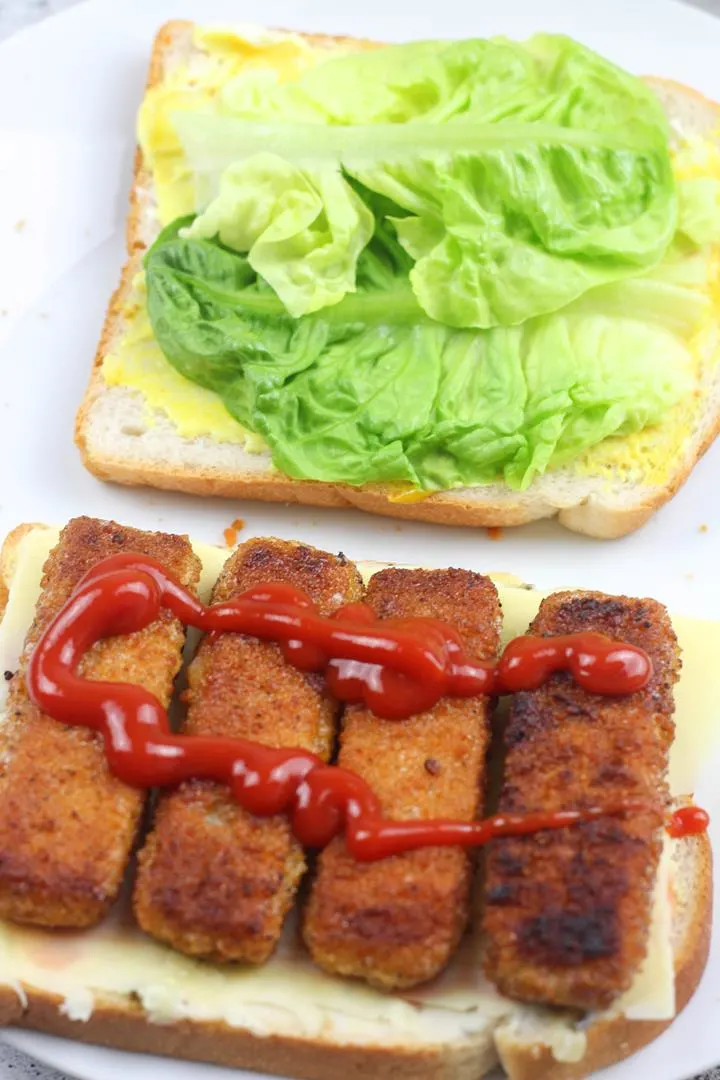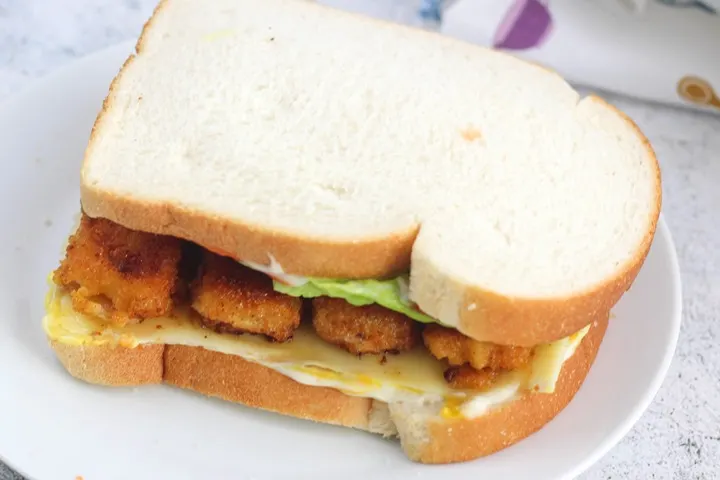 Though the oven or grill method is easier I prefer to fry the fish fingers in butter as I think it makes them taste better. We always have a packet in the freezer and I will often cook them when the fridge is empty and serve up simply with white rice and ketchup. Fish fingers and rice, with lots of Heinz ketchup, remains one of my favourite easy meals.
But this fish finger sandwich is an even easier snack as you do not have to cook the rice!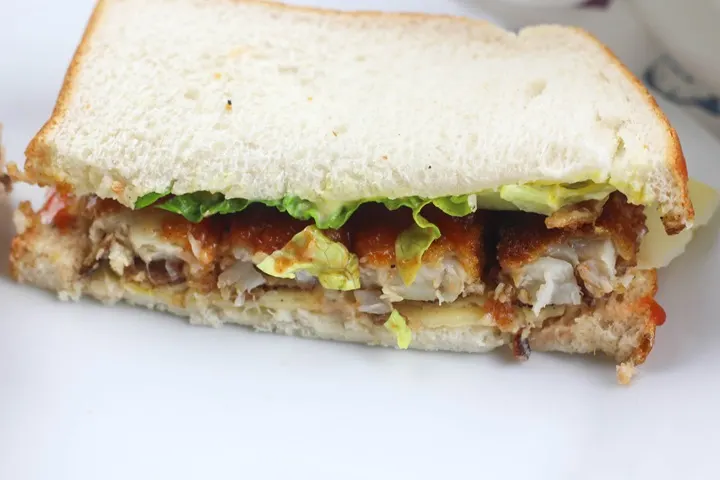 Who invented the fish finger sandwich?
Well, this credit probably goes to the McDonald's chain of restaurants that created the trademarked 'Filet-O-Fish' back in 1962, to compensate for lower sales on Friday, fish day. The filet-O-fish is more of a fish sandwich roll, but I imagine the idea of the fish finger sandwich caught on from there.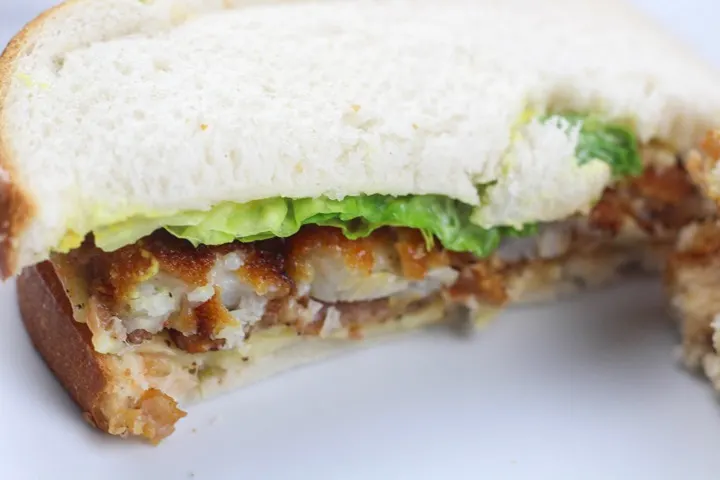 These days they even have fish finger sandwich awards, and some restaurants even put them on the menu. And I must say, it is something I might be tempted to try in a restaurant, as it is real comfort food and there are so many possible variations.
What to put in a fish finger sandwich?
This is another great thing about this meal. You can invent your own fillings to suit your preferences. In this sandwich, I experimented by using a combination of tastes, and I must say I was very happy with the result.
I used some mayonnaise mixed with a bit of English mustard on one slice of bread and on the other, I used tartar sauce with some tomato ketchup. Tomato ketchup goes so well with fish sticks, so I added some more 😊
On top of the spread sauce, I placed the lettuce on one side and the thin slices of cheese and fish sticks on the other. Put them together and the masterpiece was complete. If you were not too worried about calories you could always add some thicker cheese slices I suppose. Fish stick with cheese is also a great combination.
You could also experiment with brown sauce, lemon juice, Marie Rose sauce or countless other condiments to make your own perfect posh fish finger sandwich. See what you can come up with!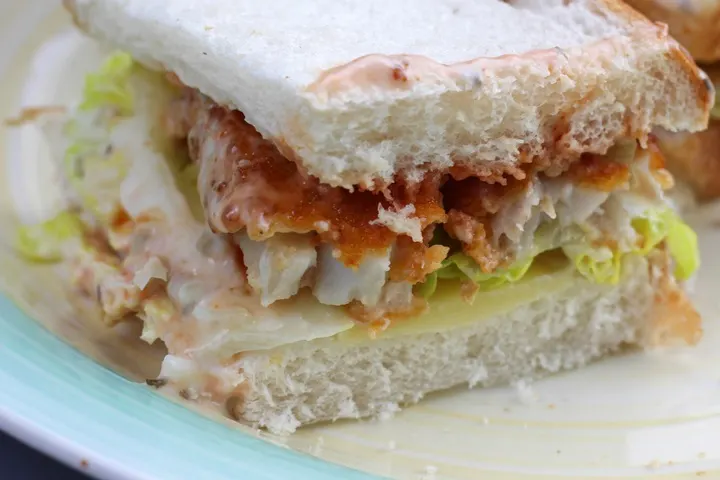 How many fish fingers in a sandwich?
I only put four fish fingers into this sandwich due to the size of the bread slices. But you could always stack them, if you are really hungry. Remember it does need to fit in your mouth! And to be fair, this amount filled the hole.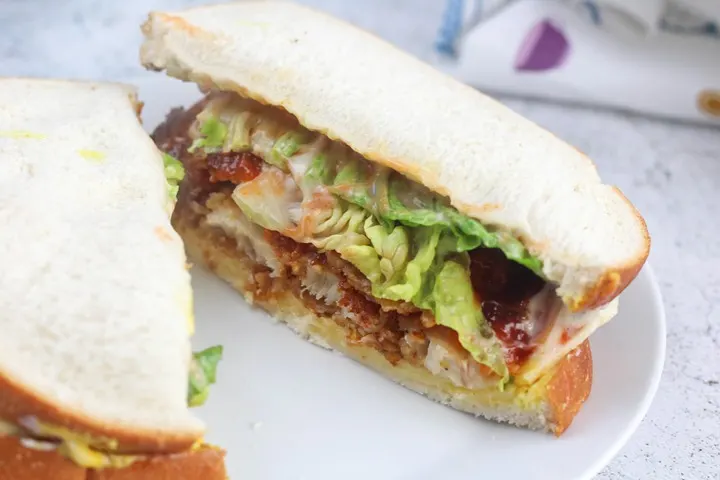 If you have never tried a fish stick sandwich I hope you will now. The kids love them.
Let me know how you get on and which sauces you used to make the perfect fish finger sandwich!
How to make a fish finger sandwich