BLT Sandwich PLUS
Sometimes there is no better snack than a BLT sandwich. A BLT is a sandwich containing bacon, lettuce and tomato in single, double or even triple-layer format. But this BLT sandwich with cheese onion and sausage has a little bit more!
And when you consider plain, sourdough, ciabatta, baguette or toasted bread, as alternative ways of encompassing your sandwich ingredients, the number of variations is almost endless.
This BLT sandwich with cheese, onion and sausage recipe is another variation on a BLT. On top of the normal BLT ingredients, this recipe also includes cheddar cheese, some caramelized onion and some fried sausage. Absolutely wonderful! A BLT Plus!
And if you want to make it really Irish, then why not add a fried egg?!
BLT recipes with a twist
This recipe is a simple twist on a normal BLT. It came about when I was trying to use up some leftovers in my fridge, and I thought why not just throw it all in a sandwich? The result was perfect – a great simple lunch for the two of us. I used up my uncooked sausages and bacon and some cheddar that needed finishing.
These days we often have sausages and bacon in the fridge (since we have discovered the wonderful Kelly's meat store in Kilrush that make the most fantastic Irish Pork sausages).
But what we have leftover is not always enough for a meal. But when combined in this recipe it was more than enough to satisfy us.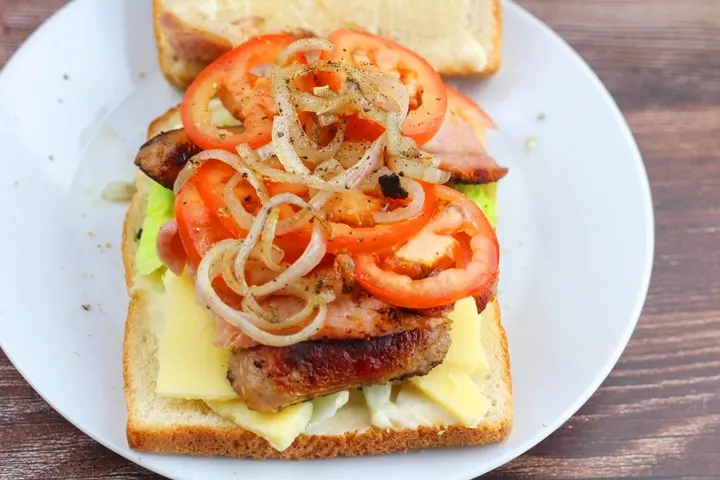 BLT with sausages
Normally I tend to cook all the sausages (from a 1 lb bag) in one go, and if we have some leftovers I keep them cooked in tin foil in the fridge and eat them cold on their own, or put them in a cold sausage sandwich. But in this case, I still had some uncooked pork sausages left over.
These Kelly's sausages are Irish pork sausages full of flavour and taste and are great hot or cold. They are wonderful in any fry up, bangers and mash or sandwich recipe. They will also go very well with our Christmas lunch, wrapped in bacon.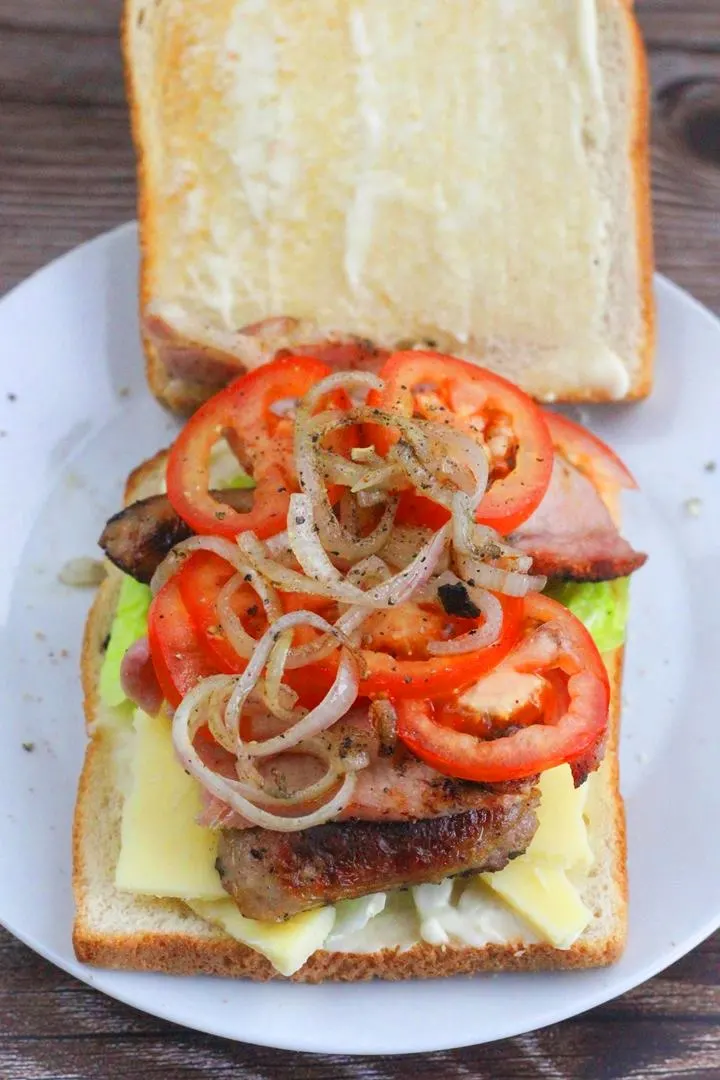 In this recipe, I used baby gem lettuce but you could use any leaf lettuce really, like iceberg lettuce or even baby leaf.
If you are really adventurous, why not try experimenting with some condiments like ketchup, brown sauce or mustard? Here we used some Hellmann's Real Mayonnaise of course!
Again, the variations are endless!
I hope this has inspired you to clean out some items in your fridge. It worked for me writing this – I just made a BLT for our lunch!! These days we either fry our bacon in the air-fryer to make it nice and crispy, or we buy it ready-cooked and crisped from Aldi.
If this inspired you to make something similar, please let me know how you got on in the comments section below!
How to make a BLT with cheese onion and sausage