Crispy Sandwich
This simple recipe shows you how to make a crisp (potato chip) sandwich. A crispy sandwich is not to be confused with a chip sandwich, or chip butty, which uses French Fries.
There are unlimited options for making crispy sandwiches with potato chips. They can be added to almost any type of basic sandwich to make them crispy.
In the British Isles, we call this a crisp sandwich or crisp butty, and it is a fairly common snack across all the different countries.
I suppose in the USA it would be called a potato chip sandwich (although I am sure it is not really a thing there……yet!!) You do not know what you are missing!!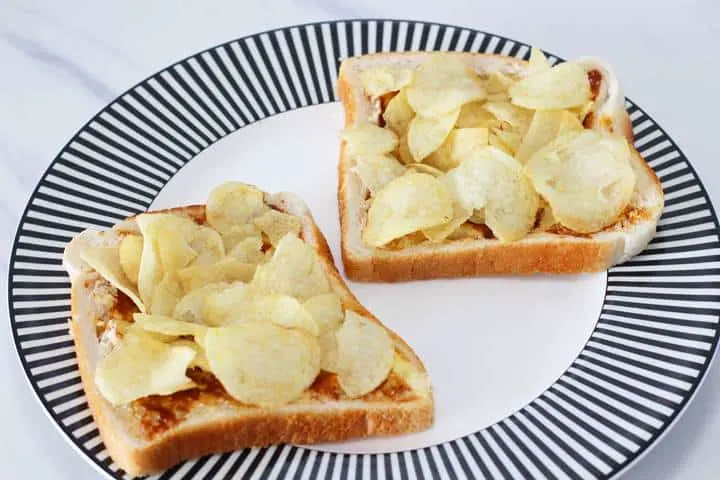 This is, in fact, a very typical British & Irish snack, not to be confused with a 'chip sandwich', although these are also a well-loved favourite in Britain and Ireland.
In fact, understandably this can be quite confusing for Americans who call what we call 'crisps' – 'potato chips'. What Americans call 'Fries' or 'French fries' we call 'chips'.
And as these types of sandwiches are not normally things an American would eat (although why on earth not?!! – they are so good!) – you can understand the confusion.
So just to clear it up, here you have a chip sandwich or chip butty:
And here you have a crisp sandwich or potato chip sandwich.
This post is really about the good old crisp sandwich which is a fantastic way to add a bit of crispiness to an otherwise boring sandwich. It gives some crunch and extra salt and taste which may be the way to persuade your kids to eat their lunch.
Certainly, it helped with my kids. My kids always remind me that potatoes are vegetables and hence a potato sandwich is healthy for them!
Best flavour crisp sandwich
You can, of course, add any flavour of crisp to your sandwich, although it probably should complement the original sandwich filling.
Some of our favourite crisp flavours that we may include in a crispy sandwich include salt and vinegar, cheese and onion, plain, smokey bacon and roast ox, but really most chips will be great.
You can use traditional crisps like the ones in the photos, or even crinkle-cut chips or hand-cooked crisps.
Try adding some potato chips to a peanut butter and jelly sandwich for example. Add that extra dimension to a PBJ sandwich!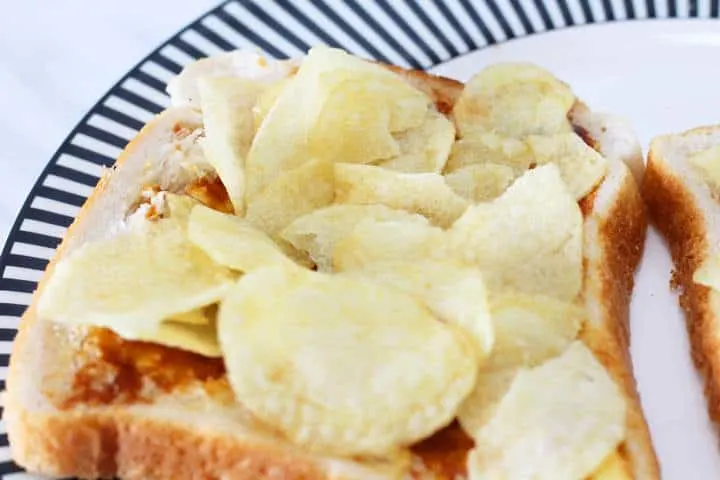 Marmite Crispy Sandwiches
The crisp sandwiches pictured here are crispy marmite sandwiches using plain crisps. Absolutely brilliant, especially when you are travelling or picnicking. Also very versatile with the flavour of crisp you use. Most flavours will go with the Marmite.
It is best to add the crisps just before you eat the sandwich as otherwise, they can get a bit soggy if kept in a coolbox for too long.
Marmite is also a rather strange ingredient to Americans. In the UK we say 'you either love it or you hate it' – from this advert from the 1990's, I imagine.
Certainly, all my kids were brought up on it and love it, and Marmite is 100% vegetarian and vegan.
Vegan Crispy Sandwich
If you want to eat vegan sandwiches then remember to use vegan margarine in your sandwich and choose a suitable crisp to suit.
Many manufacturers are now bringing out special vegan-flavoured crisps to meet the market demand.
I hope you are adventurous enough to try and experiment with some crispy crisp sandwiches.
If you do, let me know how you get on in the comments section below.
How to make a crisp sandwich