Bacon Sarnie / Bacon Butty
This simple recipe shows you how to make the best bacon sandwich.
There is probably nothing more British than a bacon sandwich or 'bacon sarnie' (or 'bacon butty' or 'bacon buttie', depending on where you come from).
This typical breakfast delicacy is commonplace throughout the British Isles in many different forms. They are pretty much as common as the good old sausage sandwich.
What is a bacon sandwich?
If you travel through Britain you will find bacon sandwiches, together with the ubiquitous cup of tea, available at every cafe, food van or truck road stop you may decide to have a break at.
They will all vary in shape and size and contents, but will all have one thing in common – they will all include bread and bacon!
Some sandwiches will have lean back bacon, others will have streaky bacon. We like to use streaky bacon in ours as it gives it some crispness inside.
Having said that, using back bacon is perhaps healthier as you can more easily cut away the fat rind before frying, reducing the fat content. I do this with a pair of kitchen scissors.
Calories in a bacon butty
The bacon sandwich described in the recipe contains about 630 calories. But ultimately the calories you consume will depend on what you use for condiments.
The condiments you choose is up to you. Some like a basic bacon butty: bacon, bread and butter. Others may leave out the butter and add mayonnaise instead. Some use both.
And others may include anything from ketchup, brown sauce (like HP sauce), chilli sauce or English mustard, or a combination of some of these.
A bacon sandwich can really be enjoyed in any type of bread, including rolls or baps, but traditionally in our house, white sliced bread is used.
A bacon sarnie in a roll may be referred to as a bacon bap, a bacon barm or a bacon cob.
The bacon sarnie was probably, alongside the ubiquitous cup of tea, one of the main things that fuelled the British Empire back in the day. It is also one of the most effective hangover cures that I know.
A nice bit of grease to settle the stomach after the excesses of the night before! Seriously though, the bacon sarnie does not have to be greasy if you crisp up the bacon properly.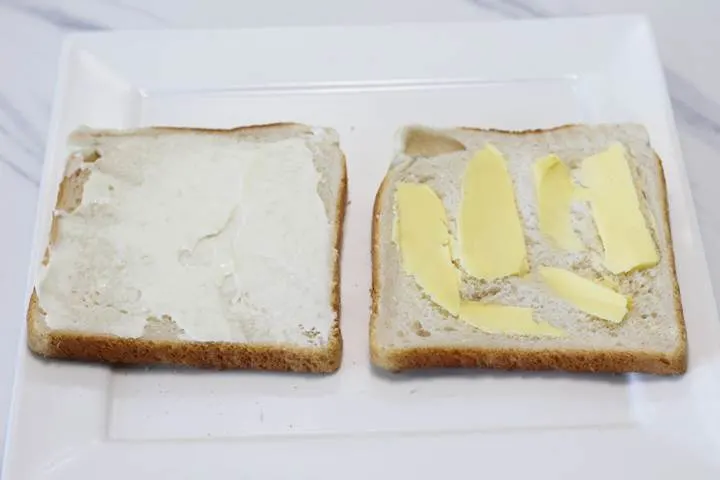 How to make the best bacon sandwich
It is such an easy way to start the day and should be enjoyed whilst the bacon is still warm enough to melt the butter inside.
You can also eat it without mayo if you are worried about calories. But really the mayo does improve it, believe me. I think this is the best way to eat a bacon butty. Also we think a crispy bacon sandwich is the best!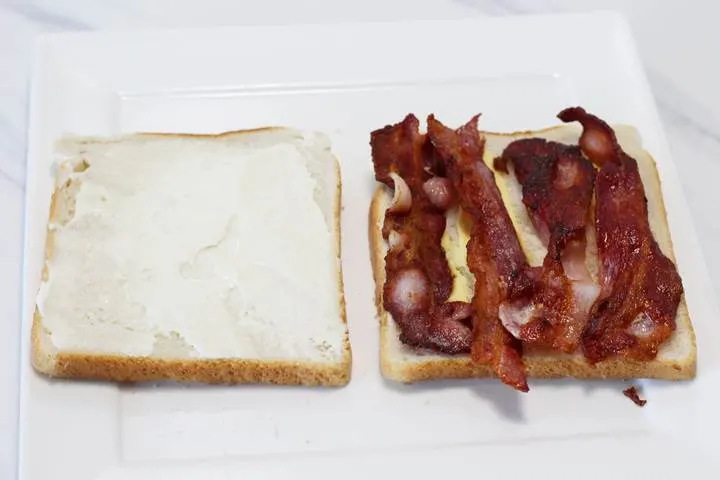 I find that streaky bacon is best to use as you can fry it until the fat is rendered away. You then get a nice crispy piece of bacon, like in the photo above.
Or you can use some back bacon and have a nice thick lean bacon sandwich like the one below.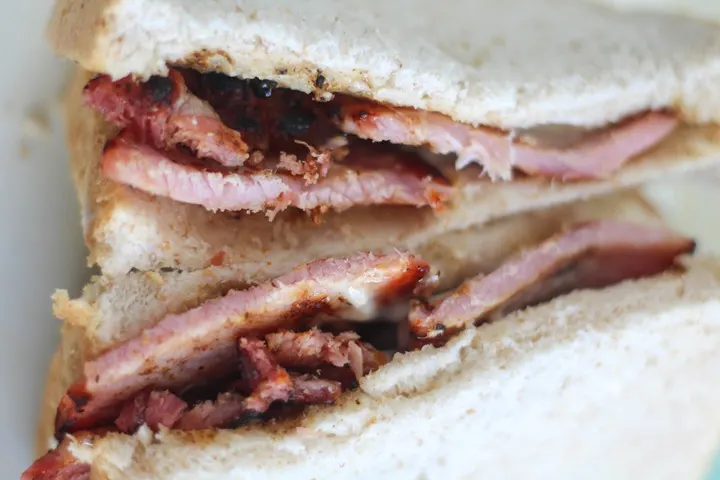 This bacon sandwich recipe will give you the best bacon sandwich in the world. But if you want to move it a level higher then why not try an ultimate BLT to make it a bit more exciting.
You can also serve the bacon up in a bap (soft white roll) with a fried egg on top. But beware, an egg and bacon bap can get messy! But gosh, it tastes good!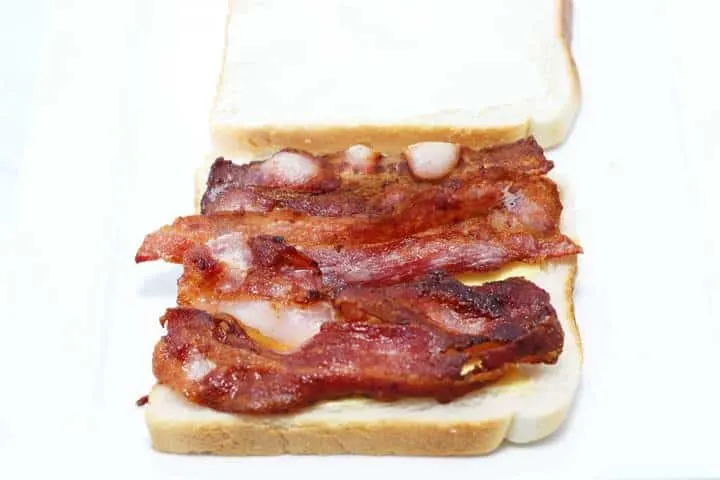 The meaning of bacon sarnie in Cockney Rhyming Slang
An interesting fact: did you know that 'bacon sarnie' in cockney rhyming slang is apparently used to mean 'Pakistani'?! This was news to me. Isn't it amazing what facts Google throws up when you are researching something online?
I hope this helps you make yourself a perfect bacon sandwich. Really there is no better hangover cure around!
How to make a bacon sandwich
Some other typical English breakfast meals: