Chip Sandwich
This is a simple recipe for a common and delicious British treat, the fantastic chip butty. A chip butty is a sandwich using what the British call chips (or French Fries, fries, patat or frites as they are known in other parts of the world) as the main ingredient, sandwiched between two slices of bread or in a bread roll.
Butter and salt are essential ingredients, but other condiments may be used as well.
The very British chip butty
I have lived abroad most of my life (outside of the UK) and it never ceases to surprise people when I start making a chip butty in front of them. And yet, I wonder, WHY?
Even though I am not particularly a lover of chips (unless they are Belgian chips), they do seem to me to be the most logical thing to use to make a hot sandwich (apart from maybe a fish finger butty , a bacon butty or a sausage sandwich?).
And really, if you have never had one, a chip butty is definitely one for your bucket list!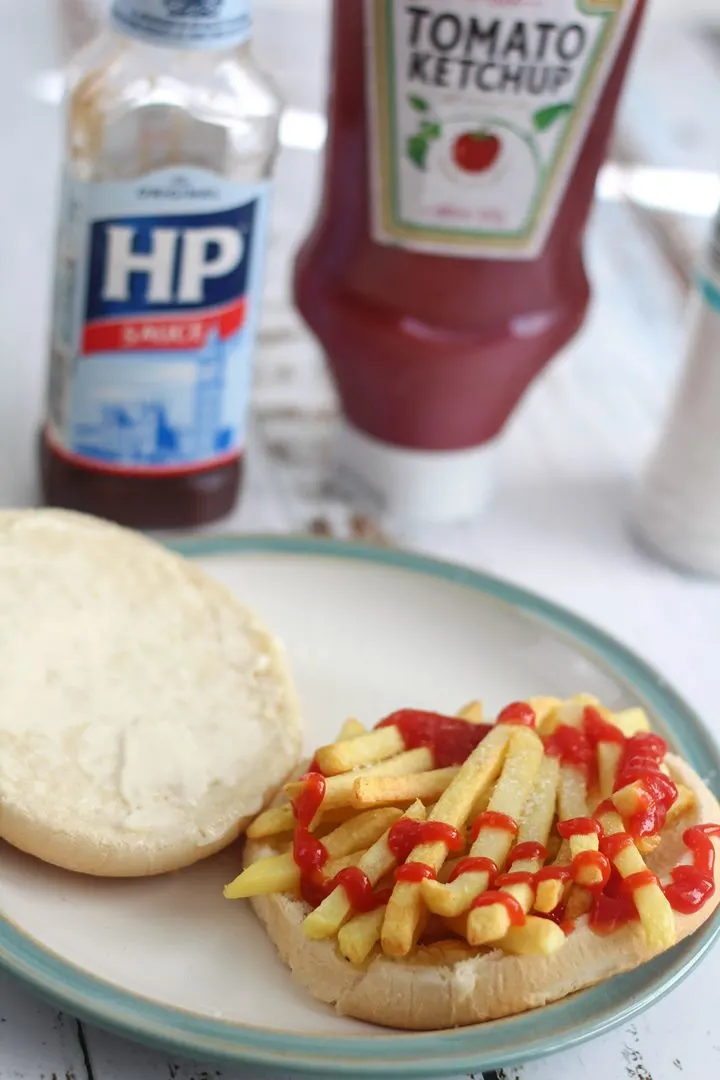 Back in the day, I can remember being in our work canteen in the Netherlands on 'chip day', assembling my chip butty with bread, butter and salt and receiving copious amounts of abuse from my colleagues (who no doubt were jealous of this utter lack of brilliance in their own country's culinary repertoire.)
Needless to say, there are some cultures in which this activity is considered strange. It is, after all, another rather quintessentially British thing.
(Since I made this remark about Dutch food, I should add that we have been missing some of the Dutch delicacies like kletskoppen and Kerskransjes, and I have added some recipes for them on this site!)
Chip Sandwich
The chip butty must not be confused with the potato chip sandwich or crisp sandwich, however. Crisp sandwiches are sandwiches with potato chips as a filler rather than French Fries – yet another brilliant British culinary delight and another form of potato sandwich (and yet again – don't knock it until you have tried it!)
It is a bit confusing when people in different countries use the same word for completely different things, isn't it?
What are the ingredients of a chip butty?
Well, this is up to you. There are no hard and fast rules. My own preference is actually just to use chips (obviously), and lots of butter and salt.
For the bread, you can use white bread, brown bread, sliced bread or rolls or even a baguette if you so wish.
As regards condiments you can, of course, if you wish, use any condiment you prefer: brown sauce, mayonnaise, tomato ketchup, salt and vinegar, all or which are examples of what people may put in their chip sandwich.
What type of chip to use in your chip butties?
Well, the average British person will probably argue that you should use real British chips in a chip butty. But really, I think you can use any type of fried potato. Each type of potato has its own pros and cons.
In most of these pictures, I used some frozen chips from Aldi and cooked them in the air fryer. But I still think homemade chips are better, made with real potatoes. If you have a good chip shop nearby, then that could even be the quickest option.
But if you use greasy chips you will get a greasy chip butty so the quality of your chips is important.
There is quite a large difference between what people call chips in the UK and, say, French Fries at McDonald's.
Typical British chips from a chip shop tend to be thicker and non-uniform and perhaps less crispy. That is why I prefer Belgian frites, which are crispy on the outside and soft on the inside, but bigger than a McDonald's French Fry, for example.
I recommend trying to balance the amount of butter you use, to complement the greasiness of your chips.
At the end of the day, it's not rocket science. Just make it up as you please, and of course, ENJOY!
If you have any comments on the brilliance of this British invention please leave them in the comments section below!
How to make a chip butty