Creamy Tuna Salad Tapas
You can make this simple recipe for Creamy Tuna Salad Tapas in a few minutes. It is very moist and tasty.
Recently we ate this in Portugal in one restaurant, although the tuna was served separately to the bread, as a 'couvert'.
A couvert in Portugal is typically something that they bring to the table before your meal as an appetizer to eat while you wait.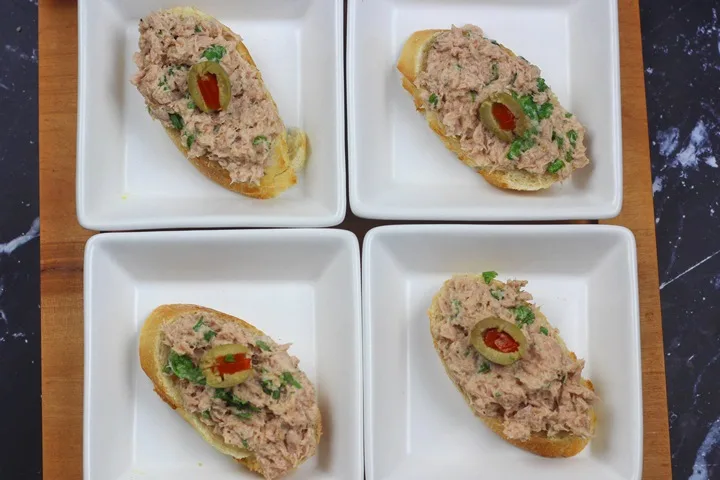 Petiscos
Tapas, or petiscos as they are known in Portugal, are a popular culinary tradition in this coastal country. Portuguese tapas are small portions of delicious and varied food that are typically served with drinks in bars and restaurants. Some of the most popular tapas in Portugal include codfish cakes, chorizo ​​slices, octopus salad, grilled sardines, and cheese with homemade bread.
Each region of Portugal has its own speciality tapas, and visitors can explore the different flavours and textures of the country's rich culinary culture through these small bites. Additionally, petiscos are often enjoyed in a social setting, making them a great way to meet new people and experience the lively atmosphere of Portuguese bars and cafes.
You can eat this as finger food at home during game day, or as an appetizer during pre-dinner drinks.
Feel free to serve up separately to the bread if you wish – that saves some work, but may mess up your carpet! (In Portugal they tend to have tiles on the floor!)
This recipe is similar to my Keto Tuna salad that you can find elsewhere on this site, but without the tomatoes.
Tuna Recipes
We think that tuna is an under-appreciated fish. It has a really delicious taste and can be eaten in a variety of ways. Try my tuna pasta or tuna fish cake recipes which are super ways to enjoy this fish. It is also wonderful as sushi.
The beauty of canned tuna is that it can be kept in tins that last for ages. So you should keep them as a part of your standard pantry contents.
However, when you buy tuna you should make sure it is from sustainable sources to ensure it is not another species that we eliminate from this world.
Climate change is slowly altering the temperature of the oceans and the way they move. This has meant we even have bluefin tuna off the west coast of Ireland now. Fortunately, there are strict regulations that restrict what you can catch and keep.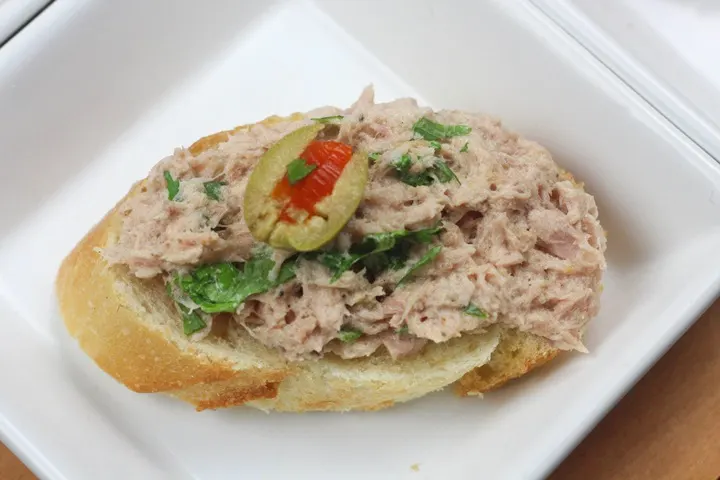 Serve a full tapas meal
Make this recipe as part of a full tapas meal. Enjoy with your friends together with a nice bottle of wine. There is nothing better than sitting outside on a summer's day and having a tapas lunch or supper.
There are some other tapas recipes you can try at the end of this blog post.
I hope you enjoy making these tuna salad tapas. If you do, please let me know how you get on in the comments section below!
How to make a Creamy Tuna Salad Tapas