Avocado and Prawn Stack
This super easy recipe for an avocado and prawn stack gives you a classic combination that always works well as a starter or even a main dish or snack.
I was inspired to add this recipe to my website after recently after visiting my late Dad's wonderful Tandridge golf course for lunch. I was intrigued by the menu, and I ordered a shrimp stack there, wondering what it could possibly be.
It turned out to be really delicious and made a perfect lunchtime treat, whilst not being too expensive.
This was what it looked like in the restaurant of the golf club: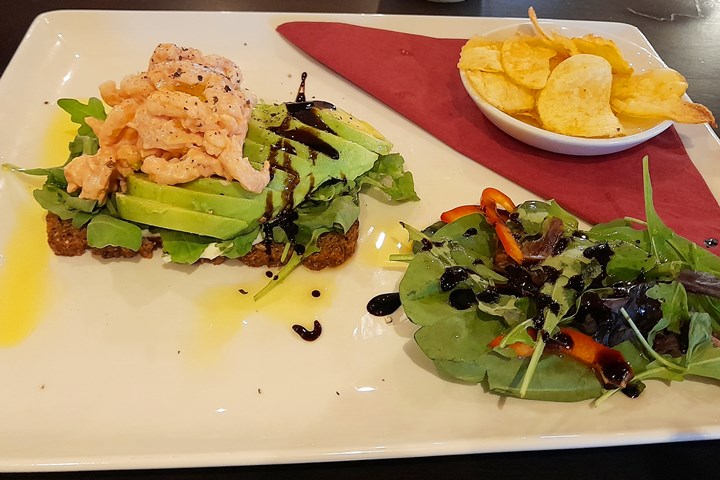 Basically some shrimp and avocado stacked on some rye bread with salad leaves. So simple, and yet so delicious. I loved the idea of the crisps (potato chips) on the side (and served with a pint of ale of course)!
The only real difference in this recipe is that it is served on some sourdough bread fried in olive oil rather than the rye bread that was used at the golf course. This is not because I did not like the rye bread – to the contrary – I just cannot get it around here where we live.
This recipe is actually so tasty that we have eaten this a few times in the last week, and whilst writing this post I felt the need to go and make it again for my lunch!
Please note that I use the words 'prawn' and 'shrimp' interchangeably, as this could also be a shrimp avocado stack, depending on what you can get your hands on more easily.
Prawn Avocado Starter
Prawn and avocado always go well together. My Keto Shrimp Cocktail recipe is an example of this, and is in fact very similar to this recipe. The difference being the fried bread, which isn't very Keto, the salad and the Balsamic reduction. The Marie Rose sauce is the same though.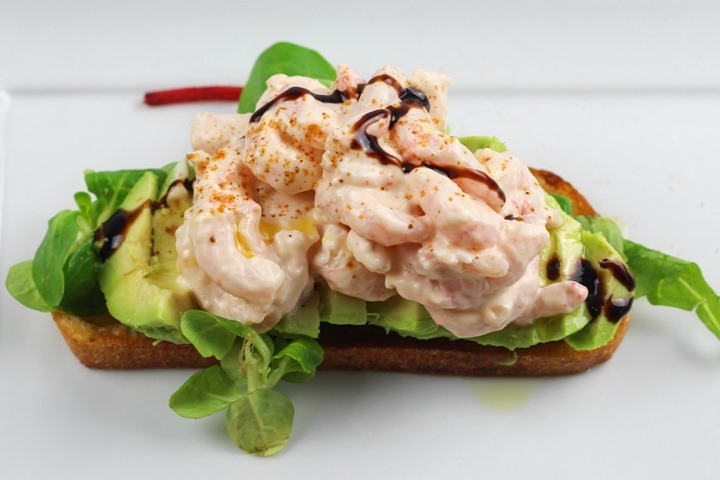 You could serve this also as a single bite canapé (hor d'oeuvre or appetizer) if you were to cut the bread smaller and prepare the canapés individually. I ate this with a knife and fork as the fried bread needs to be cut, but if the pieces were smaller you would not need to.
But also feel free to use some rye bread if you can get it – the taste adds another dimension.
I hope you enjoy trying this easy recipe. It can be made in less than 5 minutes and is a perfect lunchtime treat.
If you do try it please let me know how you get on in the comments section below!
How to make an Avocado and Prawn Stack