Garlic Mushrooms Tapas
This is a very simple recipe for some garlic mushrooms tapas. You can make this at home with very little effort. If you wish you can optionally make this a spicy tapas. Just add some hot chillies to the recipe, but that, of course, is up to you.
Spanish Tapas
Tapas is a snack in Spanish cuisine that is enjoyed across Spain in various forms, hot and cold. Tapas can be eaten as an appetizer or as part of the main meal which may contain several different types of tapas.
This Spanish mushroom tapas recipe is best served hot. I like to add the chilli to give it a bit of a kick.
When we lived in the Netherlands we used to visit La Cubanita, in Gouda, where you could eat unlimited tapas for 20 Euros. A wonderful restaurant, and well worth visiting if you are ever nearby.
We have in the past visited Barcelona as a family where of course they have some wonderful tapas restaurants that you can visit. The trouble is that everything on the menus looks so tasty you end up trying more than you should!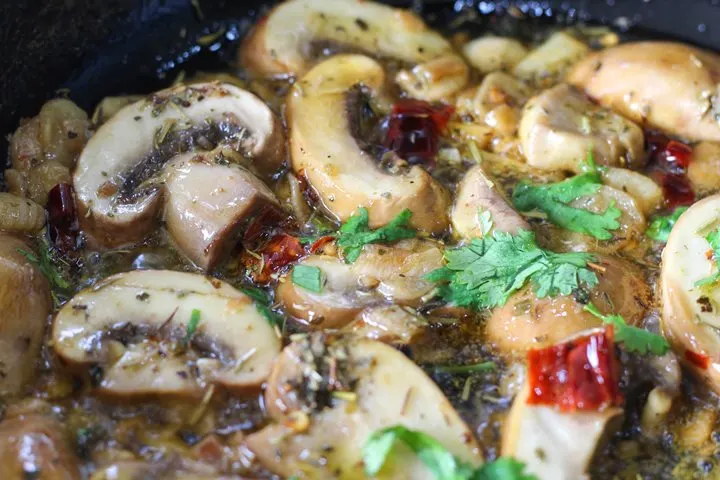 In some parts of Spain, like Granada, some bars still even give you free tapas when you buy a beer.
Spanish Garlic Mushrooms
If you like mushrooms this is a great recipe. It is similar to my Spanish Prawns in Garlic recipe, which is also a great tapas dish, but this, of course, has mushrooms as the centrepiece instead of prawns or shrimp.
I used some brown chestnut mushrooms in these photos but you can of course use any normal mushroom like a porcini or button mushrooms if you prefer. Make sure you slice the mushrooms so that they are still the right size to fit in your mouth!
This dish was served up with a toothpick to eat the mushrooms with, but I ended up using a teaspoon to finish off the delicious garlic-infused oil at the end. If you have some tasty crusty sourdough bread to soak this up with, then that of course is even better.
I used 2 dried bird's eye chillies so the oil was pretty spicy and tasty.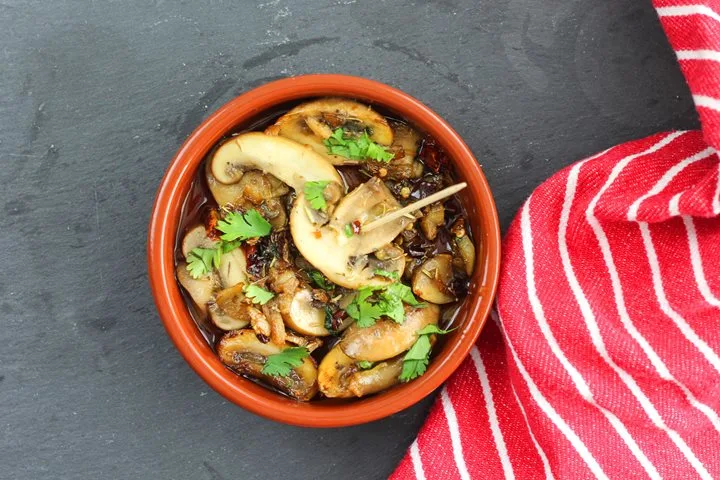 I hope you enjoy making these tapas. If you do, please let me know how you get on in the comments section below!
How to make Garlic Mushrooms Tapas
Some other tapas ideas: