Dill Smoked Salmon Tapas
This dill smoked salmon tapas recipe is a classic combination that is delicious at any gathering. Perfect as finger food or as a starter or appetizer.
We often make this as a quick and easy snack, which can be eaten at any time of the day. In this recipe, I use some sliced French baguette from our local Tesco store. But you can use any bread base you like. It is also very good on toasted sourdough or rye bread.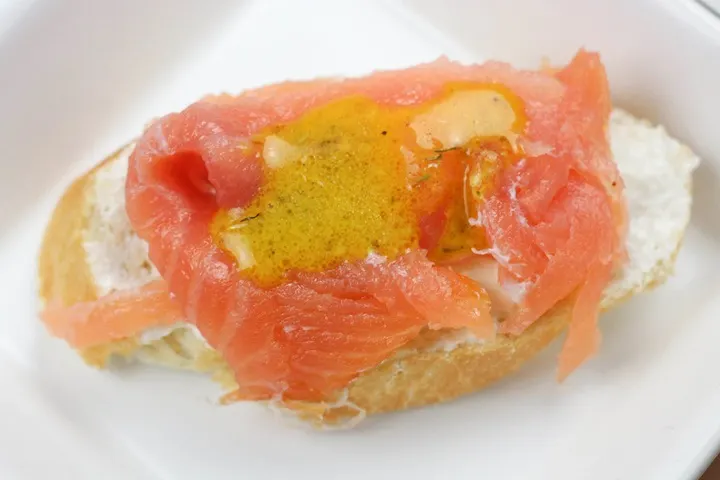 Smoked Salmon Types
You can use all sorts of smoked salmon for this recipe. If you have a salmon source locally, as we do on the West Coast of Ireland, you should be able to get locally sourced smoked salmon. This would always be my preference.
The smoking process adds a rich, smoky flavour to the salmon and gives it a firm, yet tender texture.
These days you can also buy affordable smoked salmon in your local store which has been sustainably produced. Basically, you have Atlantic salmon, Pacific Salmon, and farmed salmon.
Pacific salmon may be King salmon, or Chinook, which can grow to enormous sizes. These are truly impressive fish.
You also have very red-coloured Pacific salmon such as the Coho or Sockeye salmon. And then there are the Pink (humpback) and Chum (Keta/dog) salmon that have a pinker coloured flesh.
In Europe, like Scotland, Ireland and Norway and on the Eastern North American coasts you find the Atlantic salmon. All of these fish are good to smoke and eat. But some are more sustainable than others. Just look for the MSC label on the packaging when buying your fish.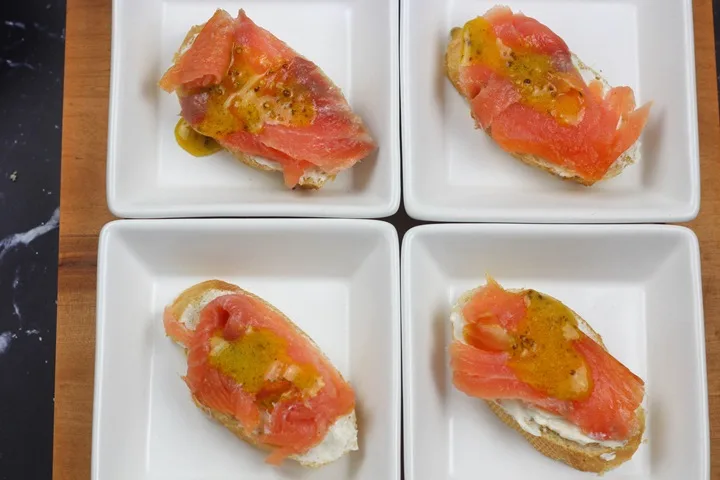 Dill Honey Mustard Sauce
This recipe uses a dill honey mustard recipe for the sauce. When I took these pictures I had run out of Dijon mustard so I used some English mustard instead. It did work but the sauce was runnier than usual and it was a bit stronger. So I suggest you use the original recipe if possible.
Alternatively, use some original Ikea mustard and dill sauce if you can get some. It is great stuff!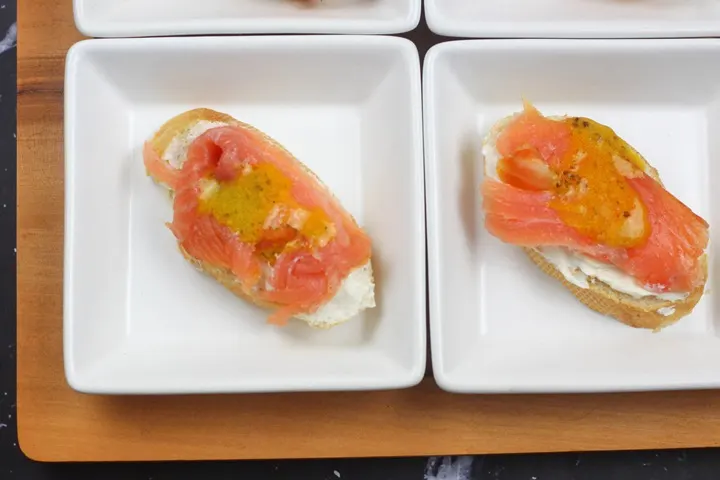 I hope you enjoy making these dill smoked-salmon tapas. If you do, please let me know how you get on in the comments section below!
How to make Dill Smoked Salmon Tapas