Baby Leaf Salad Mix
This simple and fresh baby leaf salad is an easy and healthy way to enjoy your lunch. Serve it up with some fried chicken breasts or as a BBQ accompaniment for a healthy and fulfilling snack.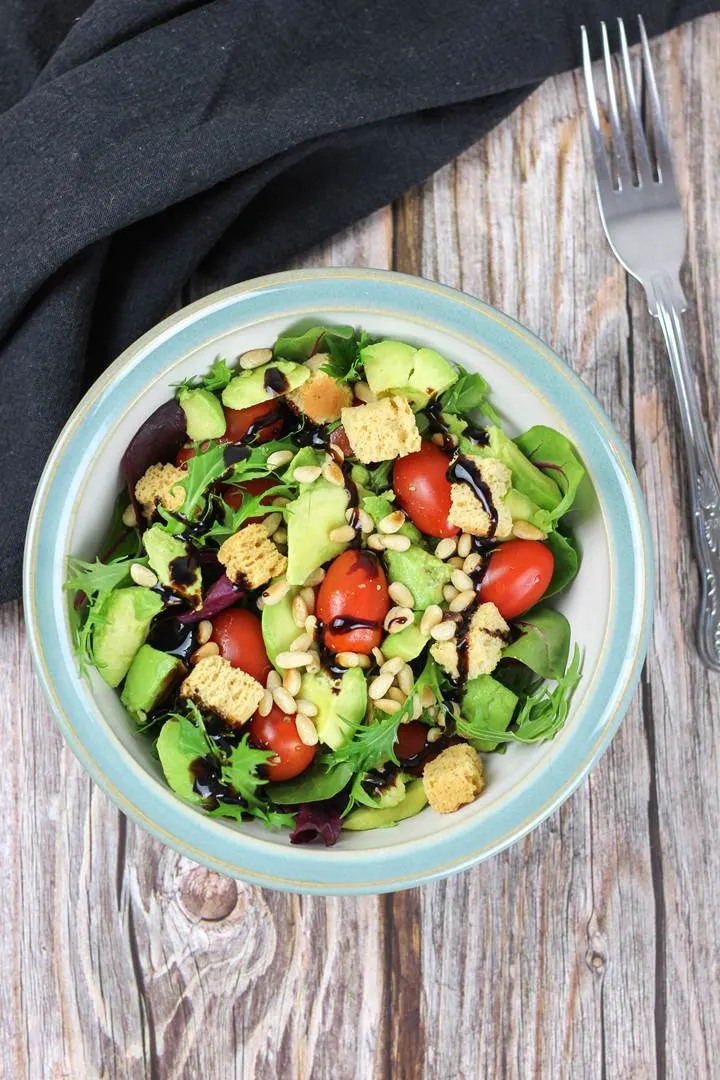 What is a baby leaf salad?
A baby leaf salad is a salad using baby leaves, rather than large lettuce leaves. Baby leaves are salad leaves that are harvested young and can be up to 12cm in length. This salad uses a bag of salad baby leaves from Aldi.
This bag includes a delicious mix of different leaves:
Mizuna: a crisp-tasting leaf with a hint of pepper
Red Chard: A gorgeous red-coloured leaf with a sweet flavour
Bulls Blood: Another leaf with a red-coloured stem, tasting a bit like beet
Rocket: Rocket, or Arugula (in American English), also known as Rucola is another peppery-tasting leaf.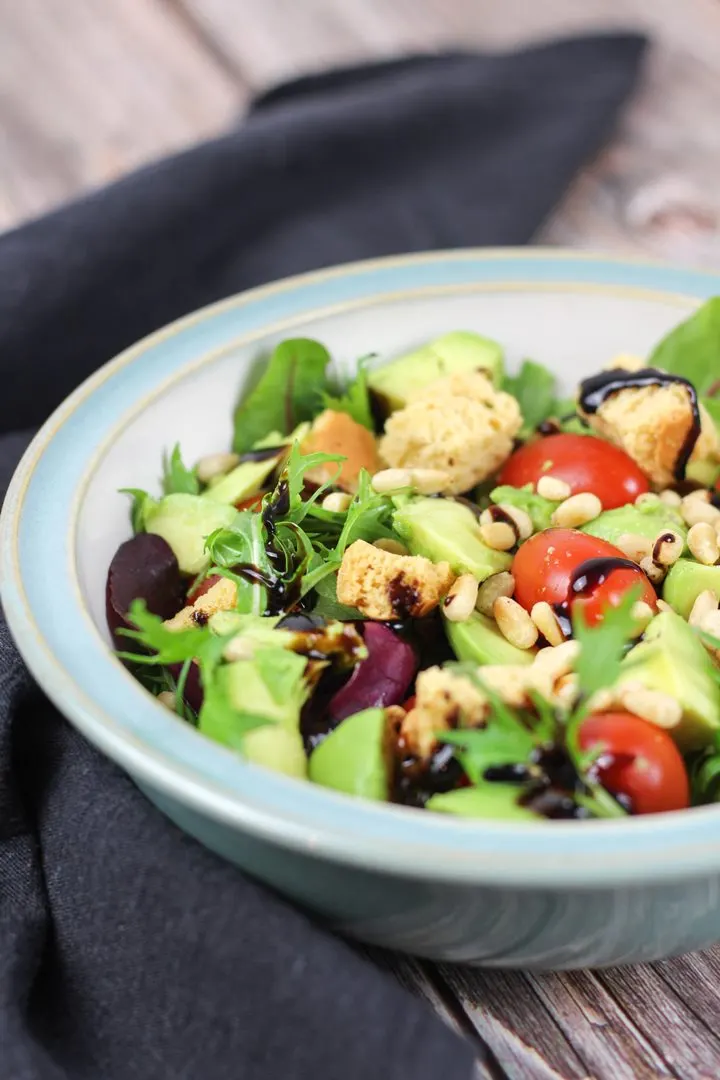 How are Baby Leaves Harvested?
Baby leaves, also known as microgreens, are harvested when the plants are still in their infancy, typically around 7-14 days after germination. The plants are grown in shallow trays or containers filled with soil or growing medium that provides the necessary nutrients for the young plants to thrive.
When the baby leaves have reached the desired size, they are harvested by cutting the entire plant at the base, just above the soil level. The leaves are then separated from the stem and any excess soil is removed through gentle washing or using a specialized microgreen cleaning machine.
The harvesting process for baby leaves is typically done by hand, as it requires a delicate touch to prevent damaging the young plants. However, some commercial growers may use automated systems to harvest large quantities of microgreens.
Baby leaves are prized for their tender texture, delicate flavour, and high nutritional content, making them a popular choice for use in salads, sandwiches, and as a garnish for a variety of dishes. Due to their short growing cycle, they can be produced year-round in indoor or greenhouse settings, making them a versatile and sustainable crop.
The combination gives a lovely-looking salad base with interesting colours and tastes. Complement them with the baby tomatoes, pine nuts, avocado and croutons and you have a light but interesting salad to accompany any dish.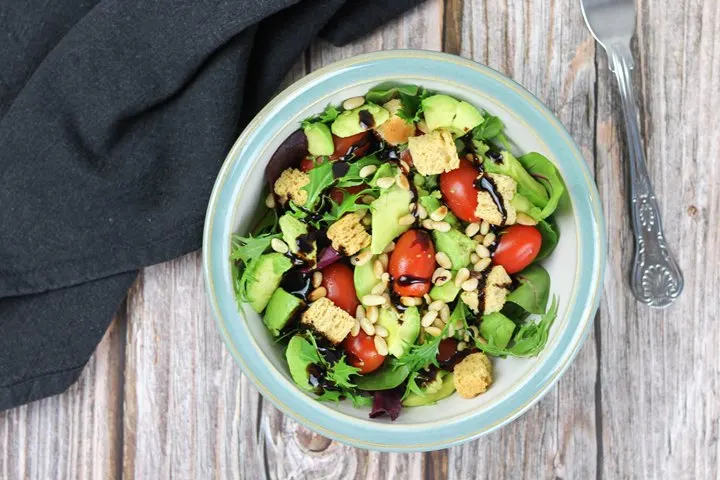 This salad is also great if you need a light salad as a side for a BBQ, for example.
What is the best salad dressing to use?
There are so many different salad dressings that you can use on this salad that work.
A lovely French Vinaigrette or a honey mustard dressing are both be fine. Or even a Balsamic vinegar with an olive oil mix.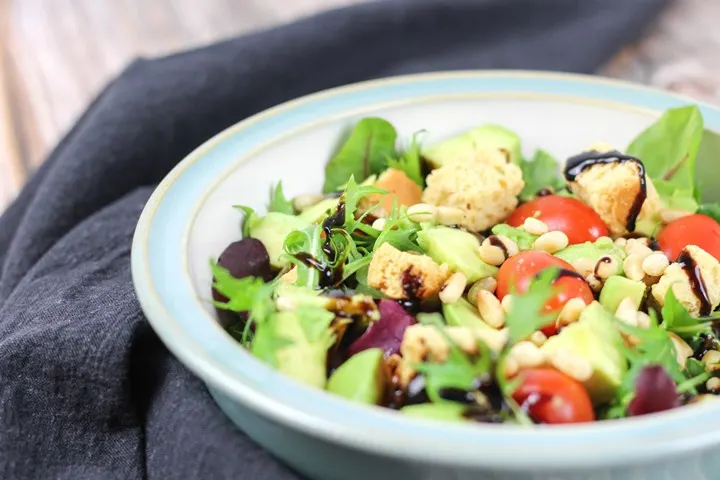 But for these photos, I decided to use some Italian Aceto Balsamico di Modena I.G.P.
This is a concentrated thick balsamic glaze made with grape must and I find it a lovely mix of sweet and sour. It is similar to this product I found on Amazon:

You could always add some olive oil as well, but I decided to leave it out for this little snack.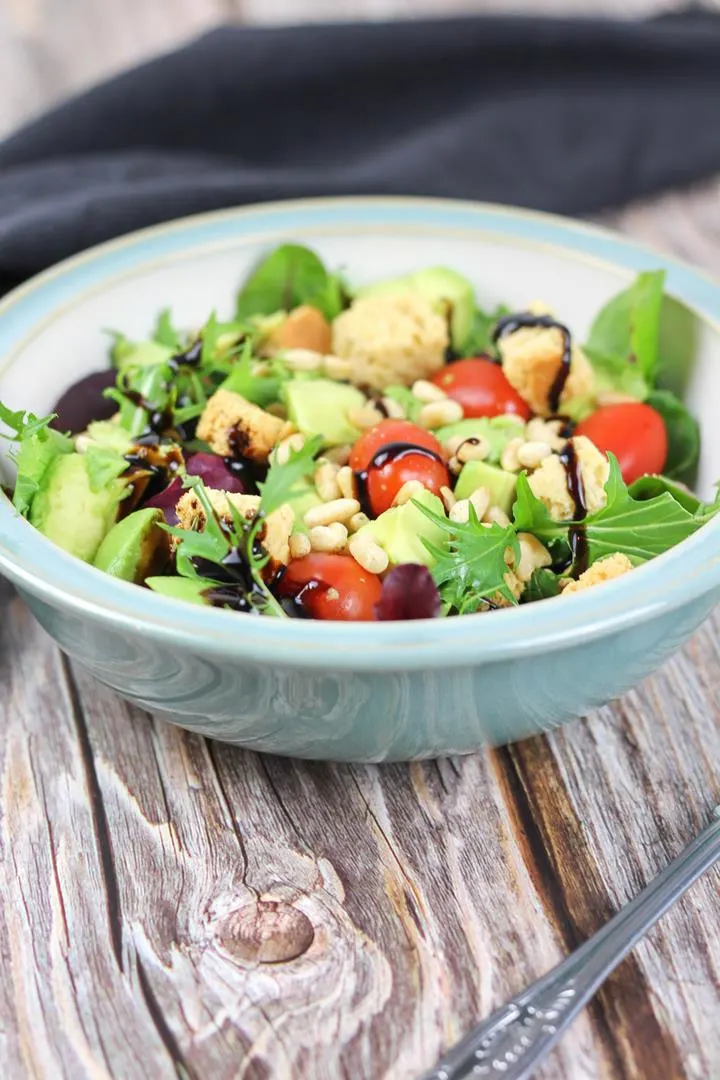 I hope you will try to recreate this healthy baby leaf salad. If you do, please let me know how you get on in the comments section below!
How to make a Baby Leaf Salad