Belgian Frites – the best in the world
The best 'French Fries' in the world actually don't come from France, they come from Belgium. Belgian French Fries. And there they are known as 'Belgian Frites'. The story goes that the Americans called them French fries during the war as they were 'fried potatoes' and came from France.
In the UK we call french fries 'chips'. Whatever the origin of the name, I think the fries you get in Belgium are superior to all.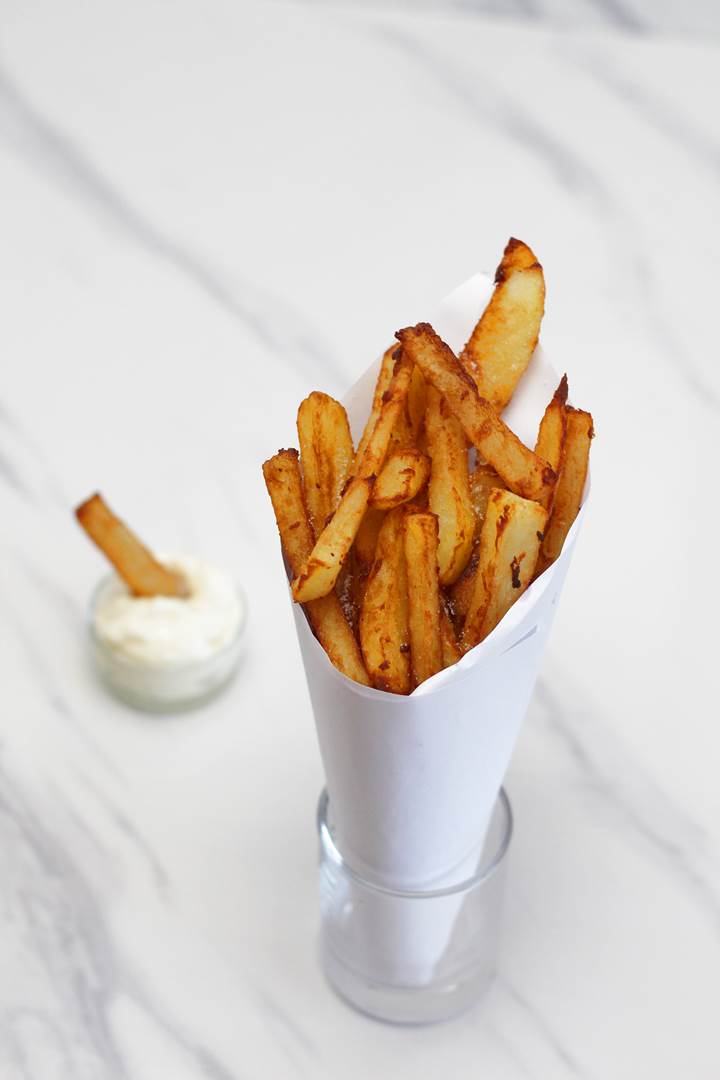 Dutch French Fries
I know this as I lived in Holland for 30 years. We used to go to Bram Ladage, a famous Dutch chippy in several places around Rotterdam, and order some Dutch fries and mayo, or a 'patatje oorlog'.
'Oorlog' in Dutch means 'war' and 'patat' means chips. I suppose that is where 'oorlog fries' and patat oorlog' comes from?
The patatje oorlog recipe is also an interesting combination of chips with a messy sauce. The oorlog sauce is a combination of mayonnaise (or to be correct Dutch 'frietsaus'), peanut satay sauce (delicious!) and optionally small chopped raw onions.
Sometimes tomato ketchup may be included as well. It is often served in a plastic or cardboard plate, or in a coned piece of paper, and eaten with a plastic fork or with your fingers. You can buy this at most markets on a Saturday and any fast food counter.
Belgian Fries
These were a great and tasty snack but in my opinion, they still did not compete with the Belgium chips or Belgium fries you can get in any city in Belgium. Served with Belgian mayo they are just the business.
I used to drive miles out of my way, on the way to the ferry to the UK in Dunkirk, for one reason – to eat a steak and Belgian chips at Restaurant Terminus on the French/ Belgian border. This place served the best frites in Belgium that I have ever tasted (and also the best steak).
I do not know how they cook their frites there, but they are exceptional (I used to go there at least twice a year for 25 + years). I literally would drive about 45 minutes out of my way to go there.
Sadly I have not been back for a few years now since we have moved away from the continent. But if you are ever in the area there, visiting WWI graves in Ypres, for example, it is worth driving out of your way to visit.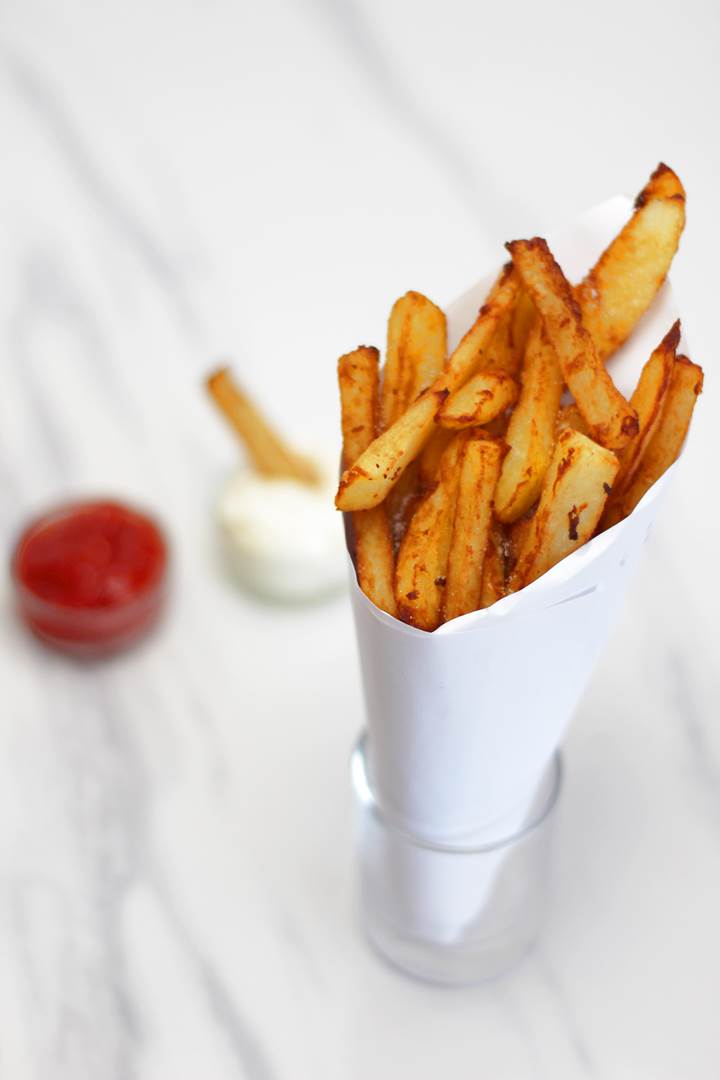 Belgian French Fries – the Secrets
Here we are going to show you how to make home fries, just like the ones in Belgium. Of course, the Belgians have a few secrets to their frites.
The first one is, they deep fry their fries twice – which is why they are so good. Apparently, McDonalds also do this, but that is where any similarity ends.
The trick is probably also in the type of potato used as well, and the amount of time you fry for and the temperature of the oil. It is important to have the oil at the correct temperature, especially for the second fry, to get nice crispy chips at the end.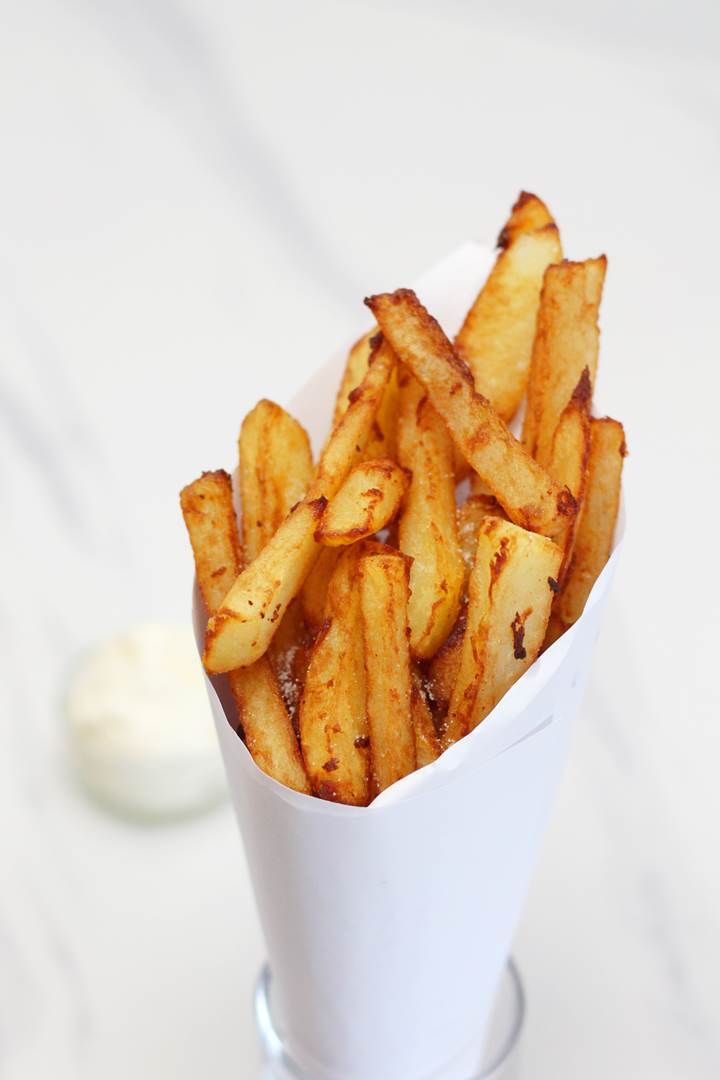 There is another trick, that we also use in the North of England in the rather better fish and chip shops. This is using beef fat, or dripping to cook the chips.
Beef dripping chips. Wonderful. The animal fat adds to the taste, although it is probably not as healthy as vegetable oil.
I used a mixture of vegetable oil and beef dripping in the fries I made in these pictures.
If you are feeling particularly ambitious you could try making some real homemade Belgian Mayo to go with them…..
Chips off the old blog?
The reason I have included Belgian French Fries on this blog is that everyone should have the chance to try them! This was one of the first times I tried to make homemade french fries.
I was not a great lover of 'chips', as I do not like them if they are greasy and undercooked. The taste of the potato is also important to me.
This recipe brings out the best of the potato taste and not only that, it gives a great crispy outer layer. I am a complete convert now.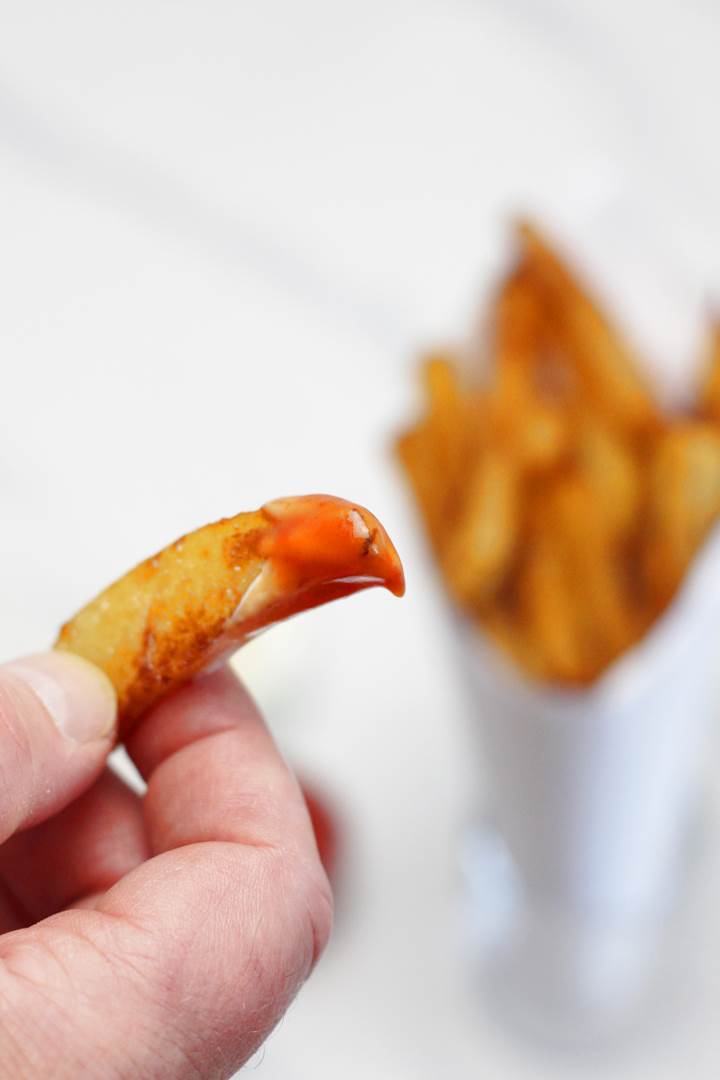 I hope you get great results as I did. Please be careful when making this recipe as a boiling pan of oil is what they used to stop people raiding castles in the old days – i.e. it is a potential weapon and very dangerous cooking utensil.
Be aware at all times.
I hope you enjoy trying to make these. Let me know how you get on in the comment section below!
How to make great Belgian Frites
Why not try these with some traditional beer battered fish?
or some steak pie?
or just a steak frites?