Soft boiled dippy eggs with soldiers
This is one of my daughter's favourite breakfast treats – dippy eggs with soldiers. The toasted soldiers are really strips of buttered toast that you dip into the runny egg yolk.
Wonderful! I suppose they are called soldiers as they represent soldiers standing to attention.
This is so very easy and quick to make and serves as a real treat to those of you that love a runny egg.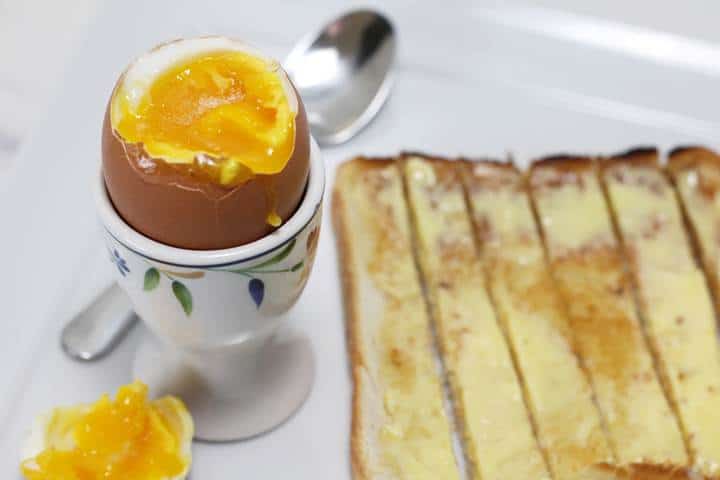 How long to soft boil a dippy egg
The trick to get a perfect soft-boiled egg is to boil it for exactly the right length of time. The perfect soft-boiled egg should have a warm runny yolk to dip into, and the whites should be firm.
If you love eggs then you will love dipping into these.
When I am making these I first add the egg to the boiling water when the water has actually started boiling, not before.
I will then time it for exactly 5 minutes using Alexa to time it for me.
When the 5 minutes is up I immediately remove from the water with a spoon and run the egg (s) under the cold tap to stop it (them) from cooking further. I use the same 5 minutes whether I am cooking one, two or four eggs.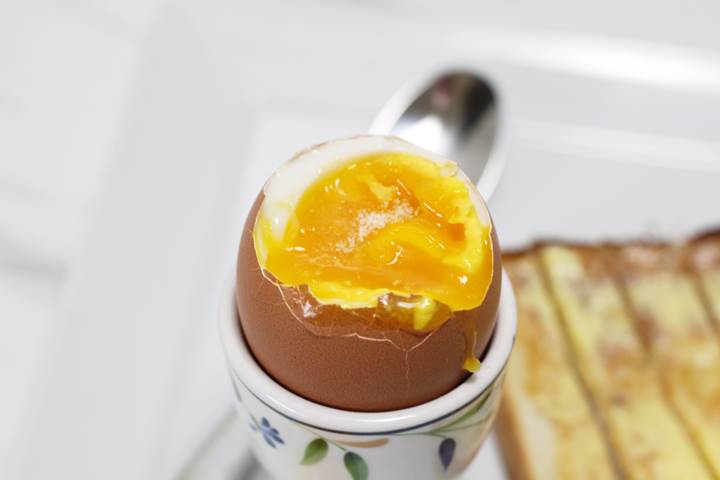 This soft boiled egg cooking time is based on the large eggs we buy here in the Aldi, but you may find that you need more or less time, depending on the size of your egg and maybe even the altitude at which you are cooking.
The higher you are, the lower the boiling point of water, due to the lower atmospheric pressure, which will affect your cooking time. For approximately every 152m of elevation above sea level the boiling point of water is reduced by 0.5C, from the boiling point of 100C at sea level. You can see that this can affect the cooking time significantly if you are at height.
Dippy eggs – just for kids?
Though this is obviously a great recipe favourite for kids, it is also a good one for adults.
I love soft boiled eggs with soldiers and quite often will just make a single one for myself for lunch.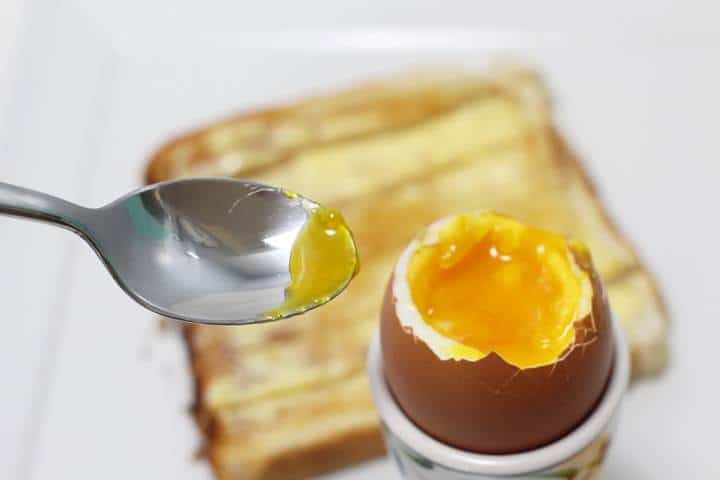 How to open a soft boiled egg
To remove the top of the egg, first, place the pointy end down in the egg cup (because the other end tends to contain more yolk for some reason). Then use a knife to chip away at the side of the egg around the circumference until cracked all the way around.
Then remove the top with a teaspoon (and use the spoon to scoop out any egg in the top part you have removed)! Make sure that you do not leave any shell chips in the egg before serving.
If you are feeling decadent then add a small pinch of salt to the top of the egg. Delish! Now dip away!
How to make a perfect soft-boiled egg