Chicken Fajita Wrap Recipe
This healthy chicken fajitas recipe is one that we presently eat at least once a week, as it is part of a diet that we are on at the moment.
It is really healthy, easy and quick to prepare and tastes fantastic.
We bought the Ancho chilli marinade mix from Aldi, but I am sure you can find a similar alternative in your local store.
We could have come up with a chicken fajita seasoning recipe, but hey, why make it difficult when you have a solution for less than a $ ?
This authentic Mexican chicken fajita marinade is really good!
For the smoky taste, we used the spicy Bulls-eye Smoky chipotle sauce which we bought at Tesco. This is really a great-tasting sauce that makes this a spicy chicken fajita recipe.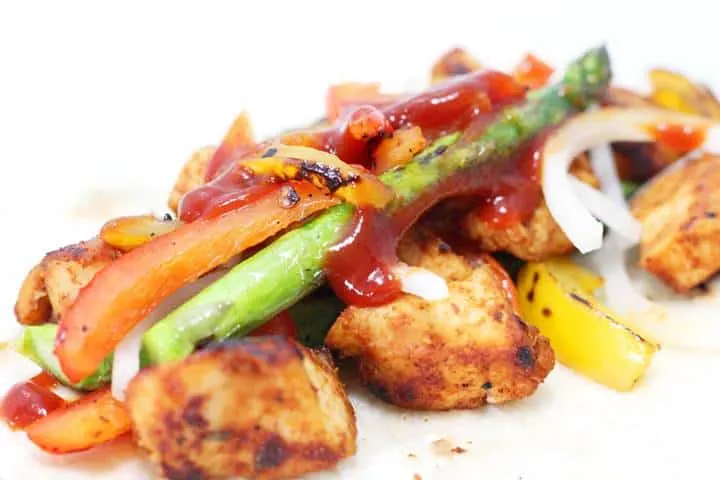 Fajitas
We discovered this combination really gives a nice taste and it gives you flavorful chicken fajitas which taste just like the ones we used to eat at our favourite Mexican restaurant in Gouda called Xochimilco.
This restaurant is an affordable and super little restaurant that serves up fantastic Mexican food in the centre of Gouda in the Netherlands. Well worth visiting if you are ever in the neighbourhood.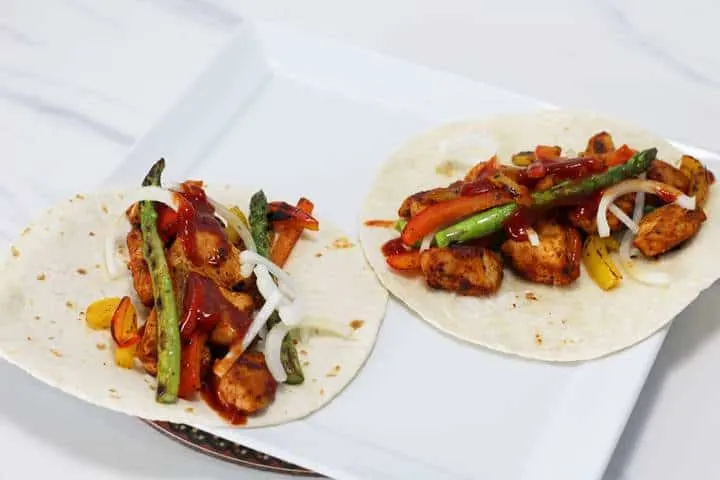 I once had a holiday in Cancun many years ago. Unfortunately, I could not really enjoy the Mexican food there as I was stricken with a bout of Montezuma's Revenge for the entire week.
Pretty sure it came from the ice in the margaritas, and not the food, but we will never know for sure.
I do not cook the onions in this recipe as I like them raw sometimes. You could also use a red onion which is what I normally use, but I did not have any in the house when I made this.
You can also cook them with your peppers if you prefer. I added the asparagus as a last-minute thing as I had a few to use up, but I thought it worked well.
If you are feeling particularly adventurous you could try making your own flatbread instead of store-bought tortillas. It is really easy to make and can be ready in 15 minutes: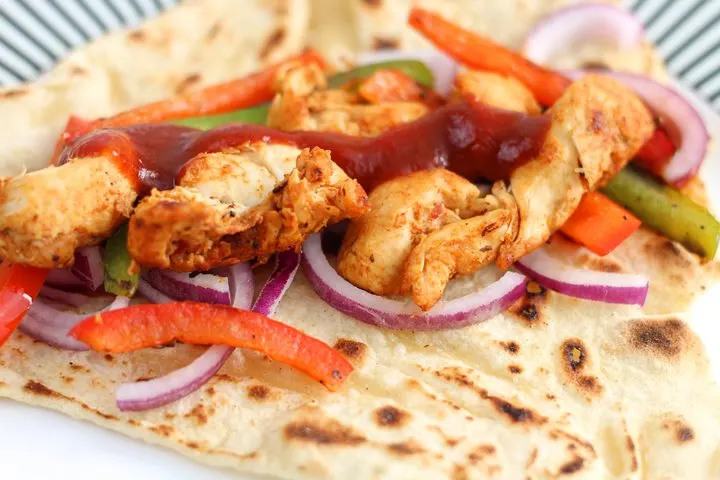 You can find my easy flatbread recipe here.
How to make this authentic chicken fajita recipe
You may also like some of these quick recipes: