Beef Bourguignon (Beef Stew Dutch Oven)
This is an easy and delicious recipe for Beef Bourguignon or Beef Stew (Dutch Oven).
I have recently finished reading 'Kitchen Confidential' by Anthony Bourdain, which inspired me to cook this recipe (amongst others). This recipe for beef bourguignon is loosely based on Anthony Bourdain's own beef bourguignon recipe, which you can find online, with a few tweaks of my own.
I chose to slow cook this beef stew recipe in my Dutch oven, rather than the Instant Pot, as I had plenty of time to spare, but either way is possible.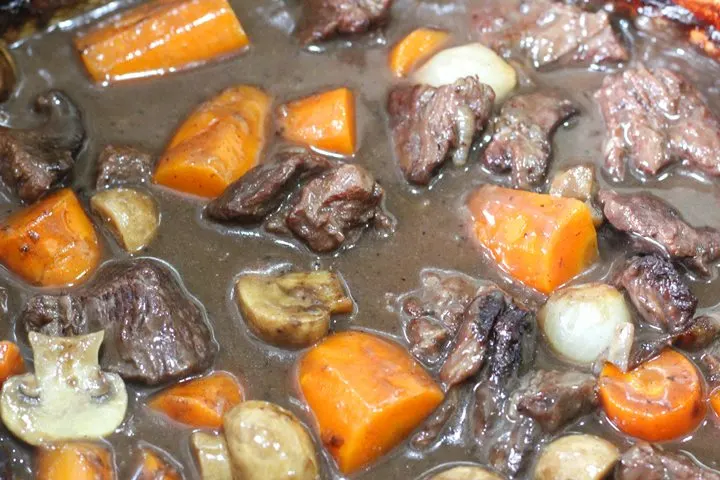 The main reason I felt like cooking this meal is that, when in the book Bourdain asks Scott Bryan, a talented and famous New York chef, what he liked to eat when it is after hours and he is hungry – the guy replies with 'beef bourguignon'.
This just proves that chefs who spend the whole day producing culinary masterpieces also just really enjoy the simple food as well. This is a wholesome and delicious meal.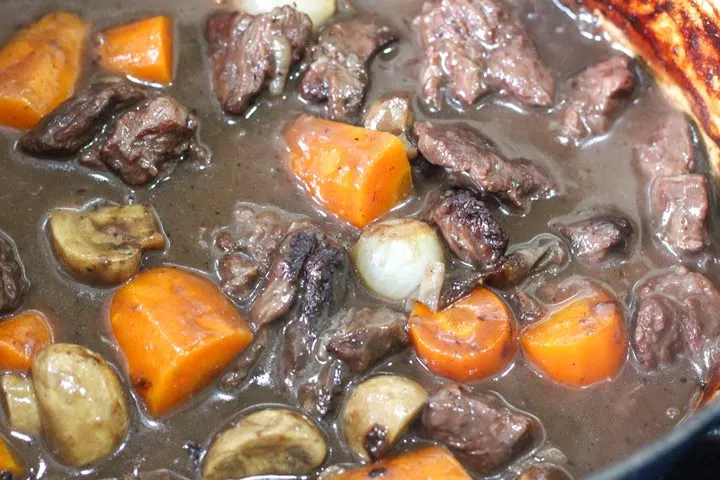 It also reminded me how easy and fantastic this dish is. This fantastic French beef stew is really very easy to make and the taste is absolutely out of this world. It is important to get some good meat as the basis to the stew, but the ingredients are so simple. You really cannot go wrong.
Which wine to use?
In this beef stew recipe, I used my own home-made red wine (a Chiraz), but really you can use any drinkable red wine to make this. Normally, of course, a French Burgundy would be used for this traditional beef stew recipe, but I do not think it matters too much.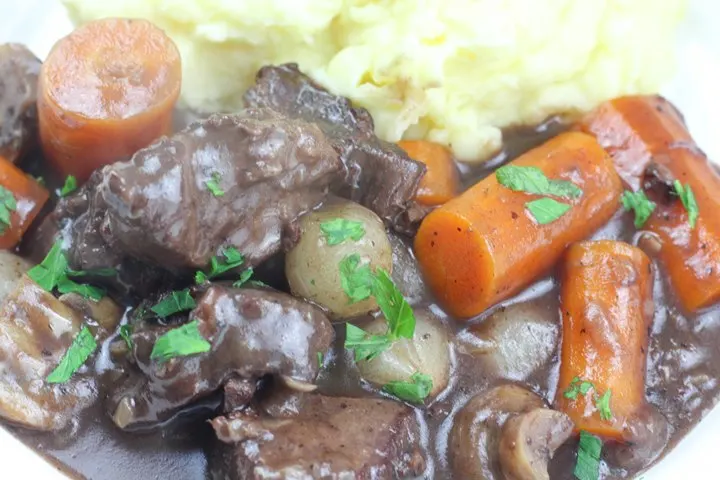 What I am trying to say is: please do not use your last bottle of Château Lafite Rothschild to make this!
The alcohol evaporates during cooking, but the wine imparts a taste to the meat that is so wonderful. This is the only stew I make without using any form of stock. This is much smoother in taste than my beef in beer stew, which is a bit more bitter in comparison (but also good).
What makes for a good Dutch oven?
The Dutch oven I use is actually a French oven – it is an enamelled oval Le Creuset pan, which I have had for nearly 30 years (I am lucky to have a full set of pans). It looks just like this one:
Le Creuset Enameled Cast-Iron Oval French (Dutch) Oven

These things are not cheap, but they will last you a lifetime. This thing is pretty indestructible and the best thing is that because the material is cast iron, the lid is very heavy, meaning that you get a very good seal on the pan. This is essential when slow cooking, so that you do not lose too much of your cooking fluid through steam.
If this is beyond your budget, you could also try Uno Casa. They have some great, more affordable cast-iron Dutch ovens pots like this one below:
Also great for making this recipe.
What to serve with beef bourguignon?
This recipe has some carrots, onions, shallots and mushrooms in the pot. But it does need something to mop up the delicious meat and wine gravy that accompanies this meal. I served this up with a simple creamy mashed potato. But you could also serve it with some boiled new potatoes or even just some tasty crusty bread to mop up the juices.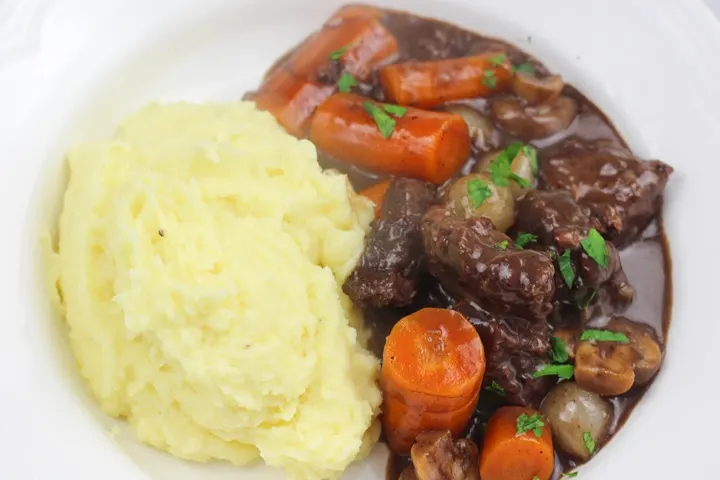 The meat should be so tender that it will fall apart when you touch it.
This dish is also really quite good on its own, but a nice glass of red is always a good accompaniment.
I hope you enjoy this easy family recipe. It really is amazing. Enjoy!
How to cook beef Bourguignon in a Dutch oven