Mushroom Barley Risotto
This is a recipe for mushroom barley risotto. I was inspired to make this risotto after I ate it in Porto this year.
We visited a wonderful restaurant overlooking the waterfront in Porto called Bacalhau, which served the most amazing food. Bacalhau meals cod fish in Portuguese.
My wife had some cod and I had the vegetarian Mushroom Barley Risotto with a crispy topping. It was served in a bowl and was probably enough food for three people! It was so good I thought that I had to try and re-create this at home.
This is how it looked in the restaurant: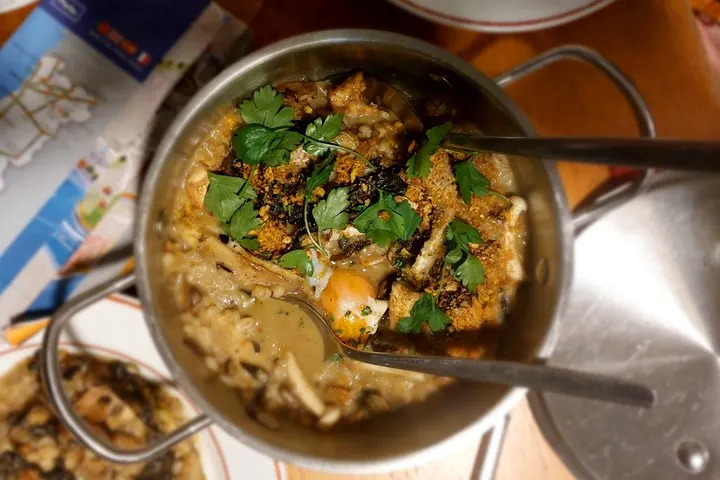 You can see that this meal had an egg in it, but I have omitted that from this recipe. But feel free to add one if you wish.
Pearl Barley Risotto
This recipe uses pearl barley instead of rice for the risotto. Normally I use arborio rice in my exotic mushroom risotto. But this recipe uses just pearl barley. I love pearl barley and loved the idea of using it as the main ingredient in a risotto.
Pearl barley is barley that has been processed to remove some of the bran and hull layers on the outside. Hence it is quicker to cook than pot barley which is less processed. However, it still takes a bit longer to cook than the rice version. So you will need some patience.
Barley is a healthy grain that is full of fiber and can lower bad cholesterol in the blood. Barley contains calcium and other nutrients and is relatively low in calories. It is often used in stews as it is great for absorbing fluids and taking on the taste of the gravy.
Similarly in this recipe, the barley adsorbs the taste of the stock and other ingredients and I think it works as a better alternative to rice.
Mushroom Barley Risotto Recipe
This barley risotto is a delicious and wholesome dish. You can enjoy this as a main meal or as a side dish.
This dish combines earthy mushrooms and chewy barley to create a hearty and comforting meal. It is a great option for vegetarians, and you can easily adapt the recipe to be vegan-friendly.
Use whatever mushrooms you can find locally. I used white button mushrooms, chestnut mushrooms and some large flat Irish mushrooms (like Portobello mushrooms).
But if you wish to add some chanterelle, enoki or shiitake mushrooms then feel free. The more variety, the better.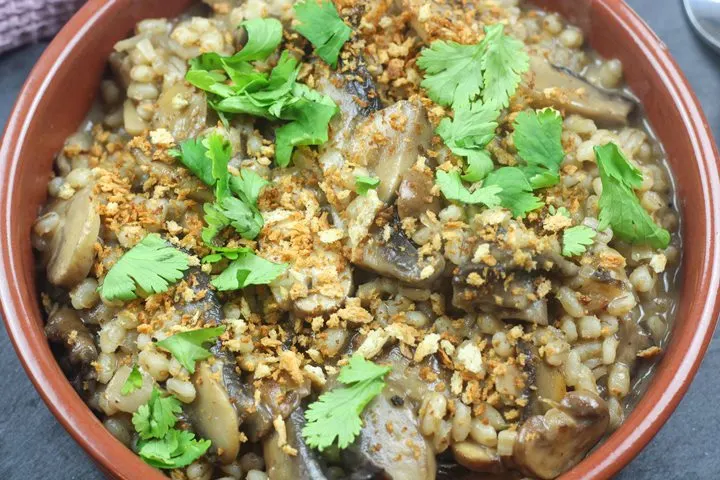 This really is a delicious and filling dish. You can enjoy this as part of a main meal, or even as a side dish. I do recommend you try it yourself.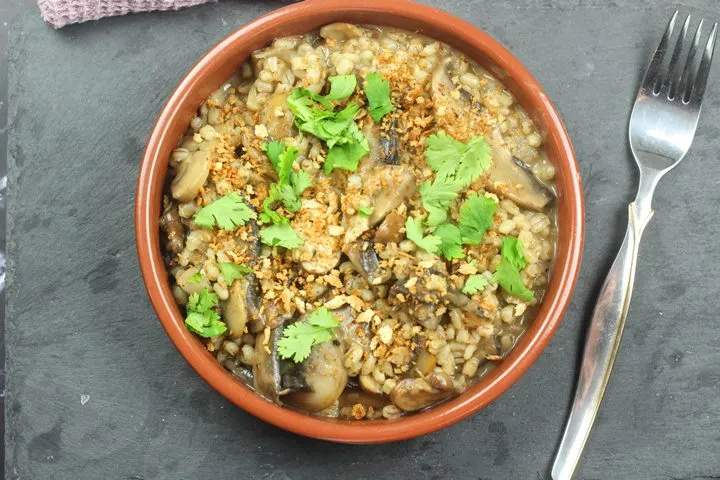 It is easy to make, and is sure to be a crowd-pleaser.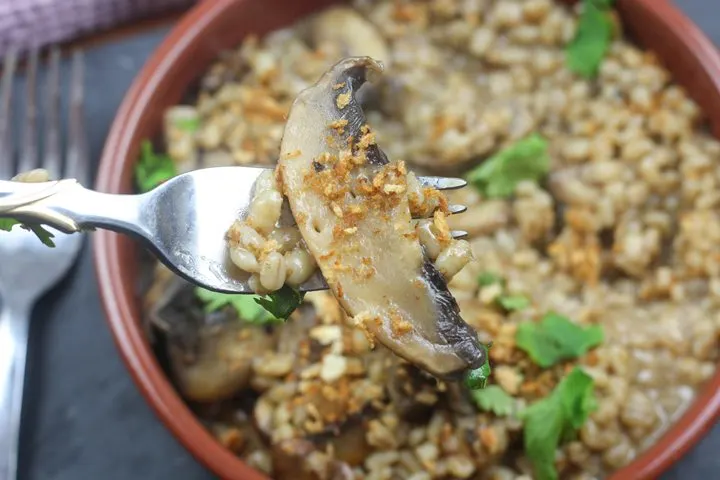 If you do try this recipe, please let me know how you get on in the comments section below!
How to make mushroom barley risotto