Sauce Diane
This famous Steak Diane recipe is basically a tasty tender steak served in a brandy cream sauce.
It is the type of steak dish you could get in a top restaurant and it is a delicious way to serve a nice piece of steak.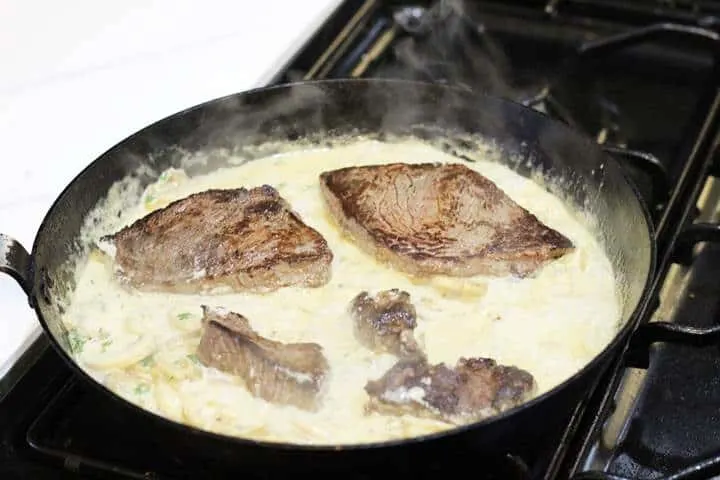 It is one of my best steak recipes as it is such a tasty and easy steak sauce to make.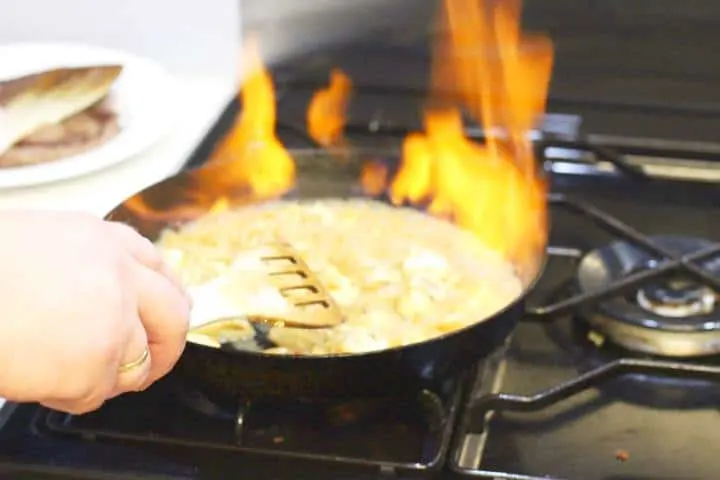 Origins of Steak Diane
There seems to be some discussion about the origins of this recipe. Some say it was developed in the US in the 50/60's.
Contrary to this, there is also evidence of a 'sauce Diane' from the beginning of the 20th century. It is thought it may have come originally from an old pepper steak recipe (steak au poivre).
Diane was the ancient Roman goddess of hunting – but whether she has anything to do with it is just speculation.
I will not delve into the origins any further, as they are rather unclear, but it is certainly a classic dish that you should try at home.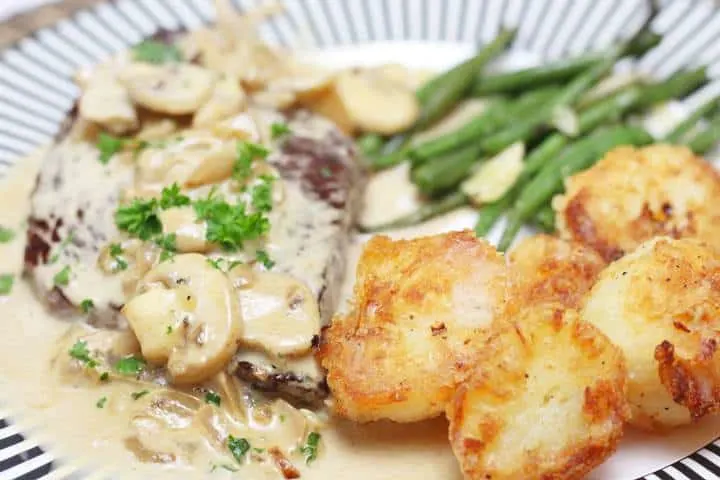 A bit of saucy Brandy
The fun part of the steak Diane sauce recipe is the flambé bit when the alcohol in the sauce gets burned off.
You can see in this picture below what happens if you go a bit too mad on the Brandy. (I should have drunk more of it!)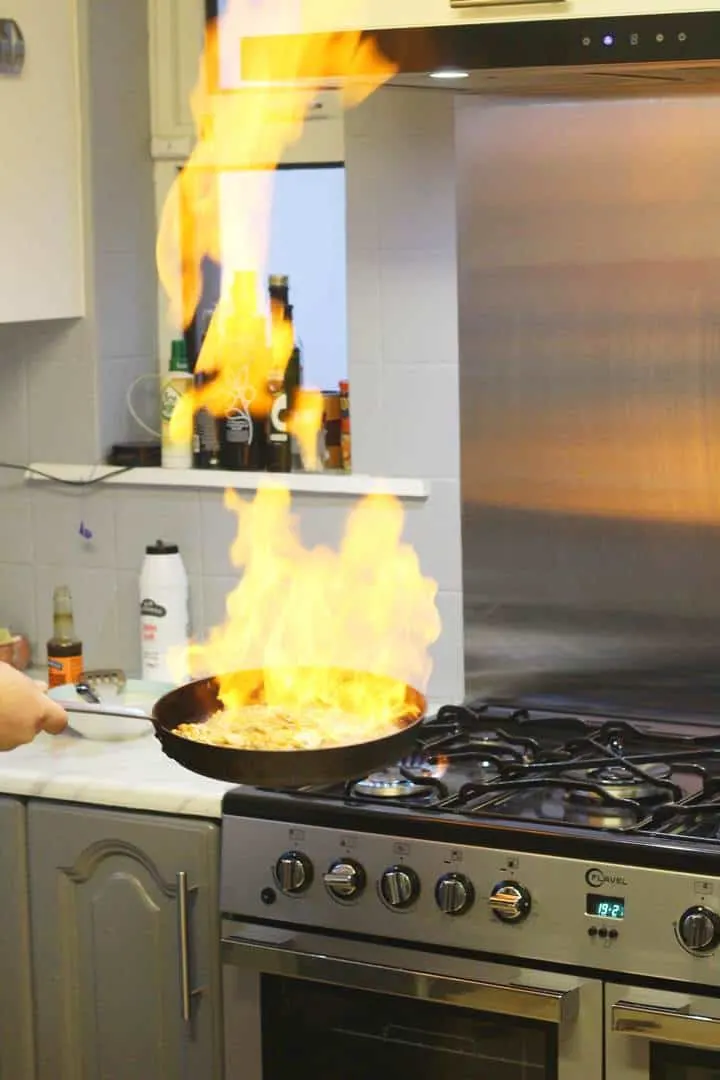 Bit of a waste really and never mind the fire hazard!
But seriously, make sure you know what you are doing before you try this!
Some say the brandy is optional, but I think it is an essential part of the meal as it imparts a super flavour to the sauce.
Cognac or Armagnac can also be used I suppose to the same effect.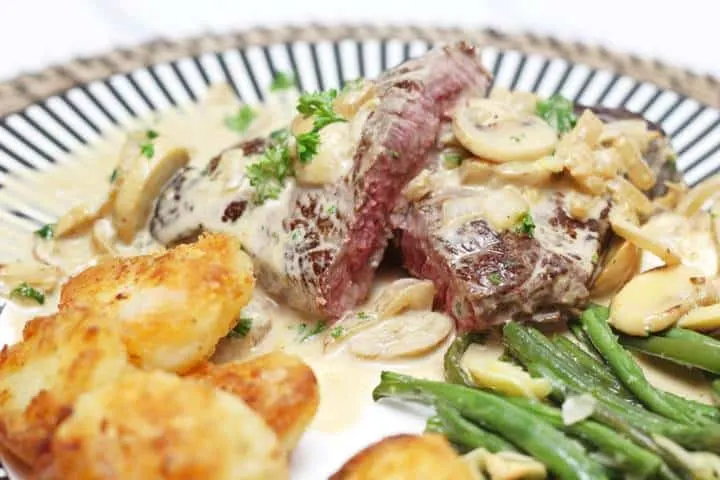 I have used Sirloin steaks with this steak Diane sauce recipe, but this can also be served together with a nice piece of tender rump or fillet steak. These ones were cooked fairly rare and were super tender.
But if you really want to go to town perhaps you could try with a Filet mignon?
Serve up Steak Diane with any vegetables you like – it is of course up to you to decide when you are cooking for yourself.
I served this easy steak Diane recipe with some lovely roast potatoes and some roasted green beans with almonds. The Diane sauce goes great with the potatoes as well.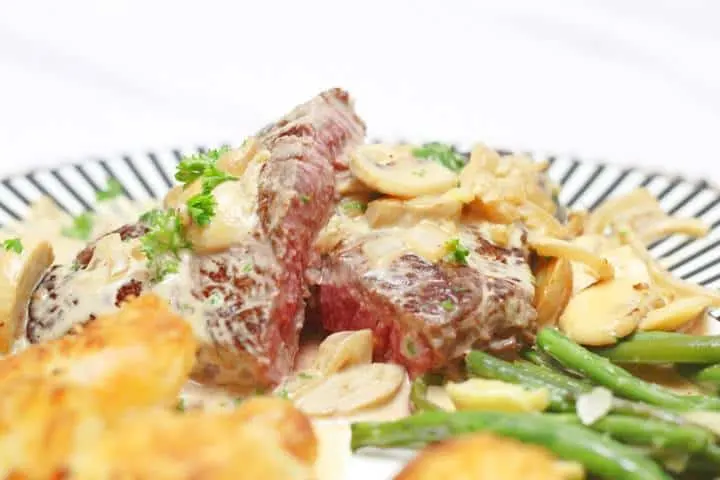 And here below I served a fillet steak Diane with some smashed potatoes and long stem broccoli. I served the sauce separately from the steak. It was really great!
I hope you enjoy trying my Steak Diane recipe. If you do please let me know how you get on in the comments section below!
How to cook this Steak Diane recipe