Marmite Mushrooms
This simple recipe for Marmite Mushrooms is really something that, if you have never tried it, you should.
This easy marmite recipe combines the wonderfully strong and salty taste of Marmite with the fantastic flavour of mushrooms sauteed in butter, which is just a super combination.
What is Marmite?
For those of you who were not brought up with Marmite as a staple topping for your buttered toast, I shall try and describe what it is.
Marmite comes in a distinctive brown partly translucent pot with a yellow and red label, which you can see under the recipe below. The product is brewer's yeast extract and comes in the form of a thick black paste with quite a pungent and unusual smell.
The product is great eaten on toast, but I also use it as an ingredient in several recipes as it adds a bit of extra kick to a sauce or gravy. And surprisingly, Marmite is completely vegan for those of you interested in not eating meat or dairy products.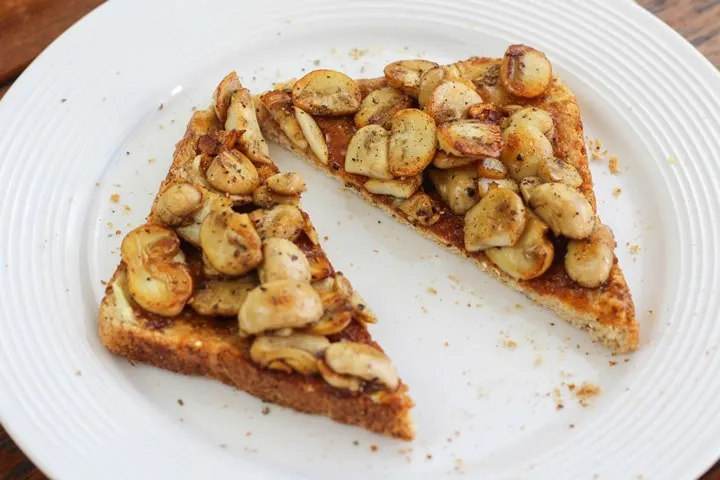 Marmite's savoury taste is not like anything else and is quite unique, so I will not try to describe it. But they do say that 'you love it or you hate it'! This expression even made up some of their brilliant adverts back in the day.
The cap has a seal with a Royal Warrant of Appointment (By Appointment to Her Majesty the Queen) with the Royal crest on it. This shows that the product was also enjoyed by The Queen. We know in fact that The late Queen was also rather partial to having Marmite with her mushrooms, which is actually the reason I tried this combination.
And I am glad I did. It will not be the last time!
Marmite or Vegemite?
If you live in Australia you probably are more aware of Vegemite as opposed to Marmite. Australia also has Promite, another yeast extract, on its shelves. I have never tried Promite, but I have tried Vegemite many times, and although it is not quite the same as Marmite, it is very similar.
I remember it being slightly thicker than Marmite in viscosity.
Australians of course all argue that Vegemite is better, but really, they are comparable, so if you want to try Vegemite instead of Marmite, be my guest!
Which Mushrooms to use?
Well, I do not think this really matters very much. I used some button mushrooms, but you could use oyster, portobello, cremini, porcini mushrooms – whatever you fancy and can get your hands on.
Mushrooms are always good when pan-fried in butter. The more exotic, the better though perhaps.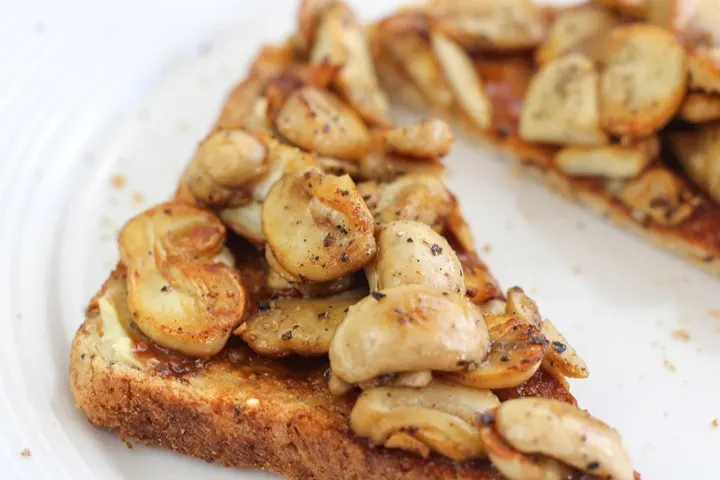 For me, this recipe was about making a swift and easy tasty breakfast that would keep me going until lunchtime. This little snack certainly hit the spot.
You could of course make it a bit more fancy by adding garlic to your mushrooms and throwing in some parsley. But I actually just quite liked it as it is. Quick and easy.
Make sure you do not spread too much Marmite on the toast. It does not need much. Just a thin layer – enough to impart the salty taste to the snack.
All my kids were brought up on Marmite and we all love it. Even our dog likes Marmite on toast! I hope you do too!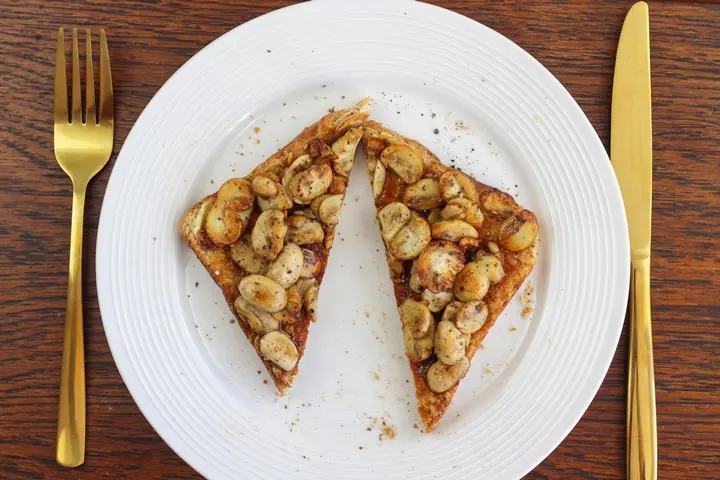 I hope you enjoy trying this combination. If you are trying Marmite, or Vegemite, for the first time, please let me know what you thought of it in the comments section below!!
How to make Marmite Mushrooms on toast