Blue Cheese Steak Sauce
This recipe shows you how to make a delicious blue cheese sauce to accompany any cut of steak you like.
For these pictures, I used some Roquefort cheese. Roquefort is a strong and tasty sheep's milk blue cheese from the South of France.
I was introduced to blue cheese sauce as an accompaniment for steak, many years ago on our golf trips to Belgium. This was an annual event with a large group of Dutch friends.
Usually the first evening we would go to a local restaurant, often an Italian. There we would order a filet mignon with a gorgonzola cheese sauce. Absolutely delicious, and quite a special treat as the cheese sauce's strong taste matches the steak's taste perfectly.
Which is the best blue cheese to use?
Well, this is up to you and will really depend on what you can get locally. Gorgonzola is an Italian cheese, made from cow's milk, that is often used for a blue cheese sauce.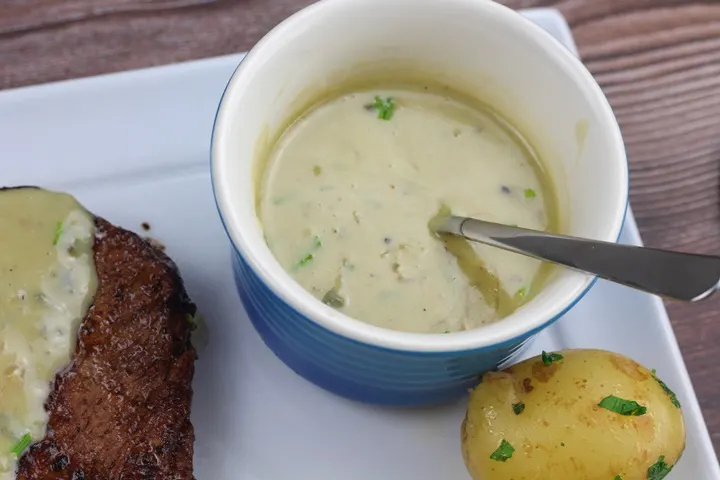 But there are many different types of blue cheese that you can use: Danish blue, Blue Stilton, Roquefort, and Bleu d'Auverne are all cheeses from which you could make a perfectly delicious blue cheese sauce following the simple recipe procedure below.
They just will taste slightly different as each of these cheeses has its own individual characteristics.
For example, the Roquefort we get from our local Aldi is quite moist in texture if you compare it to Gorgonzola for example, which is more crumbly. Some of these cheeses are also stronger than the others, which will affect the end taste.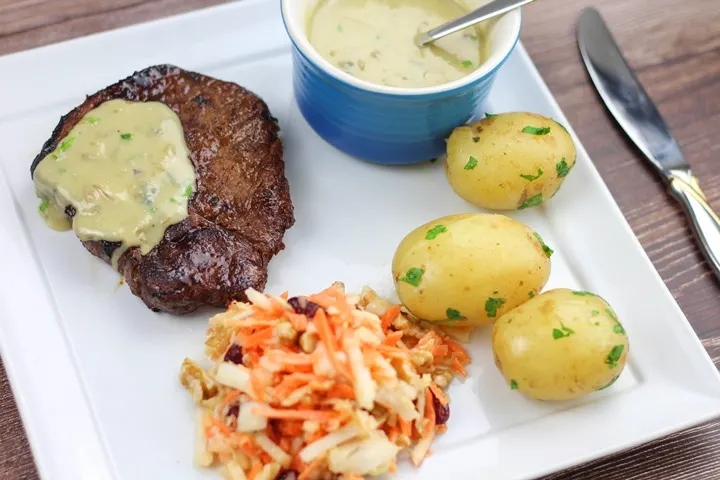 But blue cheeses do have something in common – they are all made in some way with cultures of Penicillium, which gives the blue mould in the cheese.
In the USA you may have some trouble being able to find a good blue cheese as many are banned by the FDA because of the bacteria in the cheese.
Which is the best Steak to cook with a blue cheese sauce?
Well, this question could keep me awake at night! Although a filet mignon with gorgonzola sauce is definitely one of my favourites.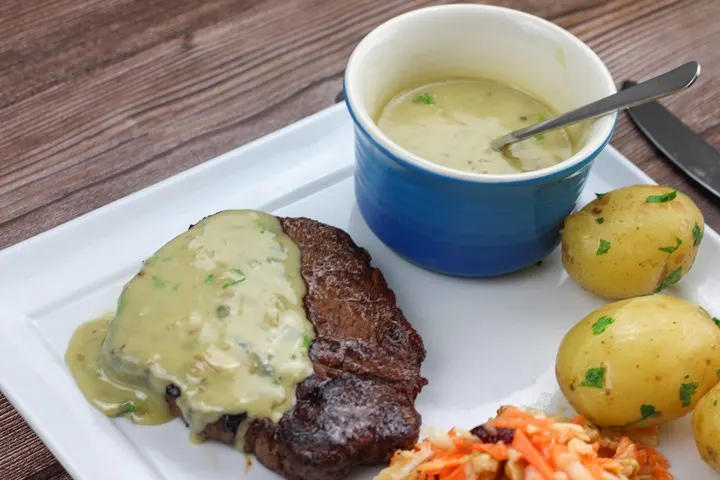 But a nice sirloin steak, as in these pictures, or a rib-eye, T-bone, rump, Porterhouse, Tomahawk…….really any one of these would be great. Just get something that will suit your budget as some are a lot more expensive than others.
If you do happen to choose one of the less expensive cuts, you can always tenderize the meat with a meat tenderizer if you need to.
And always follow your supplier's guidelines for cooking times. These sirloin steaks were cooked for 5 minutes over medium heat on each size in butter, for a medium cooked steak.
You may want to experiment and eat this sauce together with other food. For example, use it on a burger, serve it with chicken wings as a dip or make a blue cheese pasta?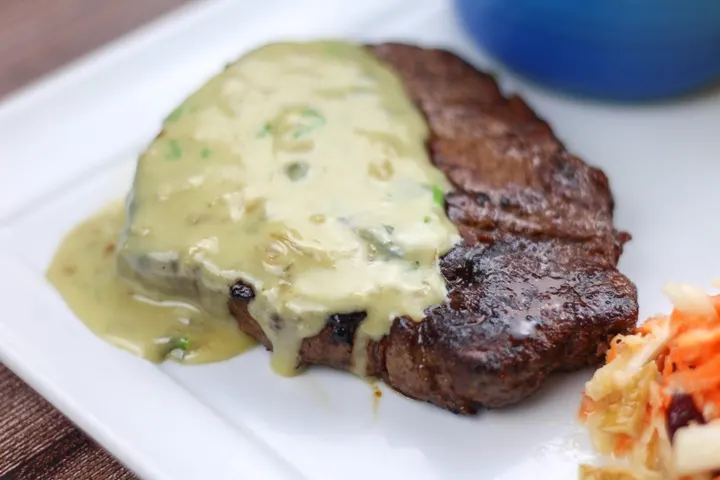 I hope you enjoy making and tasting this lovely blue cheese sauce. Please let me know how you get on in the comments section below!
How to make a blue cheese sauce for steak