Healthy steak fajita recipe
This healthy steak fajitas recipe is very similar to my chicken fajita recipe on this site. It just uses steak instead of chicken, and the steak fajita seasoning is different.
But it is also really healthy, easy and quick to prepare and tastes fantastic.
What's a fajita?
A fajita is a Mexican dish which consists of meat and vegetables in a tortilla. These quick fajitas are made with a frying steak (I used sirloin, but you could use any good tender frying steak) and onions and bell peppers, with some fajita seasoning and chipotle sauce.
The word "fajita" comes from the Spanish word "faja," which means "strip" or "belt," referring to the strips of meat used in the dish. Fajitas are thought to have originated in Texas, where Mexican-American cowboys would cook skirt steak over an open fire, wrap it in a tortilla, and eat it on the go.
In this recipe, we fry the steak in a griddle pan on the hob, but of course, you could also grill the meat on the BBQ. In fact, these would be great to include as a BBQ recipe.
For the fajita seasoning this time we use another fajita recipe mix we bought from Aldi, this time with a smoky BBQ flavour. I am sure you can find something similar in your local store.
To add to the smokiness of the beef fajita seasoning we also use the spicy Bulls-eye Smoky chipotle sauce which we bought at Tesco's. This is really a great-tasting fajita sauce that makes this an easy fajita recipe with a kick.
Restaurant fajitas
We discovered this steak fajita recipe gives a nice taste and produces tasty steak fajitas. They taste just like the ones we used to eat at our favourite Mexican restaurant in Gouda called Xochimilco.
I always ordered the sirloin fajitas when we went there for a treat. Their restaurant fajita recipe was wonderful.
They turned up with the beef sizzling on a red hot cast iron serving platter. Delicious.
Xochimilco is an affordable and super little restaurant that serves up fantastic Mexican food in the centre of Gouda, the Netherlands. Well worth visiting if you are ever in the neighbourhood.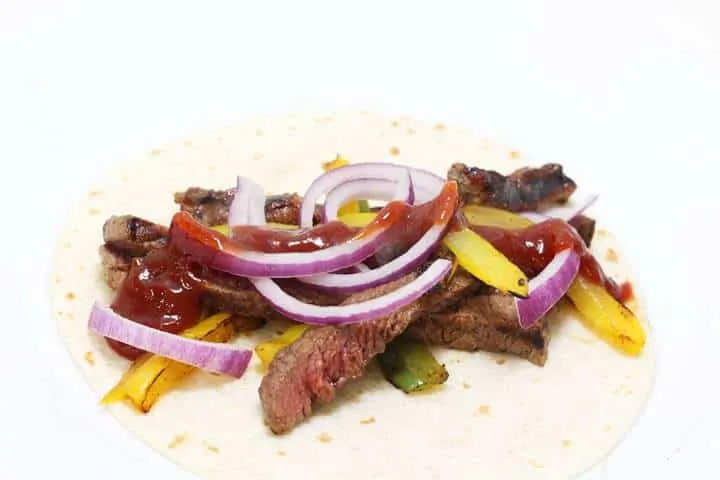 This is really a pretty healthy fajita recipe. You could even turn these into vegetarian fajitas or even vegan fajitas…….by leaving out the steak!
You could add some asparagus to fill them out a little bit. But we do think the carnivore version is better!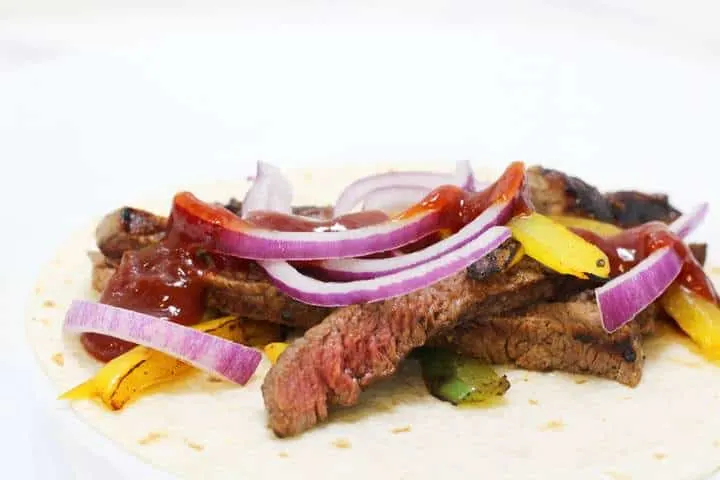 I do not cook the onions in this recipe, or the chicken fajita recipe, as I like them raw sometimes.
I used a red onion this time in these photos. You could also cook the onions with your peppers if you prefer, as I know some people do not like raw onions.
If you prefer you could also try to make some homemade flatbread for this recipe instead of using store-bought tortillas. My recipe for no yeast flatbread is here. It has only 3 ingredients and is ready in less than 15 minutes! Super delish!

I hope you enjoy trying this dish. If you do, please let me know how you get on in the comments section below!
How to make easy steak fajitas