Apple and Cranberry Coleslaw
This post contains a simple recipe for an apple and cranberry coleslaw with a sweet-tasting vinaigrette, made without using mayonnaise.
This makes this a wonderful accompaniment when you want something sweet to go with the savoury dish you are serving.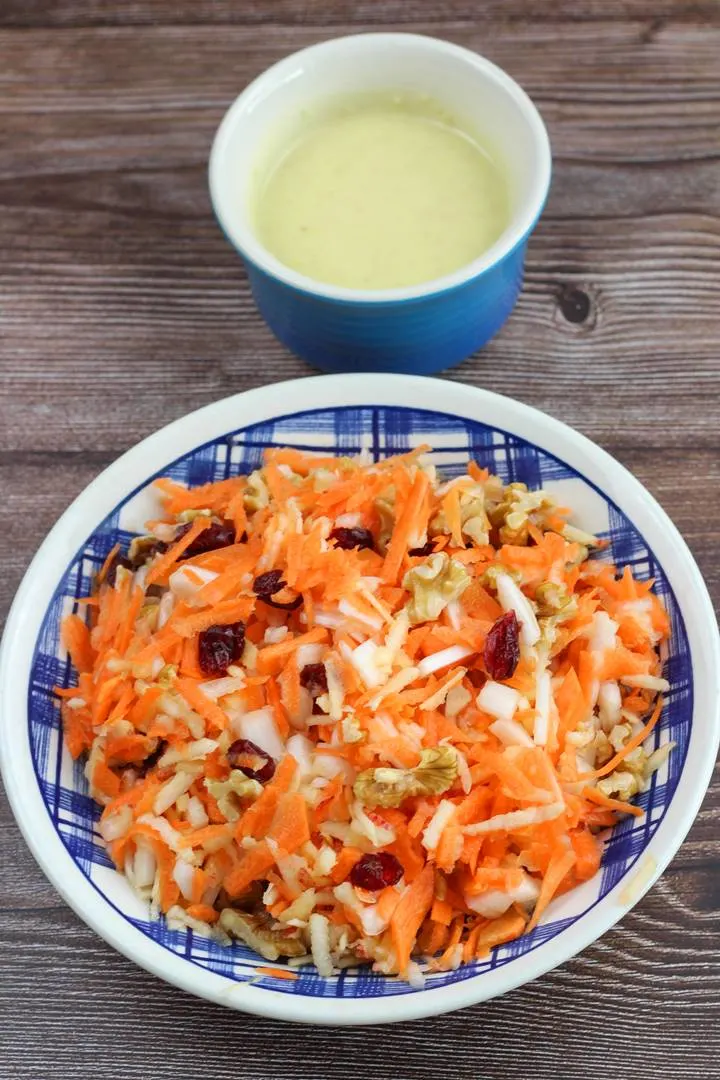 Sweet Coleslaw Recipe
This is a slightly unusual coleslaw recipe as it includes cranberries, apple and walnuts to add a bit of excitement to the dish.
The coleslaw dressing is yoghurt and olive oil based, and includes mustard and maple syrup. This creates a wonderful mix of contrasting tastes that complement the ingredient mix very well.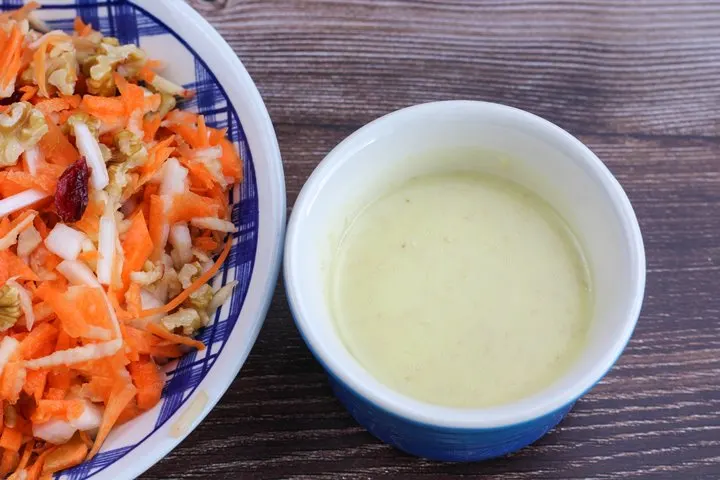 In this recipe, I used a white cabbage, as that is what I had available. But you could also use some red cabbage to give it a bit more colour and crunchiness.
Or if you are feeling a bit lazy, just buy a pre-shredded coleslaw mix, so you do not have to do any shredding yourself (except the apple…).
What to eat with coleslaw
Coleslaw is really a great side dish to use in different circumstances. It goes wonderfully with a pulled pork sandwich or roll, as a side dish at a BBQ, or as a salad accompaniment to many types of meal, like baked potatoes or anything savoury.
This recipe is particularly sweet, because of the maple syrup in the dressing and the apple and cranberries in the shredded vegetables.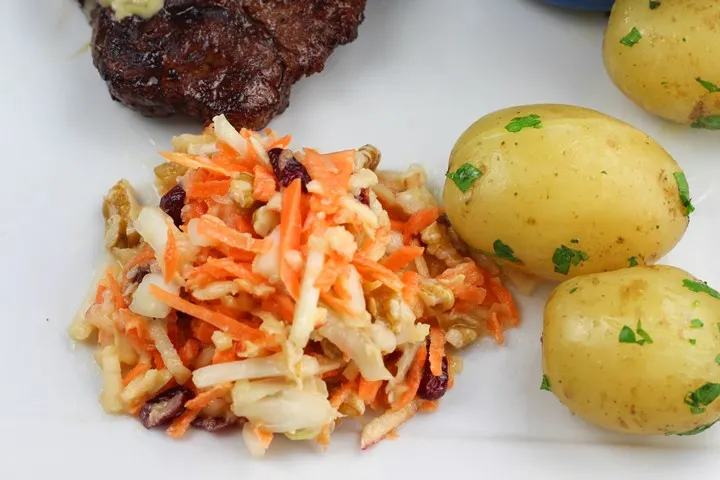 This makes it a great salad to mix with meals where you have a stronger taste associated, like a steak with blue cheese sauce, for example.
Here it was a perfect when the combination of the strong and salty taste of the cheese counteracted with the sweetness of the coleslaw.
If you are wanting to vary this recipe, you could try using poppy seeds instead of sesame seeds, or add almonds instead of walnuts, or replace the maple syrup with some runny honey.
If you want a more traditional coleslaw taste then you may want to investigate using mayonnaise as a base instead of yoghurt, and leaving out the sweet ingredients. All variations are possible.
You can store this coleslaw in the fridge for a day or so. You may find that the dressing becomes a bit watery after a while. This is normal and is because of the juice from the apple. Just mix back before serving.
I hope you enjoy making this recipe. If you do make it, please let me know how you get on in the comments section below!
How to make apple and cranberry coleslaw