Sherry Cream Sauce for Steak
This easy recipe for a mushroom Sherry cream sauce gives you a quick sauce that you can make if you need something tasty to accompany your steak. It is a bit different to a Steak Diane or a Blue cheese sauce, and might be just what you are looking for.
In the photos below, I have served up a sirloin steak with some pan-fried asparagus and fried potatoes.
What is mushroom sherry cream sauce?
Well, this is a sauce I developed out of necessity after running out of brandy to make a Steak Diane. We had some cheap sweet Sherry from Tesco's and I decided to try using that instead of Brandy. The result was quite satisfying.
I would not use a dry sherry to make this sauce, but you could substitute the Sherry with Madeira Wine if you have some available.
The difference with the steak Diane recipe is basically the type of alcohol and the quantities. Here I used fewer mushrooms but chopped them a lot smaller, and I used less cream in the sauce. But otherwise, there was not much difference in the process.
The taste was surprisingly different though, showing the importance of the alcoholic ingredient to the flavour. I personally prefer the Steak Diane, but my wife liked this version. They are just different.
The Sherry, having a lower ABV of 17,5%, as opposed to a 40% Brandy, was also a little bit more difficult to light when flambéing the sauce, and it seemed to burn a bit slower. But it did light, and I was able to burn away the alcohol in the Sherry OK.
What to serve with a mushroom sherry cream sauce?
Well, this is up to you. I think it did go well with a steak but it could also be an excellent accompaniment to chicken or pork, as an alternative to a Dijon mustard sauce for example.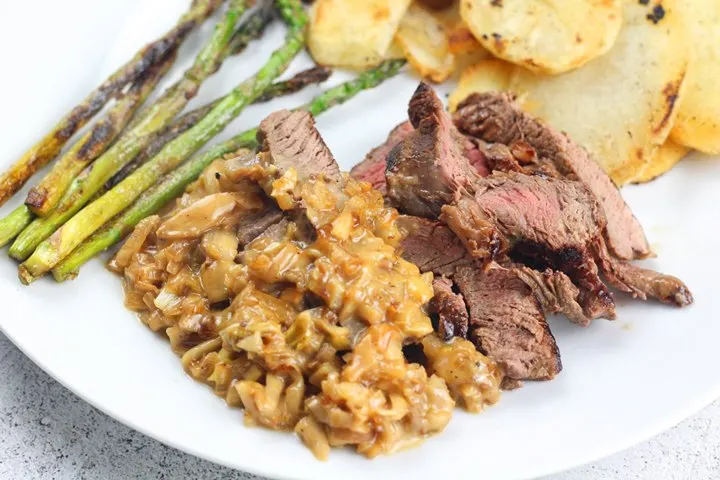 Many of these sauce accompaniments contain some form of alcohol and the type of alcohol determines the taste. If you have never tried a sherry sauce, then why not try it now?
If you do make this recipe, please let me know how you get on in the comments section below!
Enjoy!
How to make a Mushroom Sherry Cream Sauce