Homemade Hamburger with Brussels sprouts
This is a simple recipe for a homemade hamburger with Brussels Sprouts. The Brussels Sprouts are a surprise ingredient that adds a little extra something to your burger.
As everyone knows, sometimes there is nothing quite like a good old hamburger with cheese. And certainly nothing like creating a perfect homemade hamburger yourself.
This homemade hamburger recipe with Brussels sprouts will have your friends talking about it.
There are lots of different types of burger, and they have lots of different names – hamburgers, cheeseburgers, beef burgers, veggie burgers, turkey burgers, chicken burgers…… etc etc – the list goes on.
This recipe is really for a cheeseburger, as it does contain some cheese and it is certainly a burger!
Sprouts in a Burger?!
But really the surprise about this particular recipe is the use of Brussels Sprouts. We tried this hamburger and Brussels sprouts recipe back in 2018 after just moving into our new house.
We were working in the kitchen and had some Brussels sprouts in the fridge that needed finishing up and they ended up in the burger.
It was all cooked on a camping stove in the kitchen as we did not have a cooker yet. And it turned out GREAT! Who would expect a Brussels sprout burger to be a success!?
Here is a picture of THE ORIGINAL!
International Burgers
All countries have their own ideas about hamburger recipes, and some are just wonderful.
In Brazil, for example, they have the most fantastic burger joints where you can get a beefburger stuffed with almost EVERYTHING you can think of in them – even potato crisps (or chips). And believe me, they are really good.
Brazilian hot dogs are also quite special!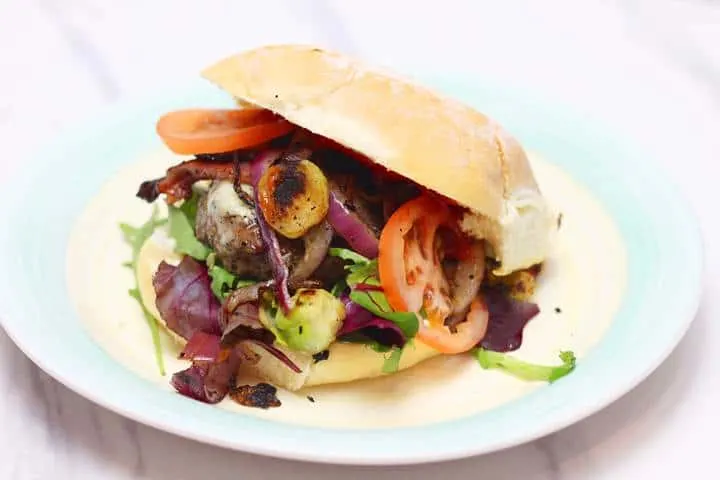 America is known for being the home of the hamburger. In recent times some guests even had them served up cold at the White House 😃 !
But new recipes for hamburgers will always be constantly changing. Even Mcdonald's has just started a new campaign for a new Big Mac (this time with bacon).
Amazing how the big firms sometimes change their proven and trusty hamburger recipe ideas to tweak some extra profit.
American hamburgers are also renowned for being huge, tasty and full of calories. But sometimes they can be a little over the top with American cheese dripping out of them, ready to block your arteries.
Although the States might now well be home to the hamburger, there are several claims of invention to this dish. But we are not going to get into that here!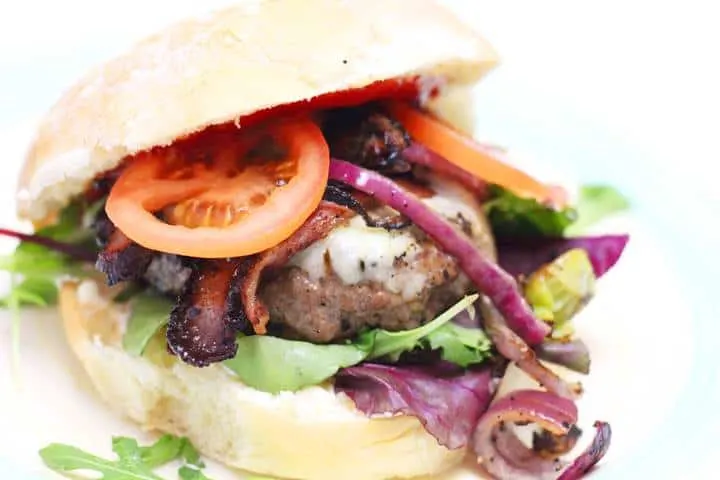 Homemade Hamburger with Sprouts
This easy homemade hamburger with Brussels sprouts recipe is for a burger that does not try and beat calorie records but tries to entice you with a mix of interesting tastes.
The secret ingredient in this burger, the Brussels Sprout, is one of my own inventions, discovered initially by accident, but repeatedly made since. This is part of our small attempt to bring the sprout back onto the dinner table.
We often cook Brussels Sprouts when they are in season at the end of the year around Christmas time. If you have any leftovers this is a good destination!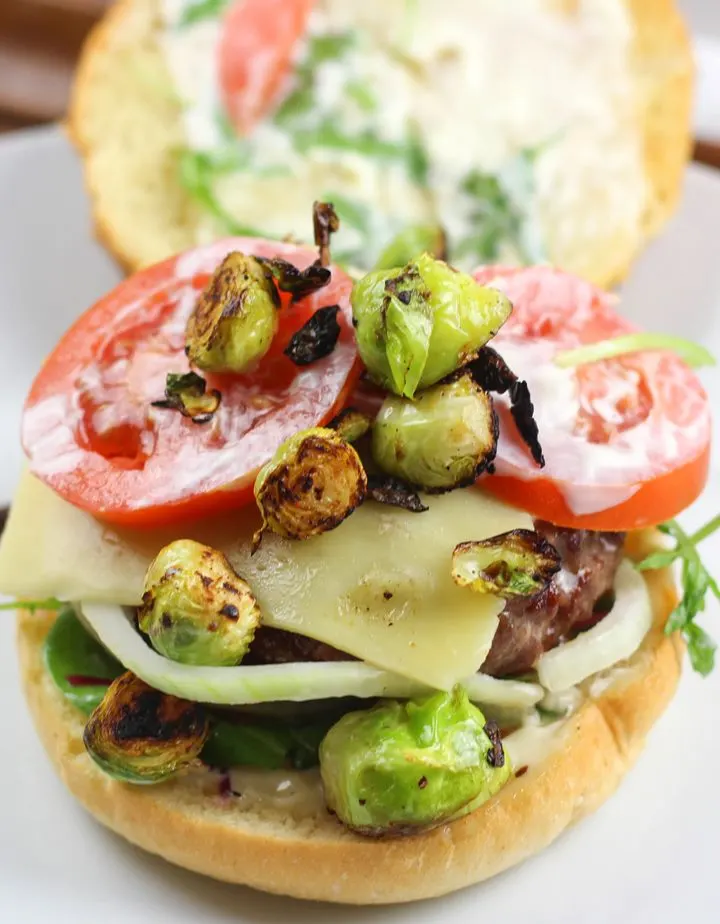 Here are a few more recipes that include Brussels Sprouts, for example: sprouts with pancetta, sprouts with chestnuts, and bubble and squeak cakes with sprouts.
I think it really complements the other ingredients well and makes it a very interesting and tasty dish.
You could always add some traditional ingredients like pickled gherkins or an egg, but I think that just changes the balance. Hellmann's Real Mayonnaise is of course present in this dish as one of my essential ingredients!
Serve up with some Belgian Frites just to fill any gaps.
The amount of ingredients you need depends on how many burgers you need to make. Below I have assumed you are just making one burger, to keep it simple.
I hope you enjoy making this recipe. If you do, please let me know how you get on in the comments section below!
How to make a super tasty Cheeseburger with Brussel Sprouts
I hope you enjoy trying out this recipe. If you did you might like to try these:
If you have any suggestions please let me know via the contact form below.