Creamy Dijon Mustard Sauce
This easy Dijon Mustard Sauce recipe is quick to make and is a great accompaniment to pork, chicken or fish. Try it with some pork tenderloin or pork chops, or even some baked chicken breast.
In these photo's below I show some lean pork medallions that I served in this sauce. These I cooked in a frying pan for 5 minutes to brown them and then cooked them in the oven at 180C for about 8 minutes to cook them through. In the meantime, I made the sauce. The medallions then spent the last 2 minutes in the pan with the sauce. Easy peasy!
Dijon Mustard
Dijon mustard is an ingredient that I like to use in much of my cooking. It is so good for adding a bit of 'oomph'.
I sometimes interchange Dijon with English mustard, depending on my mood. You may think this is sacrilege, but often it just depends on which jar is closest when I open the fridge!
This recipe though is specifically a Dijon mustard recipe. English mustard is quite a bit stronger than Dijon and even though I sometimes use it in my gravy, I would not use English mustard in this recipe as I fear it would make it too strong.
This recipe calls for two types of mustard, wholegrain and Dijon. For both types, I used the Maille brand which is a well known French Mustard brand. It has just the right amount of strength for this recipe, and contributes to make a great French mustard sauce (sauce moutarde).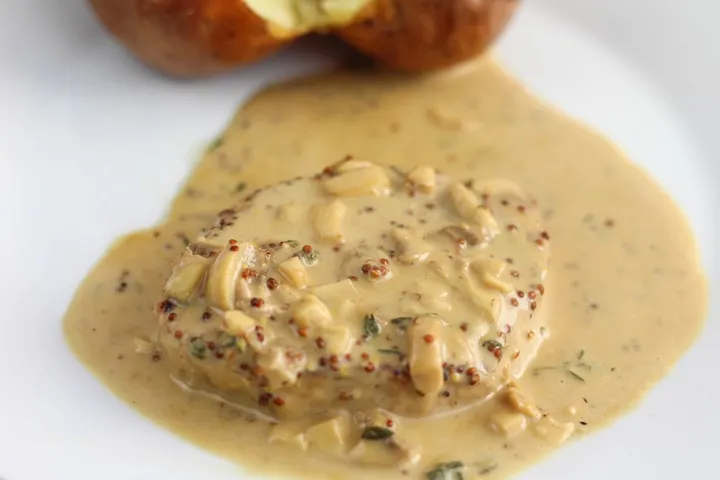 One of my favourite products with Dijon mustard is Dijonnaise, which is just perfect in a typical French ham (jambon) baguette sandwich. Dijonnaisse is a mixture of Dijon mustard and mayonnaise. Really there is no sandwich better.
What to serve with Dijon Mustard Sauce?
This easy sauce is really delicious and a good accompaniment to many types of meat. You can serve it with pork; chops, medallions, cutlets, tenderloin or even baked ham.
Here I have served up with a pork medallion and a baked potato.
Try it as an accompaniment to baked or fried chicken breasts or even as an alternative to a pepper sauce with a steak. The real adventurous may even want to try this sauce with some pan-fried white fish, like cod, not forgetting to add a dash of lemon juice.
Need to buy some meat to go with this sauce? Why not buy online with:
Whatever you choose to eat with it, I hope it turns out well and you enjoy this recipe.
If you do try it, please let me know how you get on in the comments section below!
How to make Dijon Mustard Sauce